One in five Labour voters would prefer the Tories stay in place for now over a general election
Tonight MPs will take part in a vote of confidence in Theresa May's government. The general expectation is that the Conservatives will win a narrow victory and continue to govern. Defeat for the party could result in a new general election being called.
Now new YouGov research conducted today shows that, of these outcomes, half of Britons (48%) would prefer for the Conservatives to remain in office for now. Only 29% think they should resign and that there should be a new general election, while the remaining 23% don't know.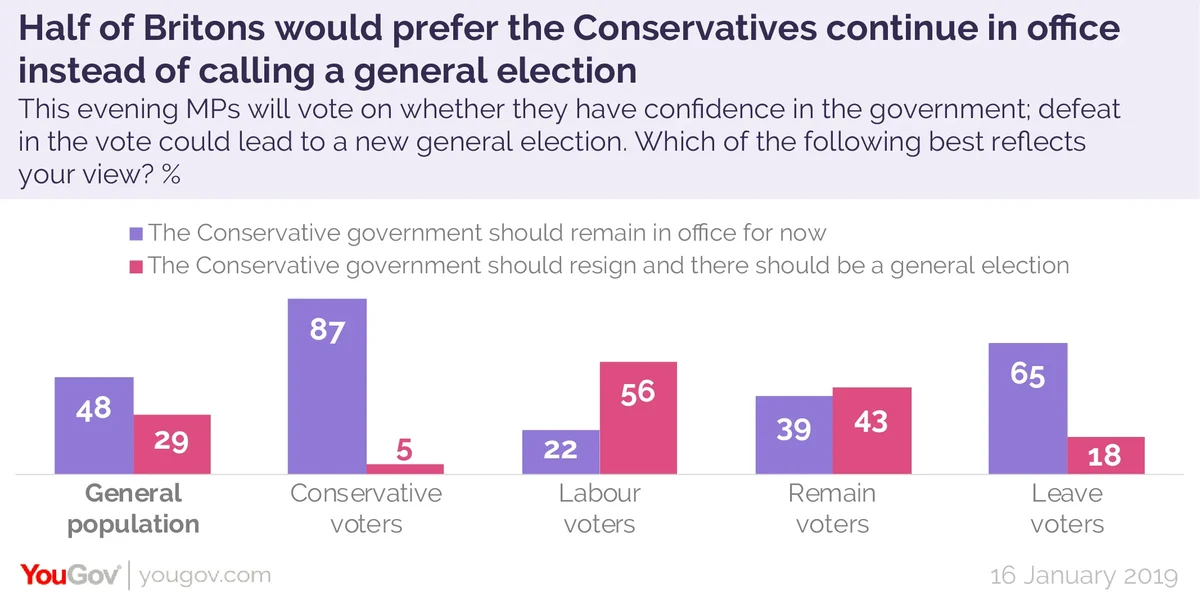 Unsurprisingly, 87% of those who voted Conservative in 2017 want to see the party continue in office – a mere 5% think they should stand down. While the majority of Labour voters (56%) want to see the government resign and call a general election, one in five (22%) want to see them stay in place.
Remain voters are near evenly split – 39% want to see the Tories stay, 43% prefer them to go. Leave voters are more emphatic in their support for continuity, with nearly two thirds (65%) backing the party to stay on.
PM should involve Corbyn in consultation, says public
After Theresa May's Brexit deal was voted down by MPs last night the Prime Minister said that she would consult with "senior parliamentarians" to attempt to thrash out an acceptable Brexit deal. However many were surprised this morning to find that she did not seem to include Jeremy Corbyn among this number.
Half of Britons (53%) believe that she should – including 40% of Conservative voters and a plurality (44%) of Leave voters. Just one in four members of the public (26%) don't think the Labour leader should be included in attempts to navigate a path to a palatable Brexit deal.