Three quarters of Remain voters think they would win in a second vote, compared to only half of Leave voters
Chaos has engulfed the Brexit process as Conservative MPs on both sides of the debate rebel against the Prime Minister's negotiated deal, leading to increased calls for a second referendum.
Overall, close to half of Britons (47%) believe that Remain would now win in a repeat of the 2016 vote. By contrast, only 29% of people think that Leave would prevail. The remaining 24% don't know.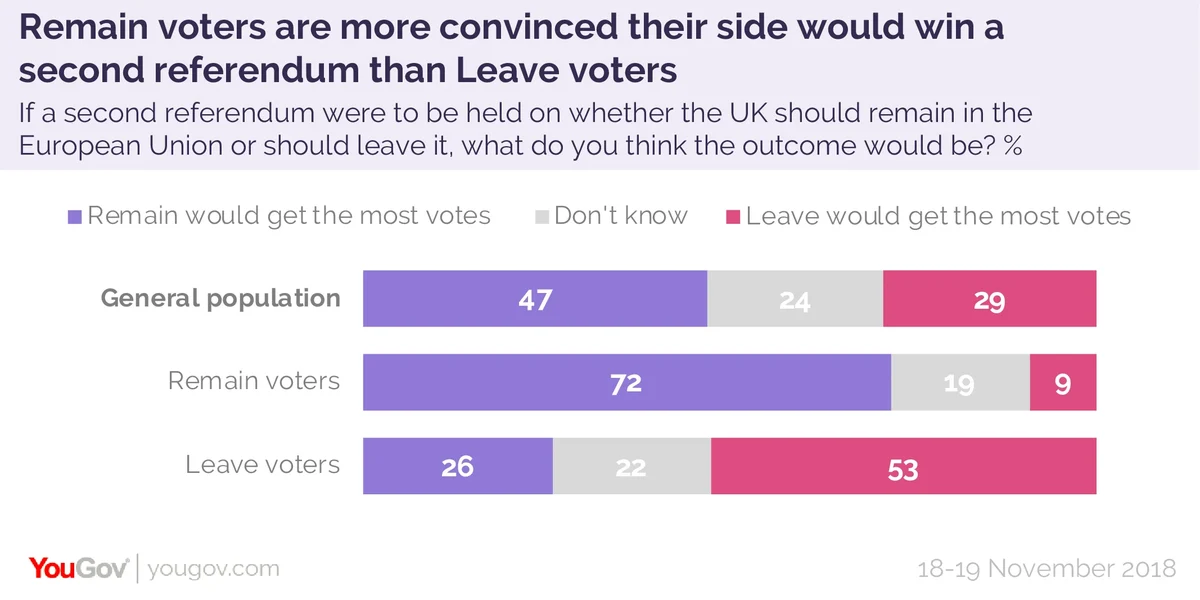 Remain voters are the most confident. Of those who cast their ballot to keep Britain connected to the continent in 2016, almost three quarters (72%) now think that Remain would win a new vote, compared to only 9% who think Leave would emerge victorious once again.
Leave voters are less certain. Just over half (53%) believe their side would come away with the most votes in a new contest, while a quarter (26%) expect their opponents to triumph. There were fairly even proportions of "don't know" responses on either side (22% of Leave voters, 19% of Remain voters).
By 45% to 33%, Conservative voters think that Leave would prevail, while Labour and Lib Dem voters think that Remain would succeed by 60% to 20% and 67% to 12% respectively.
Photo: Getty