YouGov takes a closer look at Britons' attitudes to Theresa May's proposed Brexit agreement
Yesterday YouGov revealed the British public's response to the Brexit deal that Theresa May has agreed with Brussels.
It's fair to say that it was not as well received as the Prime Minister would have hoped, with 42% opposing the deal and only 19% supporting it.
Now a more extensive survey uncovers extra insight into the British public's view of Theresa May's efforts.
1. The public thinks the Brexit deal does not respect the referendum result
Campaigners on both sides have argued about exactly what people voted for in 2016. Whatever it was, the British public tend to think that May's Brexit deal doesn't deliver.
A plurality of Britons (45%) believe that the terms presented do not accord with the spirit of the 2016 vote – only 28% believe they do. Almost six in ten Leave voters (58%) feel that the deal is not in line with what was voted for, but so do the largest number of Remain voters (41%).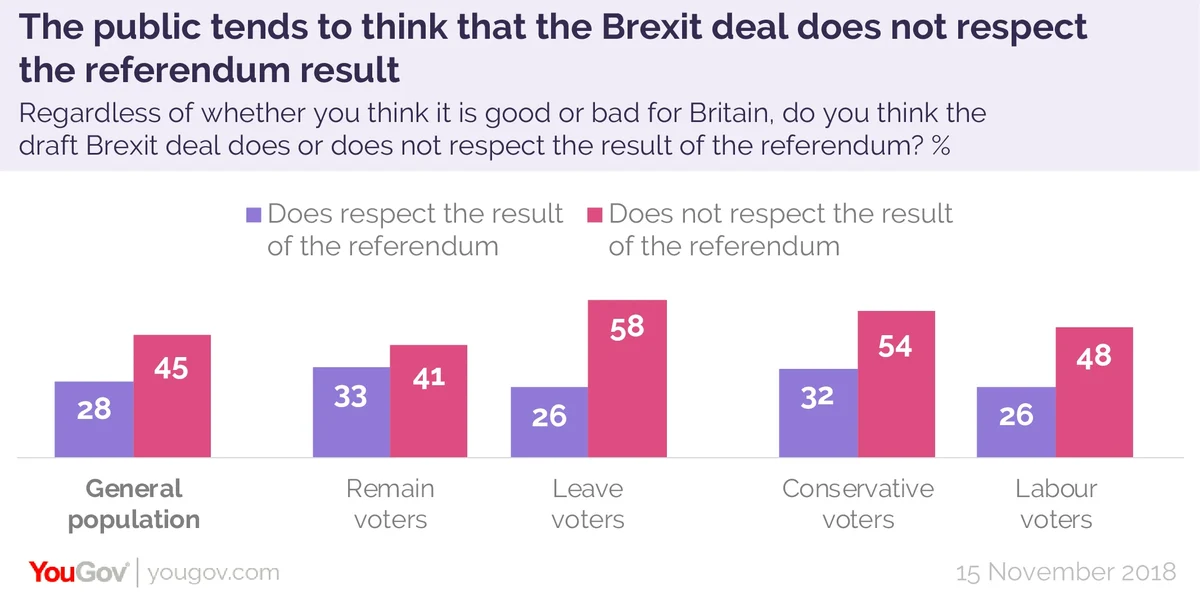 2. Forced to choose, Britons would rather leave the EU with this deal than without it...
Given the choice between accepting the deal and leaving the EU without any formal agreement, 60% of people would take the deal, while 40% would prefer to leave without it. Leave voters lean the opposite way, with two thirds (64%) preferring a no-deal Brexit and only 36% wanting to leave under the terms that May has negotiated.
3. …but they are much more split on whether a second in/out referendum is appropriate
Faced with the choice of accepting the deal or having a second in/out referendum, Brits split 56% to 44% in favour of a new vote. It will surprise few that the second referendum is favoured by Remain voters by 81% to 19%, while Leave voters prefer to take the deal and leave by 73% to 27%.
Asking whether they would prefer a no-deal Brexit or a second in/out referendum again sees a new vote emerge as the favoured option, this time by 54% to 46%. This dilemma polarises Remain and Leave voters even more greatly – 88% of those who voted to stay in 2016 would back the referendum, while 82% of those who want to exit the EU prefer that Britain leaves without a deal.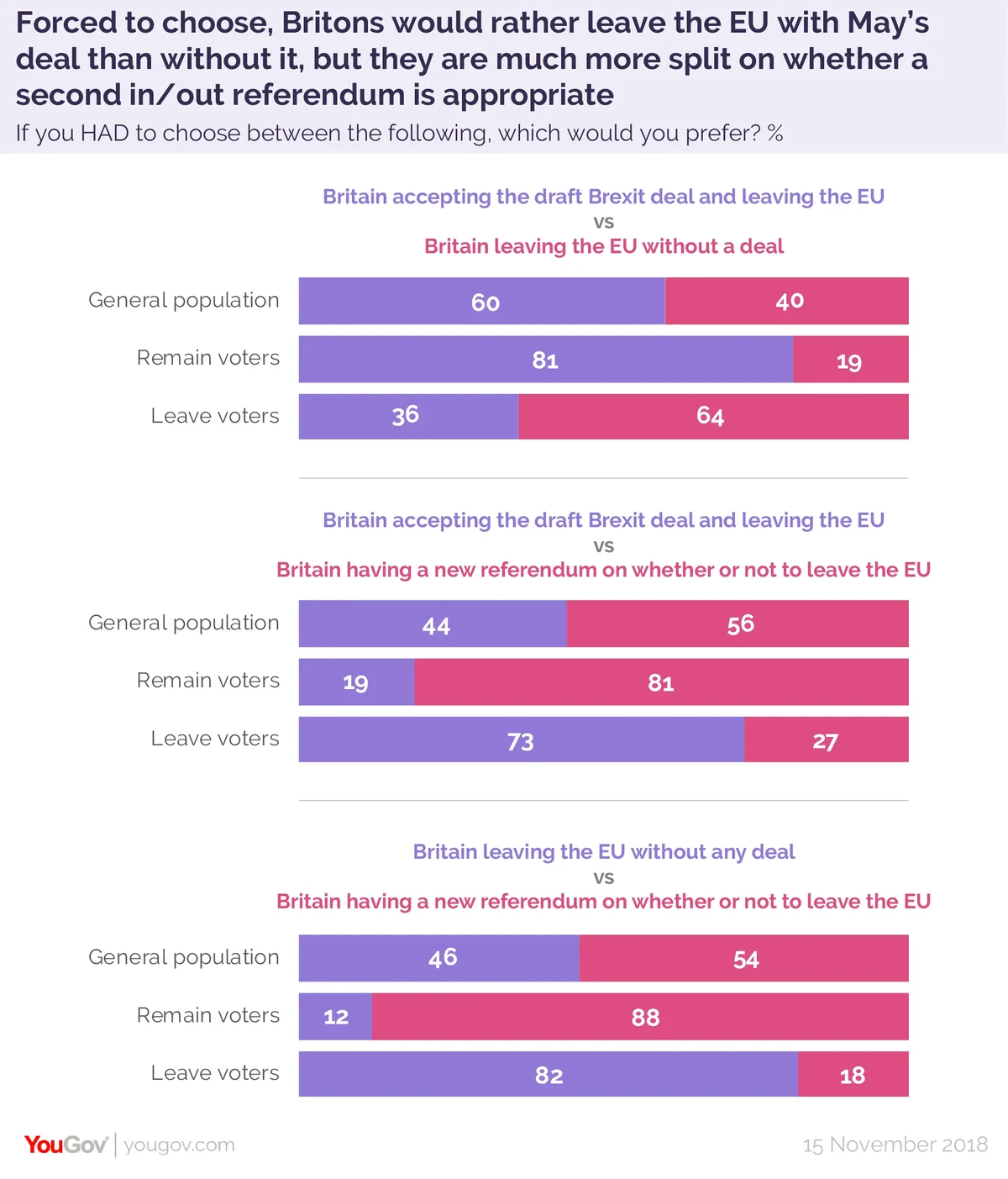 4. They may not like the deal, but Brits don't think any other likely candidate would have done better
A change in the Conservative leadership is unlikely to result in a better Brexit deal, according to 46% of Brits. Only 27% think another Tory leader could pull off a superior settlement. Conservative voters are similarly sceptical, with 49% saying another leader would come away from new negotiations no better off.
Should Jeremy Corbyn get the chance to step up and take on the job of wrangling terms with Brussels, even fewer people expect that he would do any better. Almost six in ten (58%) believe the Labour leader could not top May's deal, while only 19% say that Jez can. Labour voters are split on whether he would succeed, with 40% saying he wouldn't and 39% he would.
It is worth noting that only 37% of Brits surveyed think that anyone else could have got a better deal in the first place. Of this group, half (50%) trust another Tory to be able to do so, but only 26% say the same of Corbyn.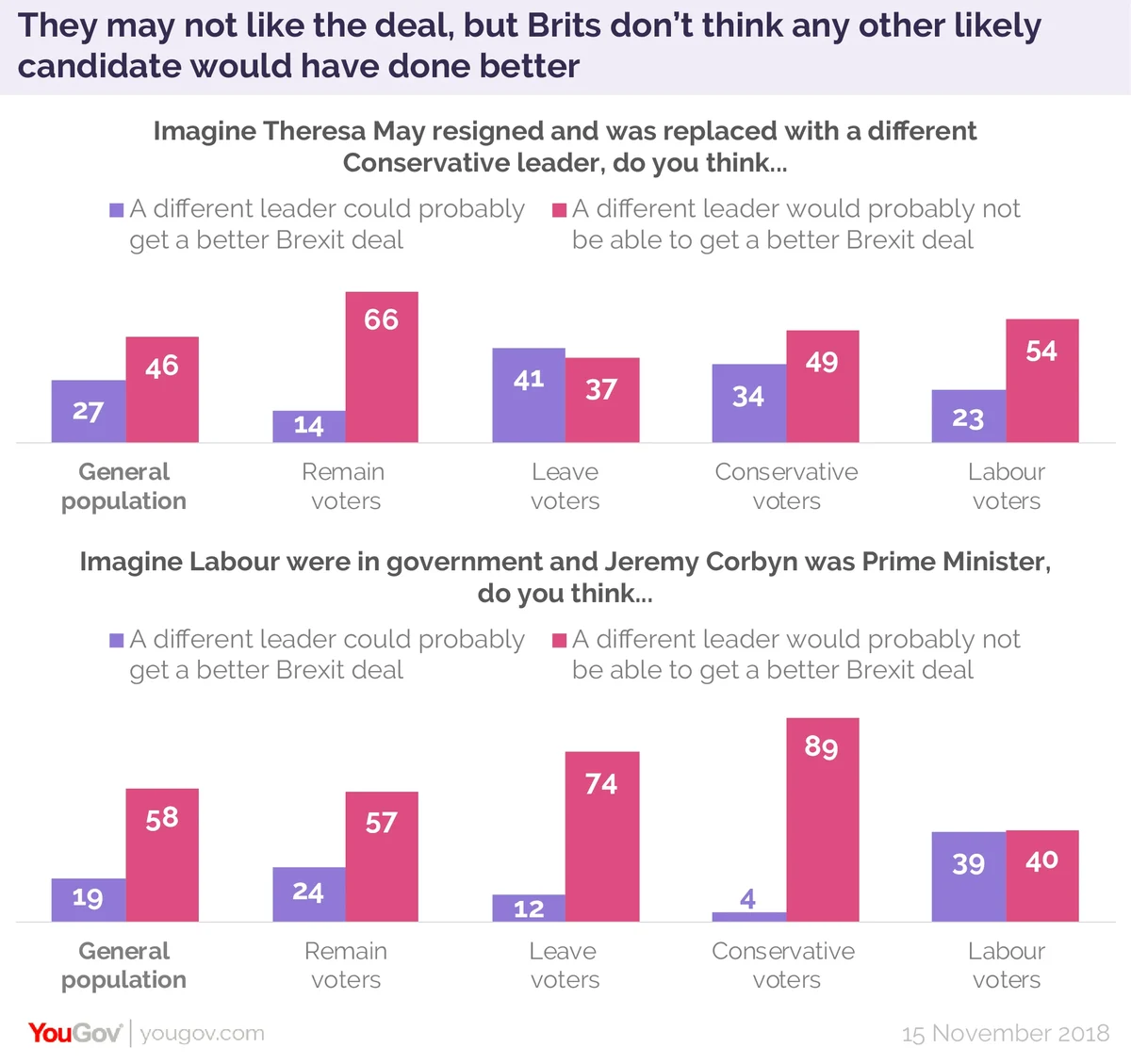 5. Leave voters think a no-deal Brexit is a good thing
A key prism through which to see the rest of these results is that many of those who back Brexit would actively embrace the UK leaving the EU without a deal. Half (50%) of Leave voters think that a no-deal Brexit would be a good thing. Only a quarter (24%) of those who voted for Brexit in 2016 believe that leaving without a deal would be damaging.
In this, Leave voters hold the opposite view to the British public: half of the general population (50%) see leaving the EU without a deal as a bad thing while only 25% see it as a good thing.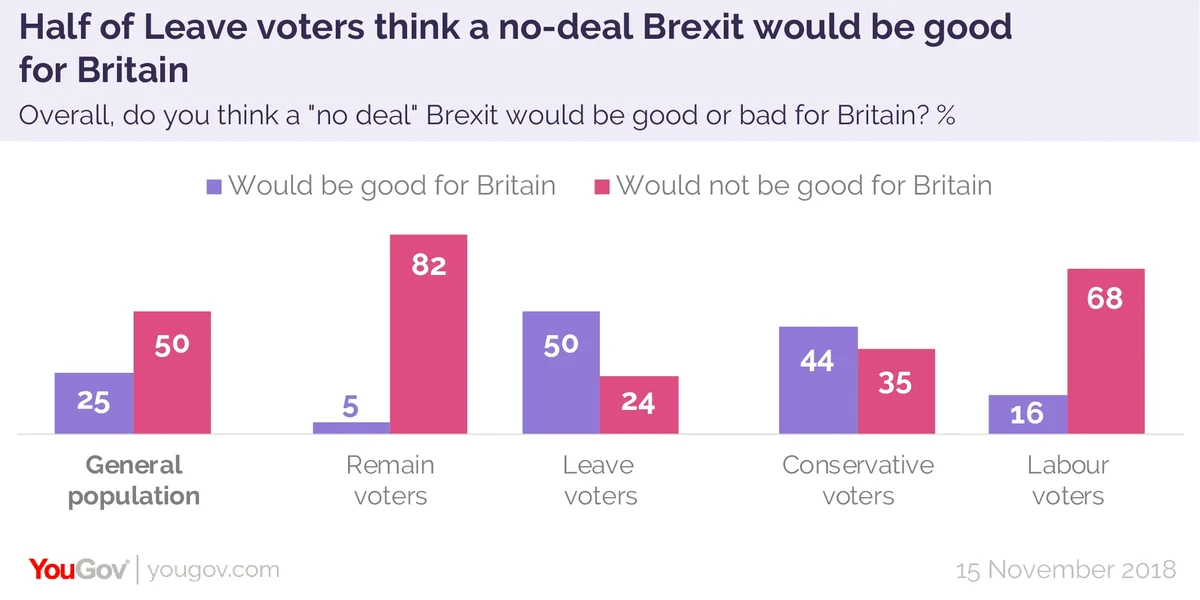 6. A plurality of Britons think Theresa May should stand down, including a majority of Leave voters
Jacob Rees-Mogg publically announced today that he has handed a letter of no-confidence in the Conservative leader over to the chairman of the 1922 committee. If a sufficient number of these letters are received, a leadership contest will be triggered.
The backbencher isn't the only one who thinks Theresa May should vacate her position. A plurality of Britons (47%) think that May should step down as Prime Minister and party leader, including 55% of Leave voters. Conservative voters are split – 43% want her to go and 46% want her to stay (although those Tory voters who also voted Leave in 2016 are much more equivocal – 49% want May gone and only 41% want to see her continue).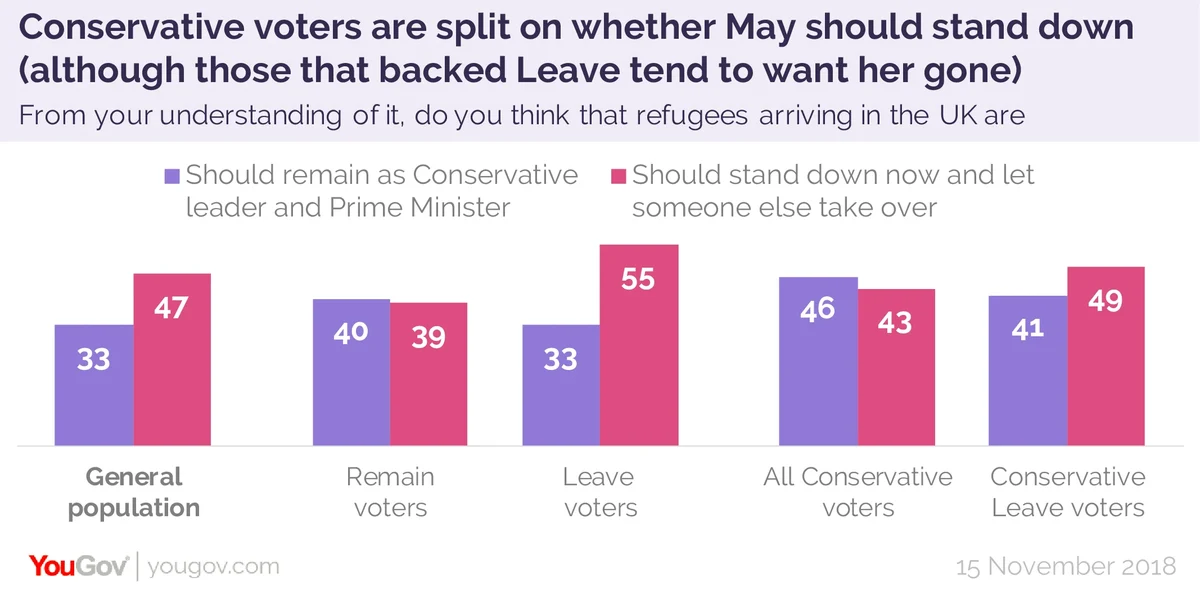 7. Britons are completely divided on where we should go from here
While it's clear that few support the Brexit deal, the public is utterly divided on where we go now.
Only around one in six Brits (16%) want to press ahead with May's deal. Another 8% think there should be a referendum on whether or not to accept the deal, while a further 11% think the UK should reject this deal and reopen negotiations.
One in five Britons (19%) want to reject the deal and then leave the EU without any agreement. This is the most popular option among Leave voters (40%) and Conservative voters (33%).
The most popular single option is to stop Brexit and remain in the EU after all, put forward by 28% of Brits. Unsurprisingly, those backing this option are mostly Remain voters.