Leather trousers and Crocs also perform particularly poorly in a new YouGov fashion survey
With the summer holidays approaching and Brits ready to flock to the seaside, many don't realise they are taking their sartorial life into their own hands. New YouGov Omnibus research reveals that the beach is the natural habitat for the nation's most detested item of clothing: speedos.
Out of a list of 25 pieces of attire, speedos are the one that Brits dislike most, with over two thirds (69%) having an unfavourable opinion of them. And for men thinking they can impress the opposite sex with a pair of budgie-smugglers – be warned: women are more likely than men to dislike speedos (74% to 62%).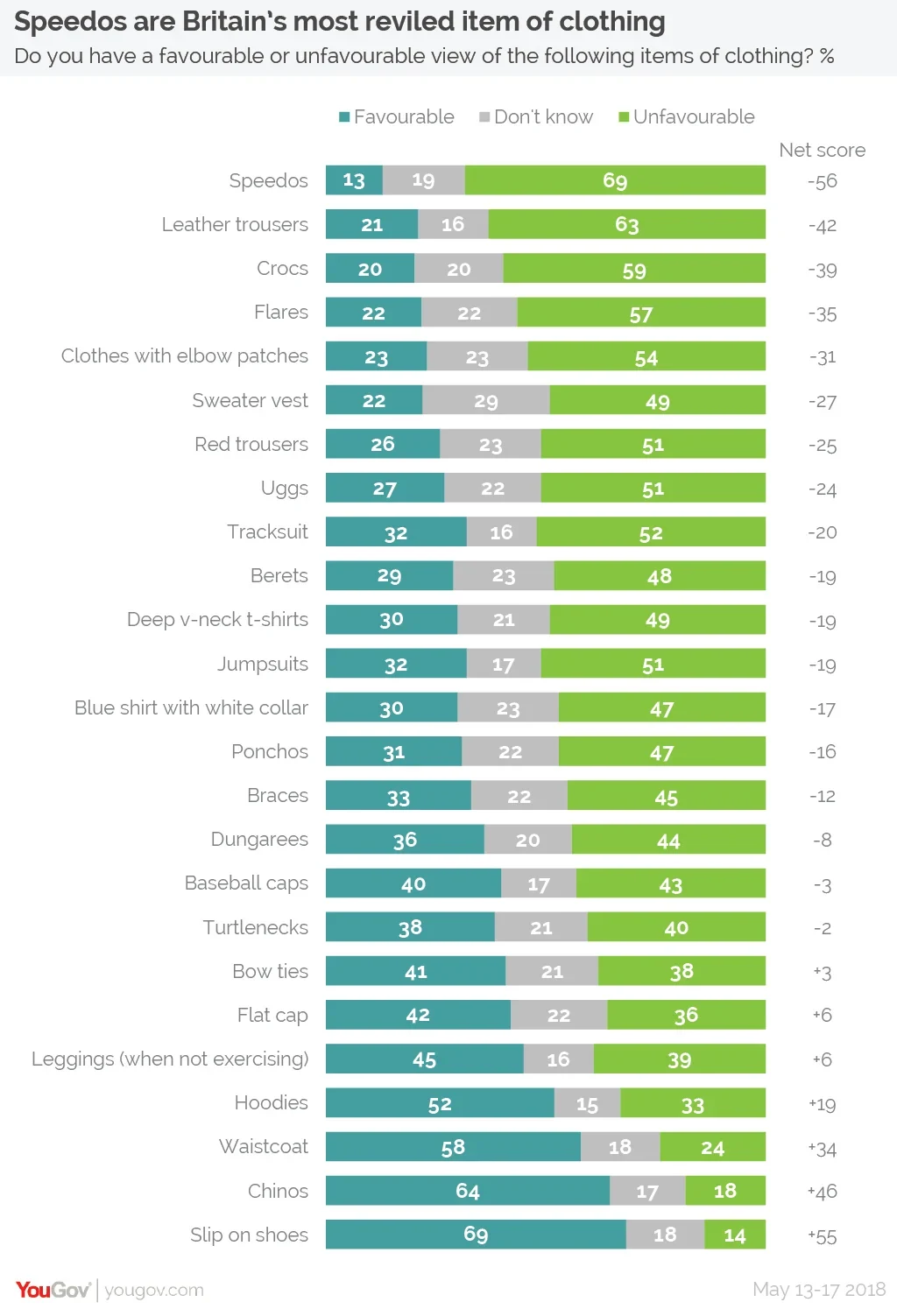 In second place are leather trousers which 63% dislike. Although the Prime Minister is clearly one of the 21% who like a pair of animal skin strides – having once famously prompted a row by wearing a some with a price tag of almost £1,000.
Crocs – the famous casual footwear brand – ranks third on the list, with around six in ten (59%) taking a dim view of them.
The genders divide on jumpsuits, generations split over hoodies
Jumpsuits are the item of clothing most dividing the genders. Three in five (60%) men dislike them compared to just over two in five women (43%). In fact, women are split down the middle over the all-in-one item: a further 45% say they like jumpsuits (by contrast, only 20% of men do).
Other notable disagreements between men and women include leggings and berets (both of which men are 12 percentage points more likely to dislike), while women are more likely to disapprove of Crocs.
Differences between the tastes of young and old are even more pronounced. Hoodies are the most divisive garment by far – while two thirds (67%) of those aged 65+ have unfavourable views of hoodies, among 18-24 year-olds this falls to just 7%.
The opposite is true when it comes to Crocs – with younger people being much more likely to have a negative view of them. While seven in ten (71%) 18-24 year olds dislike the rubber shoes, among those aged 65 and over this falls to under half (48%).
Pull your pants up! Britons declare low slung trousers the biggest fashion faux pas
YouGov's research also looked at attitudes towards various notorious fashion faux pas to see which Brits think is the most offensive on the eyes.
Top of the list is wearing trousers that are slung so low that underwear is clearly showing, which 88% of Brits think looks bad. The Florida town of Ocala instituted a law against sagging jeans for a short period in 2014, something that many people in this country may have sympathy with.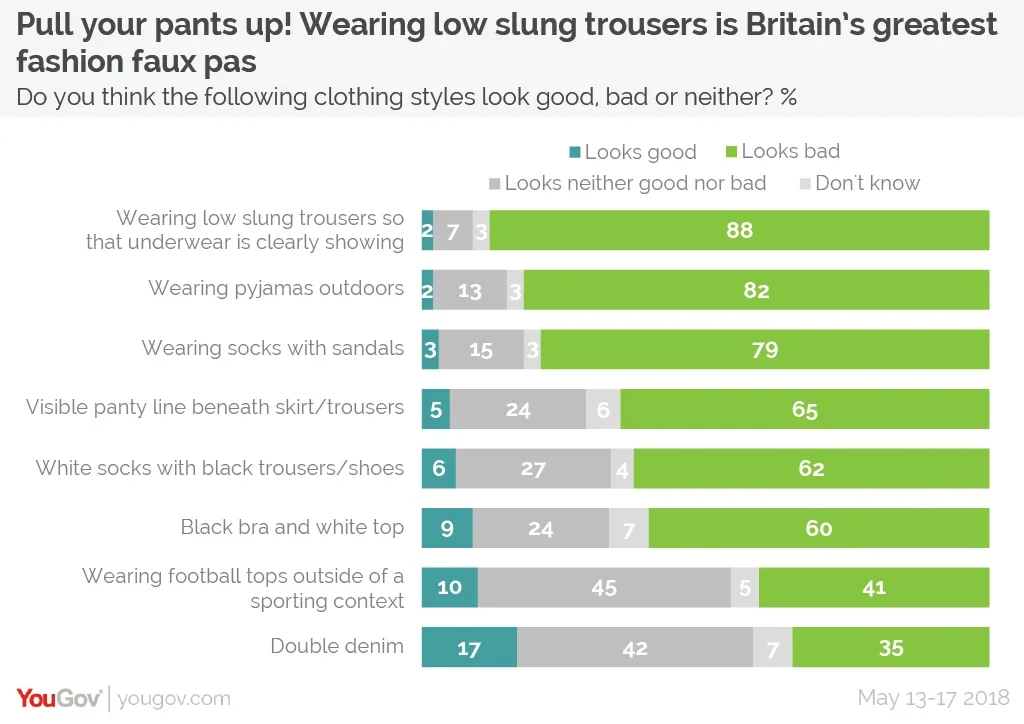 Britons also take a dim view of wearing pyjamas outdoors with four in five (82%) thinking it is a bad look and indeed it is now something that can get you kicked out of Tescos and provoke the ire of schools.
The most notorious fashion faux pas of all – wearing socks with sandals – comes in only slightly behind, with almost eight in ten Brits (79%) declaring it a bad look.
Photo: Getty