Yesterday, Swedish fashion giant H&M announced a 61 per cent fall in profits in the three months to February amid weak sales.
The clothing retailer has recently embarked on a large-scale shop closure program in an attempt to shift its focus to online shopping, closing 170 shops.
H&M said profits after financial items for the first quarter came in at 1.3bn Swedish krona (£112m), compared with 3.2bn krona for the same period last year.
This period of transition has also come at a time where H&M does not seem to have made life easy for itself. In January, I discussed its misjudged 'coolest monkey in the jungle' slogan, where a hoodie bearing the phrase was worn by a young black model, sparking a backlash in the media. YouGov BrandIndex data takes a look at how public perception of the brand is faring in light of these news stories and reflects the struggles it has had – both in terms of PR and sales.
Among its 18-34 year-old target market, the brand's consideration score (which measures whether someone would consider purchasing something from the brand) has fluctuated since a highpoint of 42 last summer. During January's 'racism row' it reached a low of 31, but in the past week it has managed to climb its way back up to 39.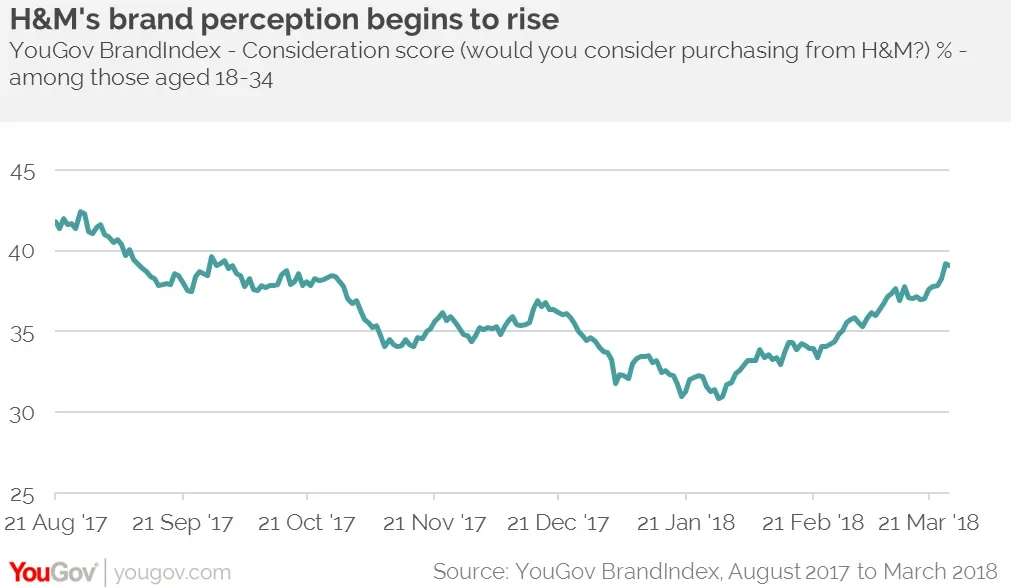 Its impression score (which measures whether someone has a positive or negative impression of the brand) among the same group follows a similar pattern.
From a peak of 35 on 30 October, it dropped to 22 in January but has increased notably by six points to reach 29 this week.
H&M has experienced a challenging few months, with external pressures such as rising costs, cold weather delaying spring and the increased prevalence of online shopping having an impact on high street retailers in general.
However, the recent uptick in scores could suggest a change of attitude among younger shoppers, particularly as the summer season approaches.
Despite a tricky few months for the fashion retailer, it can be reassured that among their target market its brand perception is safe for now.
This article originally appeared in City A.M.
Image: Getty