Local takeaways are still competitive in the face of major online challenge
Four in ten made their last food delivery order by phone
Phone orders are still most popular for most types of cuisine
However, over half say their most recent order was made online (through a website, app, or mobile website)
Healthy options could convince some of those considering using delivery apps such as Deliveroo and Just Eat
Despite online orders making great strides in recent years, the telephone remains the most popular way of ordering food to be delivered, new research from YouGov reveals.
The Food on Demand report looks at the current state of the takeaway delivery market in the UK. It finds that more than four in ten (41%) people called up the last time they ordered food in. This is ahead of the third (33%) who used a website, the 18% that completed their order via an app, and the 8% that used a mobile website.
The research suggests that, over the past six months, phone orders from local restaurants outstrip those made on websites or apps. Two thirds (66%) ordering-in a Chinese or Thai meal called up, compared to 28% using websites and 25% that went via an app. This pattern is replicated with Indian cuisine (42% phone, 20% website, 18% app).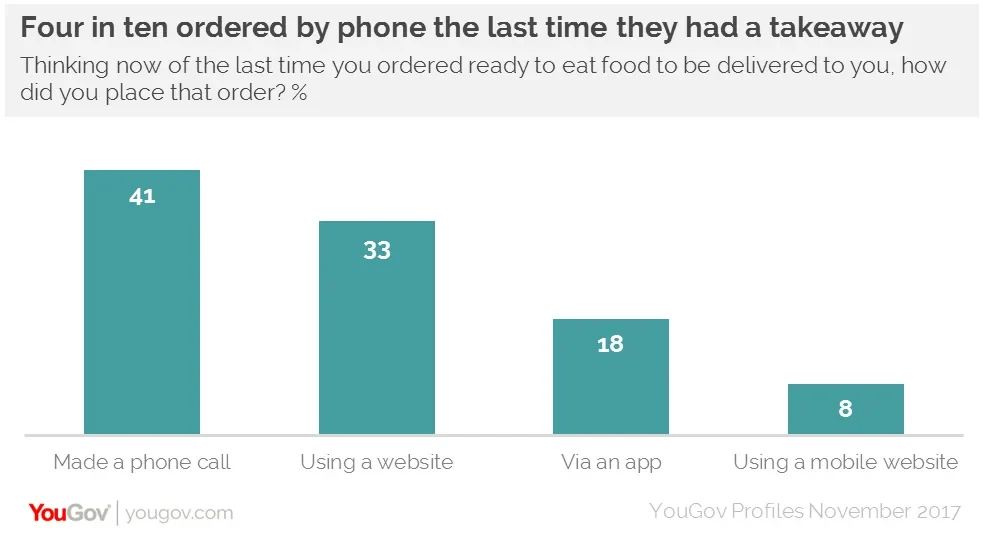 However, online orders have made giant inroads into the market - over half (57%) say their last order was made online (via a website, via an app, or via a mobile website). And while established delivery pizza brands such as Dominos (40% have ever ordered from them) and Pizza Hut (24%) take a huge slice, newer entrants are also now well-established. A third (34%) have used Just Eat, 14% have used Hungry House, 7% have tried Deliveroo, and 3% have purchased through Uber Eats.
While brands such as Hungry House and Just Eat have disrupted the market, many consumers remain wedded to the traditional method of ordering-in food. There are many reasons for this – from customers valuing the relationship they have with their local Chinese or Indian takeaway, to the fact that they can guarantee that they will get exactly what they want from where they want. While the newer online entrants have made great in-roads, they still have a way to go to persuade customers to branch out and try new options.
Barriers for delivery brands
The report finds that despite online food delivery brands - such as Deliveroo and Uber Eats – becoming commonplace, a large proportion of the population have not used them. By far the most common barrier is that amongst non-users, many say they simply don't eat any takeaways or have food delivered (67%).
Many have health concerns about using the services, either believing that using food delivery brands would encourage them to either eat too much food (8%) or eat unhealthily (8%). Poor coverage is also preventing take-up, with 13% of non-users stating that delivery brands don't operate where they live. Additionally, one in eight (12%) say they are unable to afford to buy food through them.
However, one of the biggest barriers to regular use is that food delivery remains an impulsive choice for many. Over six in 10 (62%) of infrequent delivery users and 57% of frequent users say that they buy one 'on the spur of the moment'.
The biggest barrier to growth in the home food delivery market comes from those who simply don't or don't think about ordering food in – and it may prove impossible to change these people's behaviour. However, there are several areas that may prompt greater use of delivery brands.
One is expanding their geographical reach and simply operating in more places. Another is to promote healthier options. Of course, getting people to download brands' apps in the first place is a major challenge, but overcoming it would help overcome a major hurdle – namely that having a delivery app installed makes it a lot easier for people to be impulsive in ordering.
Download the report here
Image Getty