More than a third of Brits think the result of the election makes a good Brexit deal less likely
While the majority of the British public still think the government should press on with Brexit, they are far more finely balanced over whether it should go ahead with the sort of Brexit that Theresa May has set out.
Although the country is split down the middle over whether leaving the EU was the right or wrong decision, there is still a majority who think Brexit should happen. Overall, 70% think that the government should go ahead with Brexit, with this group being split between those that actually support it (44%) and those who don't personally back it but it but think the government has a duty to go ahead with it regardless (26%).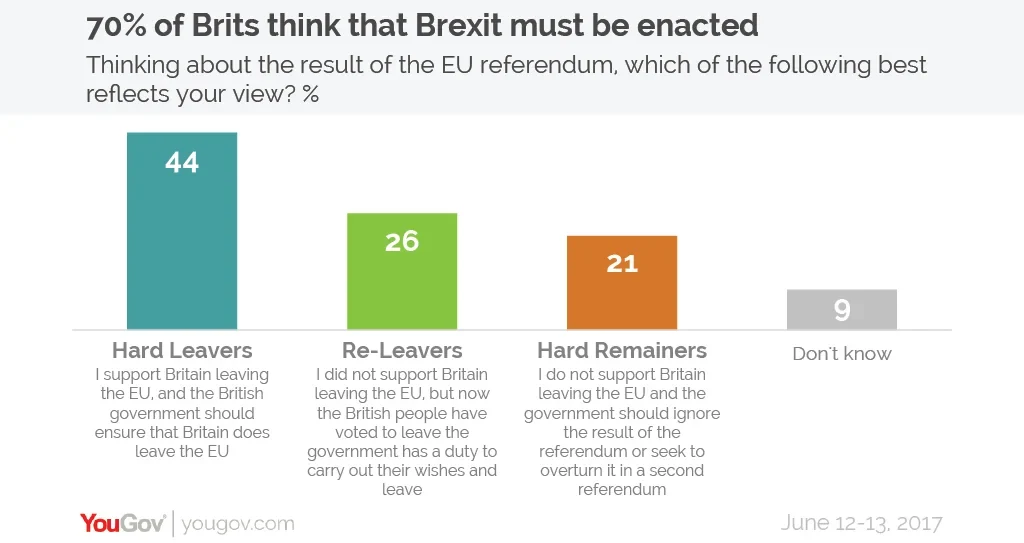 The good news for the Prime Minister is that the majority of Britons still approve of the negotiating targets she set out in January. At least half of the public would be personally happy with them (50%), think they would be good for the country (52%), and believe they respect the result of the referendum (61%). However, last week's result seems to have made the public less confident in Theresa May's ability to deliver on them.
While in March approaching half of (48%) had confidence in the Prime Minister's ability to negotiate the sort of Brexit she wants, this figure has now fallen to only 37%. Similarly, there has been a slump in the proportion of people who think that the government is doing a good job on Brexit – declining from 40% in April to 22% now. Furthermore, just over a third of people (36%) think that the result of the general election makes it more likely that Britain will get a poor deal from Brexit.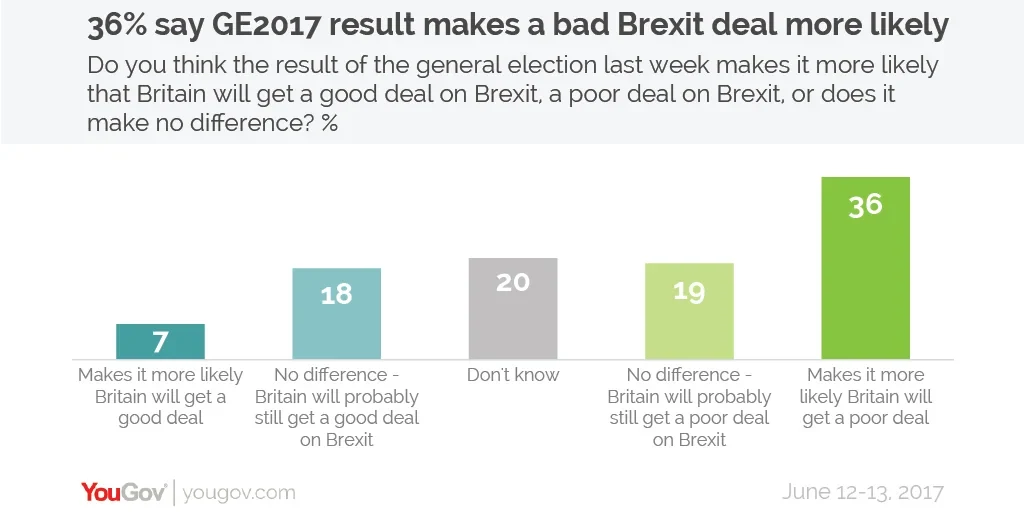 So what should happen next? Unsurprisingly, the public is divided in several directions. Over four in ten (43%) think that Theresa May should continue with Brexit on her original terms following the general election. Yet this group is narrowly outnumbered by those who would prefer a change in direction of some sort – be it abandoning Brexit completely (7%), having a second referendum (17%), or changing the UK's negotiation terms to look for a "softer" Brexit (23%). Together, those seeking a different path of one kind or another account for 47%.
Similarly, there is a majority who pick either a soft Brexit (19%) or remaining in the EU (35%) as their ideal outcome (a total of 54%). This is comfortably higher than the 45% that prefer only a limited trade deal (22%) or no deal at all (23%).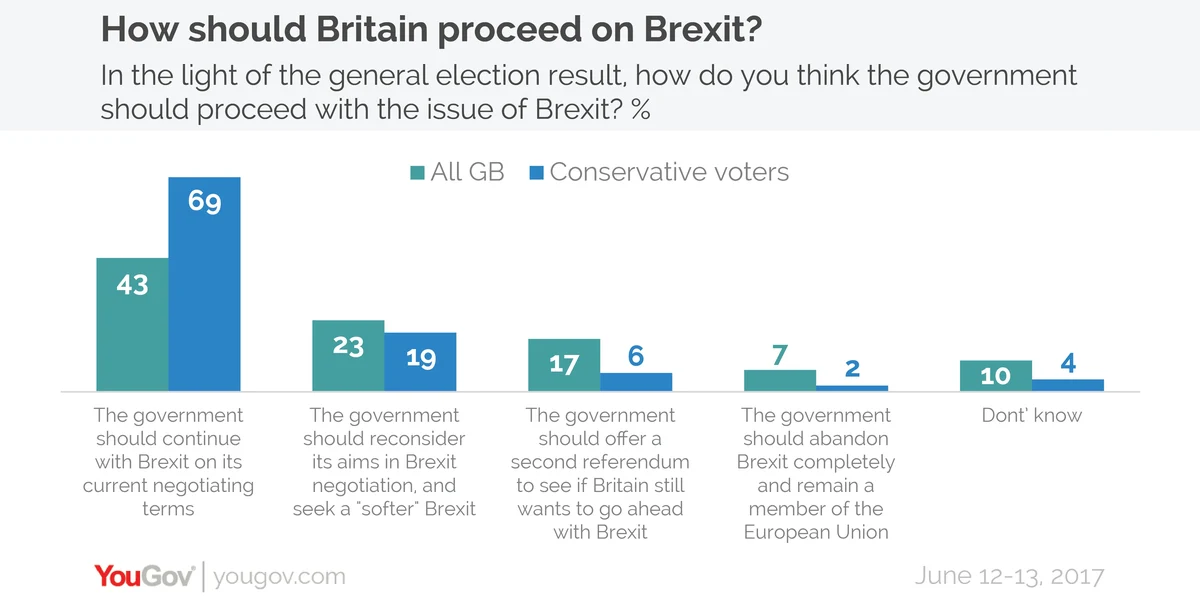 Whether softening the terms of Brexit is politically possible in the short term is a different matter. Supporters of Theresa May's Conservative party are more strongly in favour of a "hard Brexit" (37% would ideally like only a limited trade deal, 29% would prefer no deal at all), and May's already perilous position is also dependent upon opinion within the Parliamentary Conservative party.
Nevertheless, in terms of crude public opinion there is a path to a softer Brexit. Whether that is politically tenable given the balance of opinion within the Conservative party is a different matter.
Photo: PA