Following a backlash against ASOS for listing size 10 shorts as "large", YouGov asked Brits what size women's clothing they would put an "L" label in
Last week online clothing retailer ASOS came under fire for listing a pair of size 10 shorts as being a "large" size.
Social media users criticised the company for promoting negative perceptions of body images for women – a size 16 is the average for women in the UK. For their part, ASOS claimed that the size listed had been caused by a technical glitch.
In the wake of the story, YouGov asked what size of women's clothing Brits consider to be the equivalent of a "large".
The first and most obvious point is that men are, unsurprisingly, far less familiar about women's cloth sizes than women are. Whilst just one in twenty (5%) women answered "don't know" to the question, for men this figure was one in three (32%). Stripping out the "don't knows" from both genders allows us to compare the opinions of those who have a firmer idea of what women's dress sizes actually are.
Given the criticism of ASOS's listing error, the results may make for uncomfortable reading. Among those with an opinion, 40% of Brits consider size 16 – the average woman's clothes size – the equivalent of a "large".
Adding to this the proportion of people who think that sizes smaller than a 16 are the equivalent of a "large shows" that in total 60% of Brits with an opinion believe a size 16 or lower is the equivalent of a "large" size. Men (67%) are more likely than women (56%) to believe this.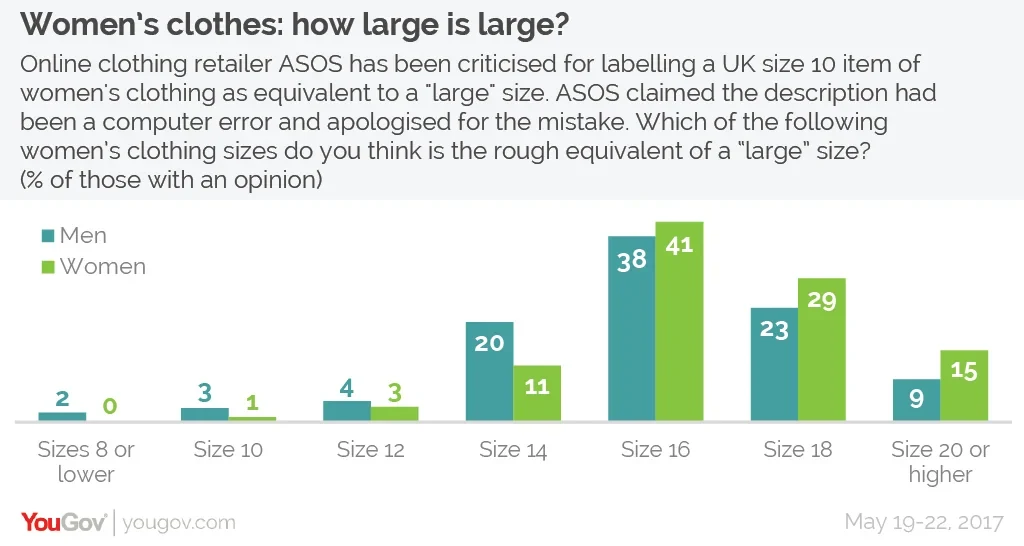 Older people are more likely to say bigger sizes are a "large"
Age also plays a decisive factor in how women's clothes sizes are perceived. Across both genders the older someone is the more likely they are to believe that a higher size number is the equivalent of a "large". For example, among 18-29 year old women, 38% say a size 14 or smaller is the equivalent of a "large", falling to 19% among 30-49 year old women, 8% among 50-64 year olds and just 2% among women aged 65 or older.
Given widespread concerns about the impact of unhealthily thin models in advertising setting unrealistic expectations for young people about how women should look, it is perhaps unsurprising that millennials are more likely to set the "large" threshold at a lower level.
As before, across all age ranges men are more likely than their female counterparts to think that lower numbered clothes sizes constitute a "large".