Entertainment piracy is nothing new. Whether it is the bootleg LPs of the 60s and 70s or buying copies of DVDs and CDs in the 90s, getting paid-for content for free has been around for a long time.
However, in the last few years' access to pirated media content has exploded. A range of apps and illegal streaming boxes mean more and more consumers are using streaming services to get paid-for content for free. Our latest study shows that 10% of the population currently use these streaming platforms and a further 6% are expecting to do so in the future, making this a real problem for content providers, content creators and ISPs.
To look into this trend further, we ran two online focus groups – one among those currently using pirated streaming services and another speaking with those who are considering using them. Our aim was to explore what is driving the growth in streaming piracy and whether consumers understand the impact this activity is likely to have in the future.
Most people in the groups are heavy consumers of entertainment – including movies, TV series, and sports – and they often had multiple subscriptions to paid TV and on-demand providers. The increase in availability of content across different platforms and through a range of providers meant that while the choice of content was increasing and so were the subscription costs.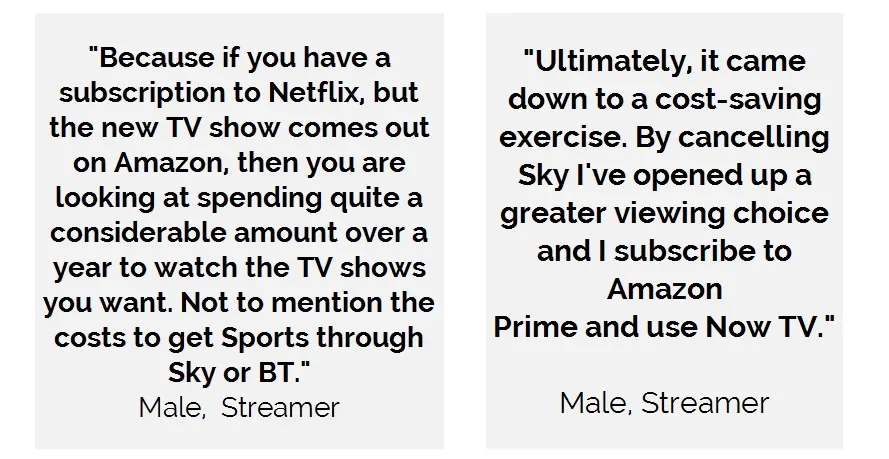 In an effort to rationalise their paid subscriptions some of the group had cut back on the services they pay for, deciding to only buy the 'basic' bundle and instead access the rest through a pirated platform. Others are being more selective about which services they pay for and which they stream for free, and many make a cost/value judgment on whether it is worth being a fully paid-up content customer in the long term.
There were other motivations for using pirated platforms. One was having content all in one place rather than having to switch between different platforms. Another was being able to access international content weeks or even months before it would normally hit UK screens.

Many were impressed by the fact that that the services offered look and feel legitimate, and are relatively easy to use. Illegal Kodi boxes often provide the file sharing platform bring a polished and user friendly interface, offering users a one-stop-shop for films, TV and sport.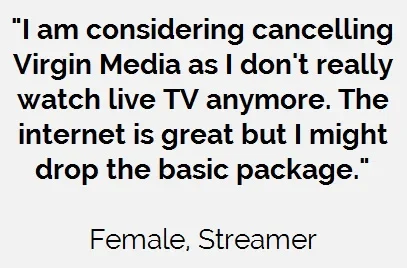 So do consumers realise what they are doing infringes copyright? Among the streamers most recognise that once they start accessing paid content for free they have probably crossed a line. However, most are not concerned and are often indifferent due to the fact that so many people are doing the same and so few get into any trouble. As one participant explained, "the lack of willingness of ISPs to turn people over means that is fair game."
It is clear from our research that while consumers believe that pirated streaming is having a significant impact on content providers, they don't yet see a reason to stop. The number of customers cutting back or, even cancelling, subscriptions is likely to increase as consumers get to the end of their contracts or think that they are not getting value from a service that they could consume for free.
To combat this, our research suggests that ISPs and content providers need to concentrate greater efforts on educating current customers about what they are doing and warn them of the implications – both legally and in terms of funding high-quality content. Content providers also need to bear in mind that many consumers are now only willing to pay when they see genuine value and a customer-focused proposition. Service providers that fail to address these things could be risking a precipitous fall in subscriptions over the long term.
Find out more about YouGov's Qualitative research
Image from iStock