Theresa May narrowly leads Boris Johnson in the race to succeed Cameron as Conservative leader and PM.
The Brexit vote and David Cameron's subsequent resignation has fired the gun on the Tory leadership race. The winner will inherit the Prime Ministership and will take on the responsibility for key decisions relating to the UK's negotiations with and withdrawal from the EU. The ballot will be voted on by Conservative party members, following a process in the Parliamentary party that will whittle it down to two nominees.
YouGov research carried out since Cameron's resignation shows the public favour Theresa May for the leadership over Boris Johnson.
Theresa May (19%) narrowly beats Boris Johnson (18%) when asked who would make the best Prime Minister. Michael Gove comes a distant third with 5% whilst no other potential candidate manages to get more than 3%.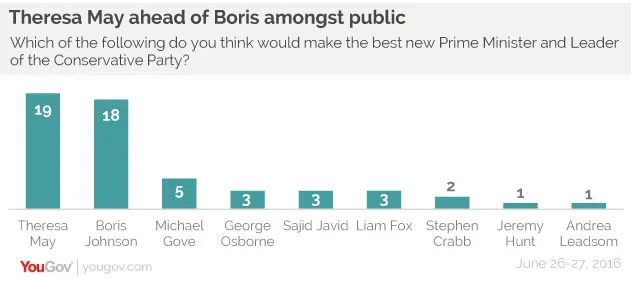 May leads Johnson amongst Conservative voters by a margin of 31% to 24%. She also leads amongst Labour and Lib Dem voters by margins of 18% to 9% and 31% to 13% respectively. Boris does however have a clear 48% to 9% lead amongst UKIP voters.

The impact of the divisive referendum campaign also appears to have had an effect on the public's preferences. Theresa May, who campaigned for Remain is supported by 26% of remain voters compared to Johnsons 4%. Whilst amongst those that supported Brexit, Boris wins by a margin of 32% to 18%.
The 1922 committee set out the timetable for the leadership contest today, with a new Conservative leader and Prime Minister expected to be in place by September 2nd.