Consumer confidence at highest level since May 2014

Seven of eight consumer confidence measures improve

Biggest rise came in business activity in the year ahead

Low inflation, high house prices and rising earnings highlight discrepancy between business and consumer sides of the economy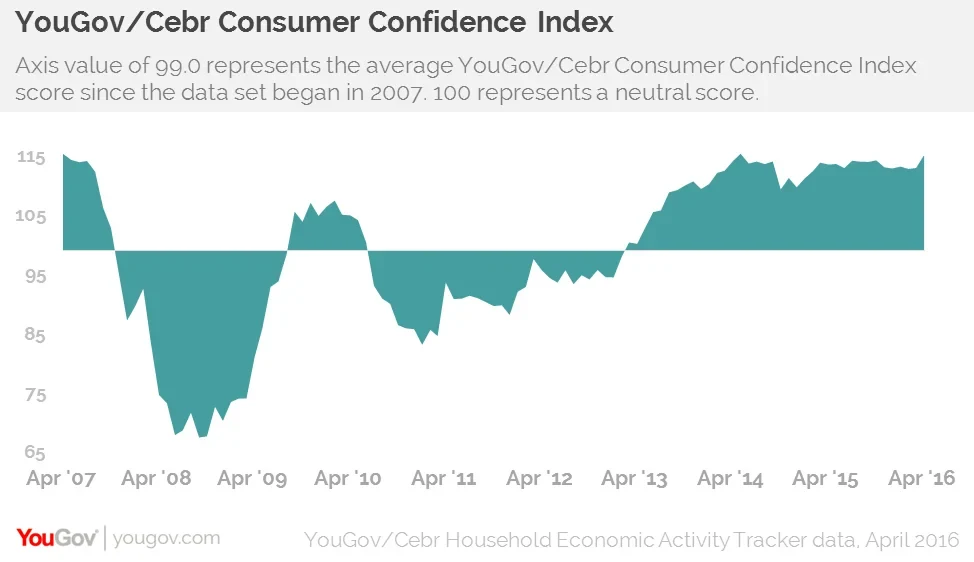 UK consumer confidence has increased notably over the past month, new analysis from YouGov and Cebr shows.
The YouGov/Cebr Consumer Confidence Index increased by 2.2 points in April from 113.0 to 115.2. The index is now at its highest level since May 2014 when it stood at 115.4.
It is too early to tell whether this represents the start of a period of increased economic optimism or a short-term surge. When the Index was previously at this level two years ago, the sharp increase was followed by a drop off over the following months.
However, the last time it saw month-on-month jump on this scale, in August 2013, the increase heralded a long-term increase in economic optimism that continued into the following year.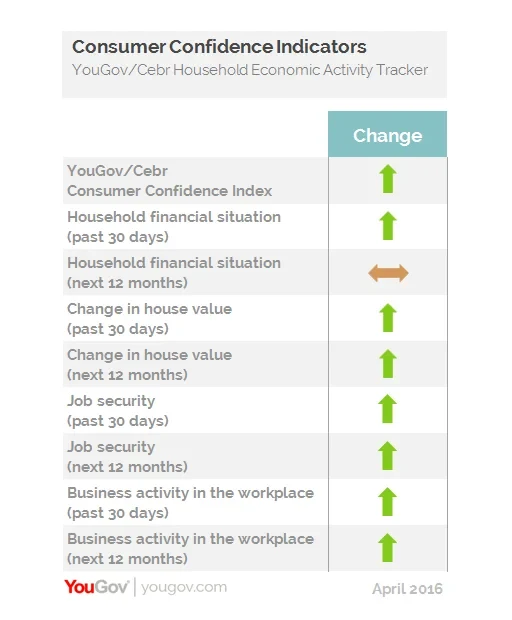 Seven of the eight measures that comprise the Index have increased in April. The greatest improvement comes from expected business activity in the workplace over the year ahead which is at its highest level since July 2015.
There have also been solid improvements in the job security metrics looking back over the past month and forward over the year ahead. The only measure to remain static is household finances over the next twelve months.
Tom Rees, Research Director of YouGov Reports: "For the past year-or-so people's economic optimism has been relatively stable, with only slight rises or falls. However, this month's consumer confidence figures have increased notably with workplace activity and job security in particular showing the largest improvements. Although it is good news at the moment we will have to wait for next month's figures to tell whether these figures are the start of a trend or a one-month surge on the back the introduction of the living wage."
Scott Corfe, Director at the Centre for Economics and Business Research: "At the moment there seems to be a discrepancy between the business and consumer sides of the economy. Despite concerns over Brexit, the global market wobbles and business failures such as BHS, consumers are still feeling optimistic. Low inflation, high house prices, rising earnings, and the introduction of the living wage are all making households more confident. However, this could change remarkably quickly if other parts of the economy don't perform. The boost from the living wage for example could be short-lived if the challenges it creates for businesses in turn impact consumers."
See more information about the Household Economic Activity Tracker
More information about YouGov Reports
Image from PA