Stagnant UK consumer confidence "propped up by rising house prices and low inflation"

Business activity for next 12 months at lowest level since June 2013

Consumer confidence increases by just 0.1 point in March

Property prices are still biggest driver of consumer confidence
New analysis from YouGov and Cebr shows that UK consumer confidence has plateaued as optimism driven by the property market is being kept in check by workplace worries.
The YouGov/Cebr Consumer Confidence Index increased only marginally this month, improving from 112.9 in February to 113.0 in March. The relative stagnation in the Index over the past year is being caused by relative optimism over house prices being balanced against increasing pessimism over workplace business activity, with a growing share of individuals expecting activity in their workplace to slow over the next 12 months – pointing to a worrying loss of momentum in the UK economy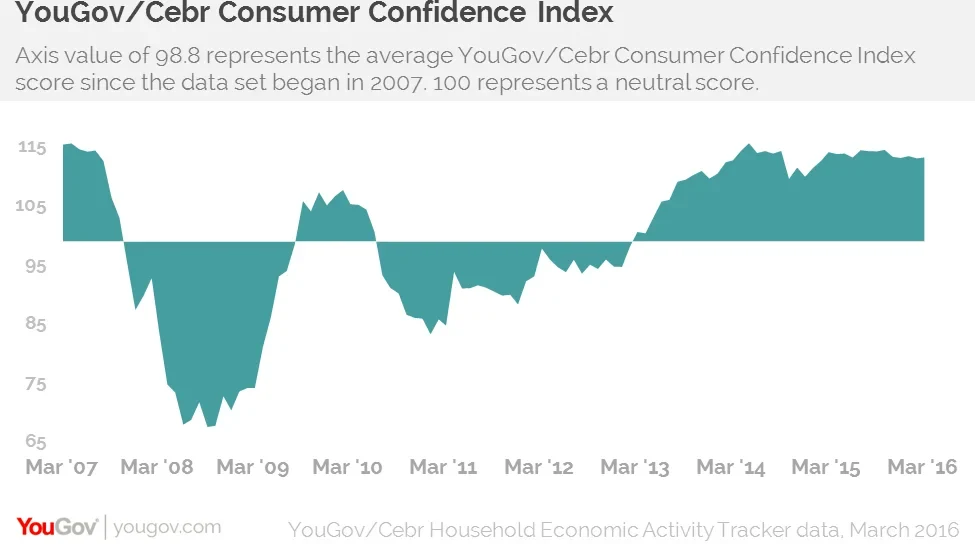 Data for March shows that the measure looking at house prices over the past month has improved to its highest level since September 2014. It comes at the same time as business activity at people's place of work has fallen to its lowest level since June 2013.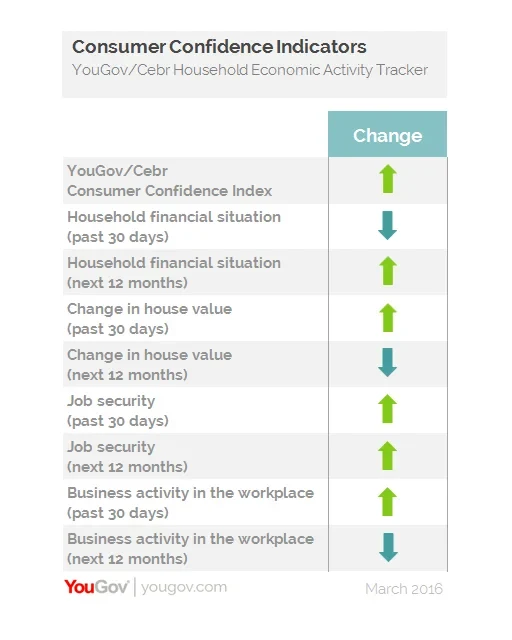 Stephen Harmston, Head of YouGov Reports: "There is a growing divergence between the consumer side and the business side of the economy. The financial position of households is expected to improve over the next 12 months, but our analysis shows a growing number of individuals concerned about the prospect of slowing activity in their place of work. There are significant question marks over the sustainability of the current recovery, especially is there are any knocks to the housing market which has played a significant role in supporting consumer confidence."
Scott Corfe, Director at the Centre for Economics and Business Research: "This is an uncertain time for the UK economy. Consumer confidence is being propped up by rising house prices and low inflation, but the deteriorating business environment paints a worrying picture of underlying economic strength. As well as environmental factors, such as the possibility of Brexit and a shaky global outlook, UK businesses are also preparing for more nuts and bolts business issues such the National Living Wage, which will have a big impact on some businesses' bottom lines."
See more information about the Household Economic Activity Tracker
More information about YouGov Reports
Image from PA