Most Londoners, including regular drivers, would support a monthly one-day ban on motor vehicles from the city centre
Paris had its first car-free day in September, banning motor vehicles from the central two thirds of the city following a brief period this year of being the most polluted city in the world. For several hours in March Paris's famous landmarks almost disappeared behind a cloud of smog as pollution peaked, leading to temporary emergency measures to ban cars with uneven number plates or vehicles carrying fewer than four people. September's car-free day was celebrated by many who said the sky had never been so blue, however after a stand-off with the police cars were allowed into certain areas of the centre.
New YouGov research reveals that a large majority of Londoners (63%) support having a car-free day similar to Paris's, with motor vehicles banned from the central third of the city but permitted in other areas. Only 24% oppose. A slightly smaller majority (58%) support making the event monthly.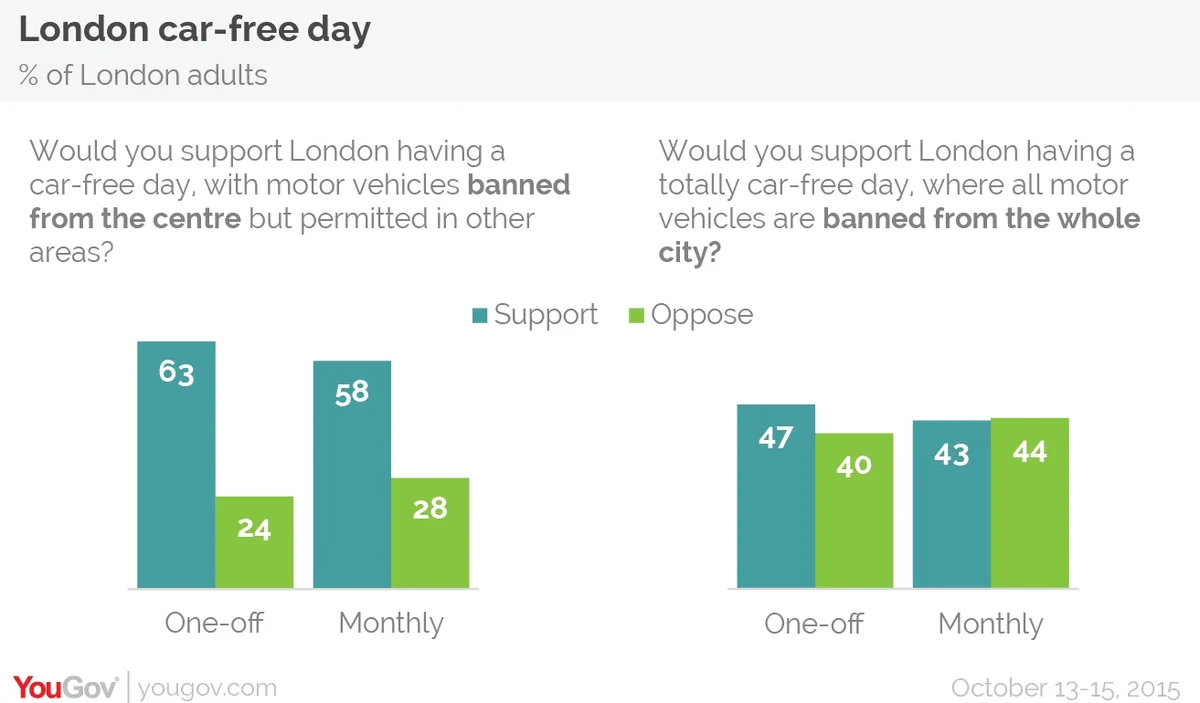 Even 59% of regular drivers, who drive once a week or more in London (29% of Londoners), support a monthly car-free day from the city centre.
As a one-off, making the entire city free of all motor vehicles tends to be supported (46% support, 40% oppose). Support for a totally car-free day falls among regular drivers however (43% support, 47% oppose).
When asked about having a totally car-free day every month, Londoners as a whole are divided (43% support, 44% oppose), but among regular drivers there is stronger opposition (41% support, 50% oppose).
Anne Hidalgo, the mayor of Paris, proposed the idea of a car-free day alongside a general pitch to reduce car use in the city, extending car-free areas along the Seine and eradicating diesel engines by 2020. Paris is keen to make a good impression before it hosts this year's UN climate change conference, in the first attempt for six years to reach a new global agreement on emissions commitments to come into place as the current targets expire in 2020.
PA image