British people expect China to overtake Europe as our most valuable trading partner in 20 years – and are enthusiastic about closer economic co-operation with the Chinese
China's recent 'Black Monday' sent shockwaves through the global economy and caused concern in the media about Britain and the West's exposure to potentially unstable Chinese markets. However new YouGov research reveals the British public, whose Chancellor is leading a push for closer trading ties with China, are bullish about the Chinese economy and not squeamish about closer ties. Fears of stagnating Chinese markets are felt only by a very small minority of British people, and calls to unwind our economic integration are almost nowhere to be heard.
In a new poll coinciding with Chinese President Xi Jinping's visit to the UK this week, British people expect China to become Britain's top trading partner in the next 20 years. Currently 40% say our most valuable trading partner is Europe, while China comes in with 23% – but this is expected to reverse in the next two decades, with 29% predicting China will be our top partner and 22% predicting it will still be Europe.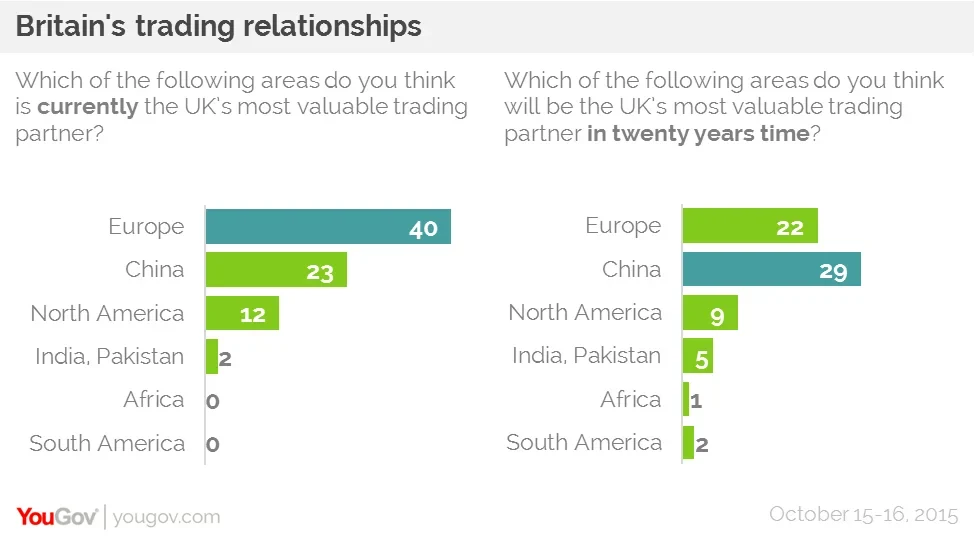 China's ambassador to the UK has said Britain is fast becoming the western country with the best relations with China, and said he expects the five-day state visit to "herald a golden era to the relationship".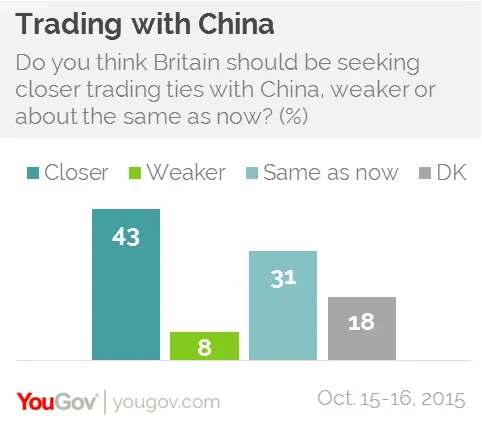 43% of British people say we should be seeking closer trading ties with China, while 31% say we should continue with our current level of economic cooperation and only 8% say we should weaken our ties.
The majority (54%) expect China to continue into the next two decades with either much stronger economic growth than now (22%) or slightly stronger growth than now (32%). Only 14% predict weaker growth, and the most popular response in terms of the effect of strong Chinese growth on western economies is that it will complement our own, rather than leading to a zero-sum game. 37% expect China's growth to lift our own, while 26% say it will come at the expense of western economies and 10% say it won't make any difference.
Not beloved
The British public seems to have a pragmatic approach to economic relations with China, but there is not much evidence of great affection for the country. Of the 12 biggest economies by GDP excluding the USA and those in Europe, China comes in at 8th in terms of net positive impressions (29% positive, 55% negative).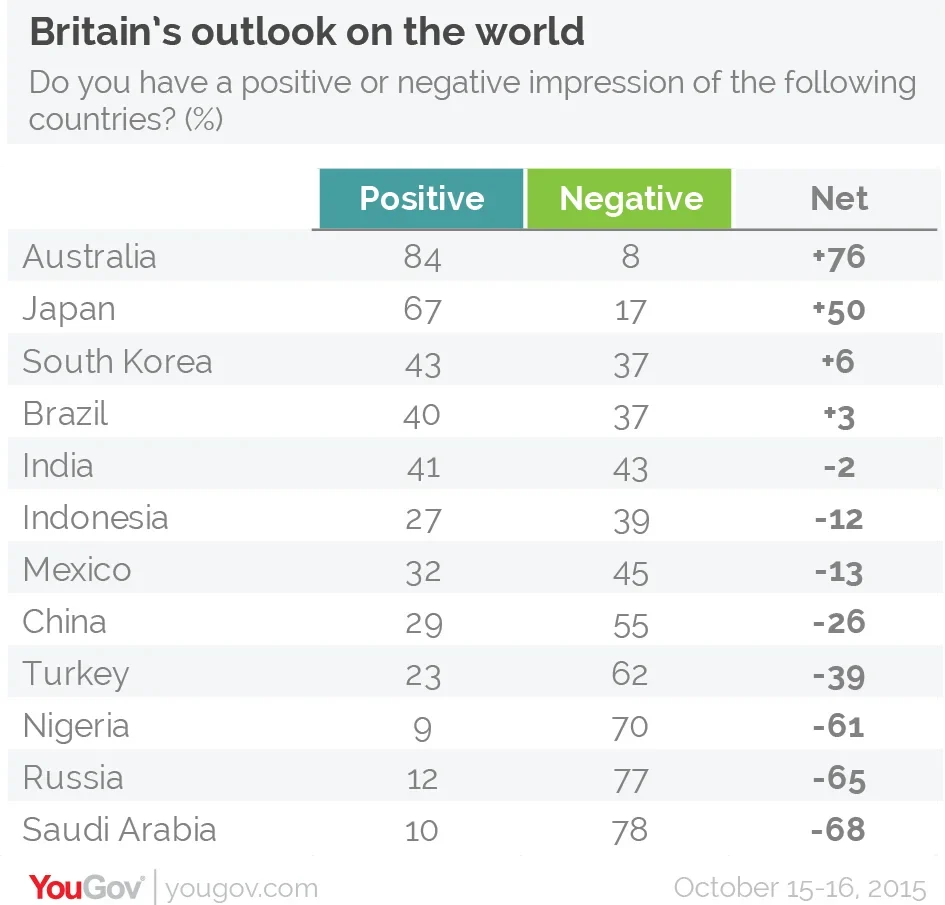 Below China are Turkey (net -39), Nigeria (-61), Russia (-65) and Saudi Arabia (-68). Australia (+76), Japan (+50), South Korea (+6) and Brazil (+3) are the only countries viewed more favourably than unfavourably.
Brand Values
'Made in China' is still a long way from achieving the image boost enjoyed by Japanese engineering over the course of the 20th Century. Asked which two or three words they most associate with Chinese consumer products, most British people (61%) choose 'cheap'. 'Low quality' is chosen by 43% but a more positive interpretation of 'cheap' – 'affordable' – is chosen by 40%. 'Hi-tech' is also a strong perception (chosen by 23%).
Chinese brands also have a low recognition rate for representing China. Smartphone manufacturer Huawei is recognised by 45% as being Chinese, however the next most standout Chinese brands are recognised by relatively few people.
Chinese companies have taken over a broad range of traditional British brands, but this is still not widely know by the public. Presented with the following list (all of which are owned by the Chinese), for not a single one did a majority of respondents choose Chinese-owned: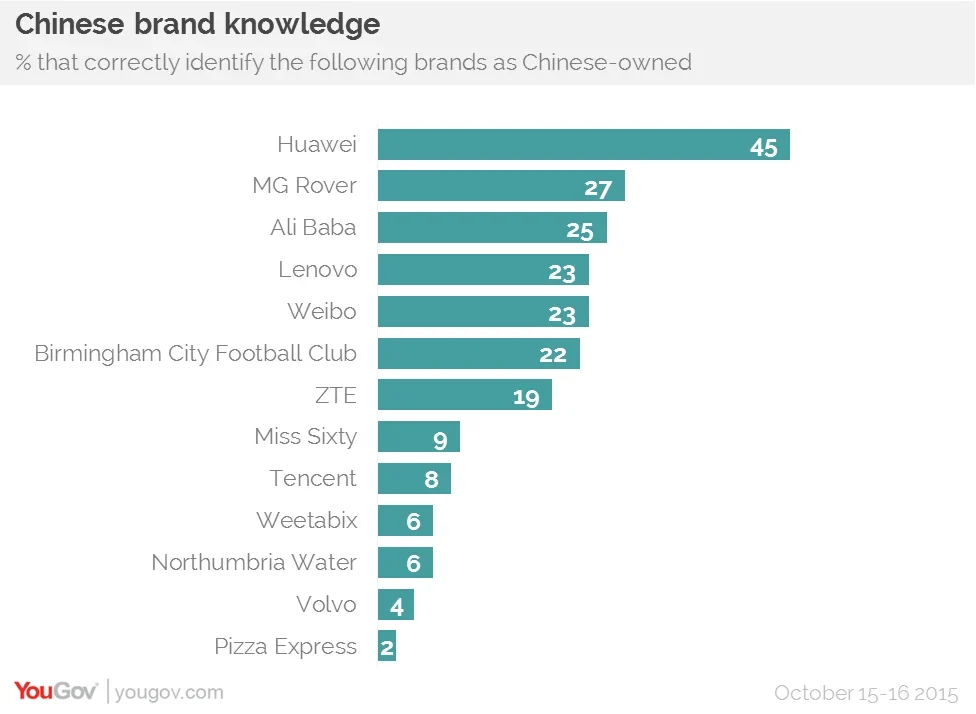 Of Weetabix, whose parent company is Chinese-owned, 54% are confident that the brand is NOT Chinese owned. On MG Rover, which was sold to a Chinese company in 2005, 25% think it's Chinese-owned and 34% think it is not.