A few years ago in this column I discussed the problems Santander faced. However, its recovery in the past couple of years has been one of the most successful brand building exercises of recent times.
The latest available official figures for bank account switching show that it is expanding is customer base more rapidly than any other current account provider, outstripping both Halifax and Nationwide.
YouGov is about to publish a white paper looking at the current state of the UK retail banking scene with a particular focus on how well the providers from building society backgrounds are doing and today I want to focus on the dizzying rise of Santander. Its success is chiefly down to two things – its easily understandable 1|2|3 account and its well-positioned advertising.
The success of its marketing push is evident in our data over the past two years which shows Santander has consistently enjoyed the highest advertising awareness scores among its rivals. These scores show how dominant its advertising has been – neither Halifax nor Nationwide have over taken it for even a single day over the past eighteen months.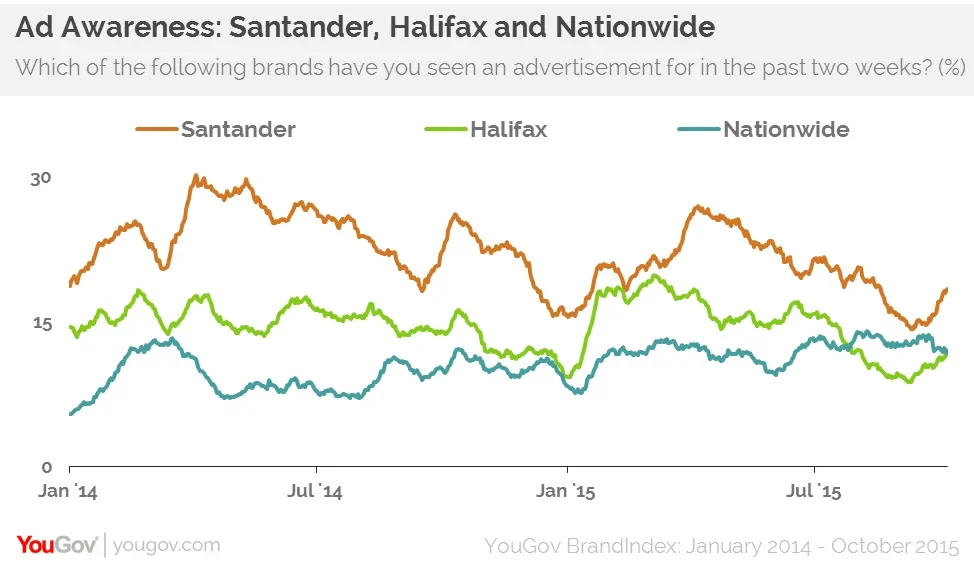 Its Recommend scores – where consumers are asked whether they would recommend a brand to a friend or tell them to avoid it – have increased from around -8 to around +3. It is now level-pegging with Halifax, although it should be said that despite making up substantial ground, it is still well behind Nationwide.
In terms of overall brand health Santander's efforts over the past couple of years have put clear water between it and the traditional high street banks – Barclays, HSBC, Lloyds, NatWest and RBS.Its Index score has moved significantly – from -5.1 in January 2014 to +4.6 now. The average for the traditional banks over this time frame was -5.3.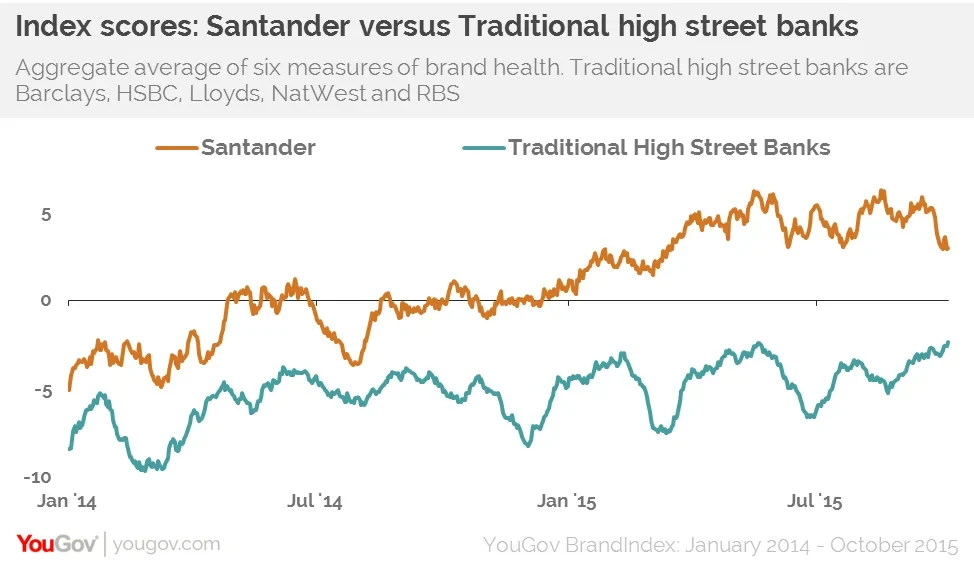 Despite its success, questions remain about the sustainability of the push – especially in light of its recent announcement that it is raising the fee on its flagship 1|2|3 account. We can't say at this stage whether the charges will mean the flow of new converts will dry up. However, its product and positioning has already had a major impact on retail banking in the UK.
Click here to access the banking white paper
Image from PA