The betting company Ladbrokes recently announced a £51.4m loss for the first half of 2015. This has followed on from its decision to close a number of stores here in the UK and in Ireland.
A merger between Ladbrokes and fellow bookmaking giant Coral has been announced in the last month, as they not only attempt to eradicate part of William Hill's market share, but look to respond more effectively to the challenges put forward by purely online betting companies.
YouGov Profiles data elucidates the changes in the gambling market, and points towards the new generation of gambler that now characterises the industry.
For years the traditional stereotype of a betting man was that of the older, lone, bearded racing obsessive, while the rest of the population was only stirred into betting action on special occasions such as The Grand National or The Derby.
Our Profiles data shows that while older men are the still intrinsic to the survival and indeed the overall increased number of the high-street betting shops, it is now the battle to attract and retain younger, male gambler to online betting platforms that is characterising the new age of betting.
Using YouGov Profiles - we can see that compared to a nationally representative sample, males aged 25-34 are the most likely demographic to have placed a bet at an online bookmaker or via mobile in the last 12 months. Males aged 55+ were even less likely to do this than females aged 18-24.
Males aged 45-54 are the most likely to have placed a bet in a betting shop or at an event (i.e. horse racing track), ahead of 35-44 year olds, and are far more likely to have done that than the youngest male group (18-24).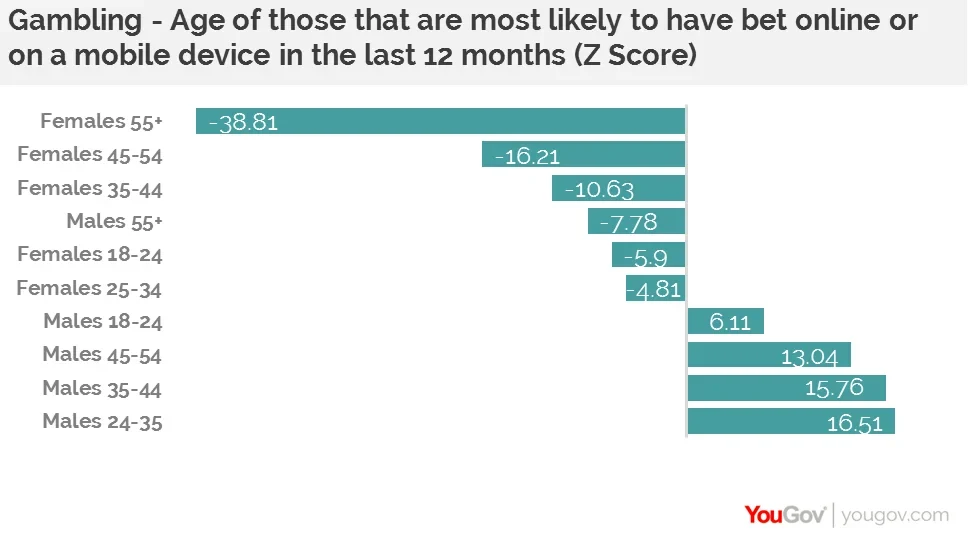 The data does show, for both online and in shop gambling, that placing a bet is a male orientated pursuit. In the future, betting companies may look to ways in which they can attract more female customers, whether that is through new advertising channels and streams, or just generally trying to improve some of the stereotypes that still exist which put off any potential female customers.
So how do Ladbrokes and Coral compare to others industry companies ahead of their merger? YouGov BrandIndex data indicates that there is work to do to match online-only companies in terms of perception. Those that combine online and in-store make up the bottom places.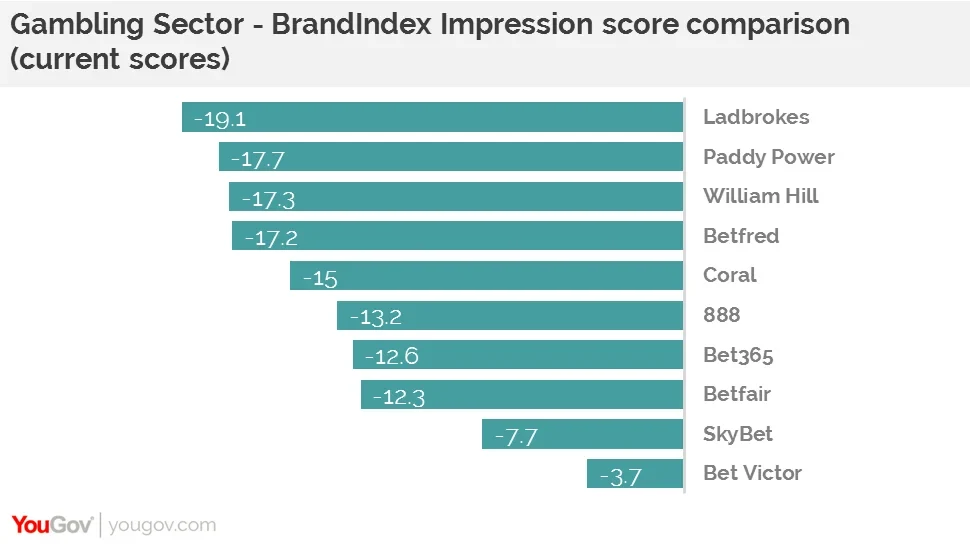 (The table above does not include online casino or lottery brands)
Looking at the gambling sector only, Ladbrokes has been at the bottom of the list in terms of Impression score since the turn of the year. It is currently on -19.1. This compares to second bottom Paddy Power (-17.7), William Hill (-17.3), Betfred (17.2) and Coral on -15.0. There has been a slight improvement across the industry, but with all players still showing a negative score, there is still so much more to be done.
Betting firms have come under pressure for a number of reasons; some are unhappy with the alleged overwhelming presence of betting shops on UK High Streets, with accusations that it is exploitative and dragging increasing numbers into a spiral of debt and addiction, which they cannot sustain nor defeat. Others say it is simply too easy to bet these days. Countering these accusations will be key to attracting more customers both online and in store.
Image PA
A shortened version of this article appeared in City A.M.