Londoners tend to think that their city has been getting steadily worse over the past three decades – and they expect it to get worse still by 2025
Crime and unemployment continue to fall in the capital, but discontent with gentrification, the selling off of affordable housing and soaring rents have led many to wonder if London is really home – this year YouGov found that 36% of residents say it isn't really worth the effort and expense, and they'd probably be better off somewhere else.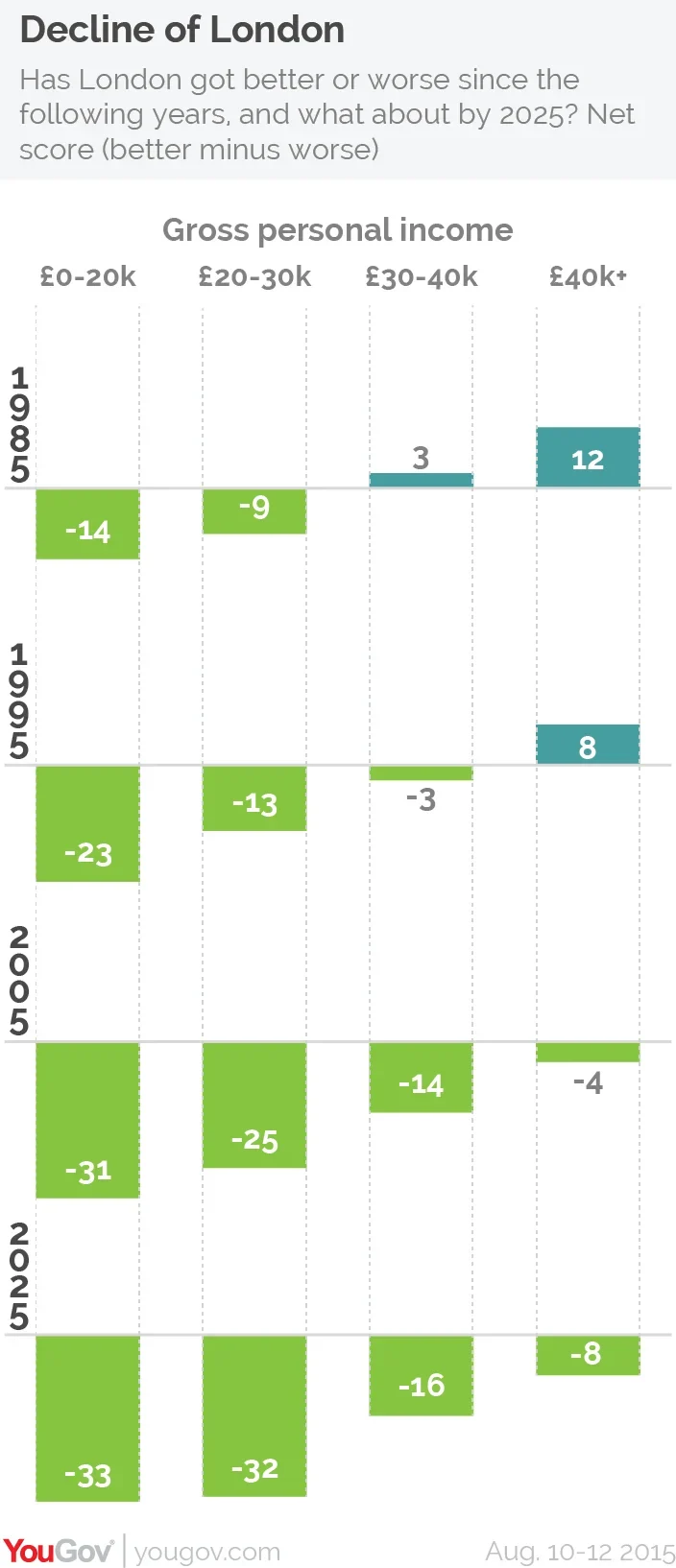 The city has undergone massive change in the last thirty years – there are now nearly 2 million additional residents. By 1980 London had only just emerged from the winter of discontent, and the 1981 Brixton Riot, or 'Bloody Saturday', saw 280 police injured and 100 vehicles burned. New YouGov research asks Londoners to say if the city has changed for the better or worse during each ten year period since 1985.
The city has become steadily worse according to Londoners, especially for those on lower incomes. The fewest say the capital has declined since 1985 (40%), while 31% say it's improved and 16% say it hasn't changed for better or worse. And among those earning more than £30,000, people tend to think the city has improved.
But for each period that follows more and more people say the city has declined and this perception is most pronounced for those earning under £20,000. This income group tend to say London has got worse in the past 20 years by 49-26%, while those in the top income group tend slightly to say it's improved. In the past ten years the majority (52%) of the lowest earners say things have deteriorated, and even the highest earners tend slightly to say this is the case.
Looking forward to the next 10 years, when demand for water is forecast to exceed supply by 10% as the population swells even further, pessimism reaches its peak. Only 20% expect London to have improved.
Those who have moved to London only in the last 10 years have the rosiest view of the past, as optimists outnumber pessimists by 19% with regards to London since 1985, and by 16% for the city since 1995.
PA image