54% of British people support decriminalising consensual sex work – and the arguments in favour of it are found to be most persuasive
Amnesty International has approved a controversial policy to endorse the decriminalisation of the sex trade, sidelining complaints from anti-trafficking groups and Hollywood actors. In the weeks prior to the vote The Guardian, normally supportive of the charity, came out strongly against decriminalisation – arguing primarily that a human rights organisation should protect people from human rights abuses, rather than advocating policy that goes beyond this remit, and which may even make abuse easier. Amnesty's rights defence is that consensual sex between adults is entitled to protection from state interference, and decriminalisation is the best way to reduce risks for sex workers.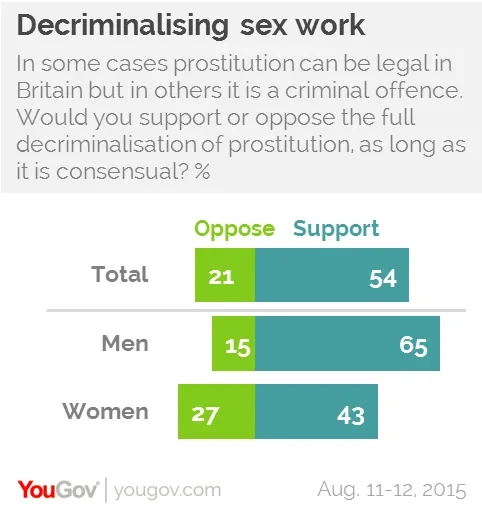 New YouGov research finds that most British people (54%) support decriminalising prostitution in Britain, while 21% oppose it. Men have a greater tendency to favour decriminalisation (65-15%), but women do still tend to be in support (43-27%).
Currently selling sex is technically legal in Britain, however restrictions make certain aspects a criminal offence – for example more than one person at a time selling sex out of a property.
10% of British men admit to having paid someone else for sex. The figure for women is 0%.
Most of the arguments in favour of decriminalisation are more popular than the arguments against, however one concern with noticeably high agreement is that criminal activities related to the trade could expand, for example trafficking, drugs and violence (37% say this argument is persuasive).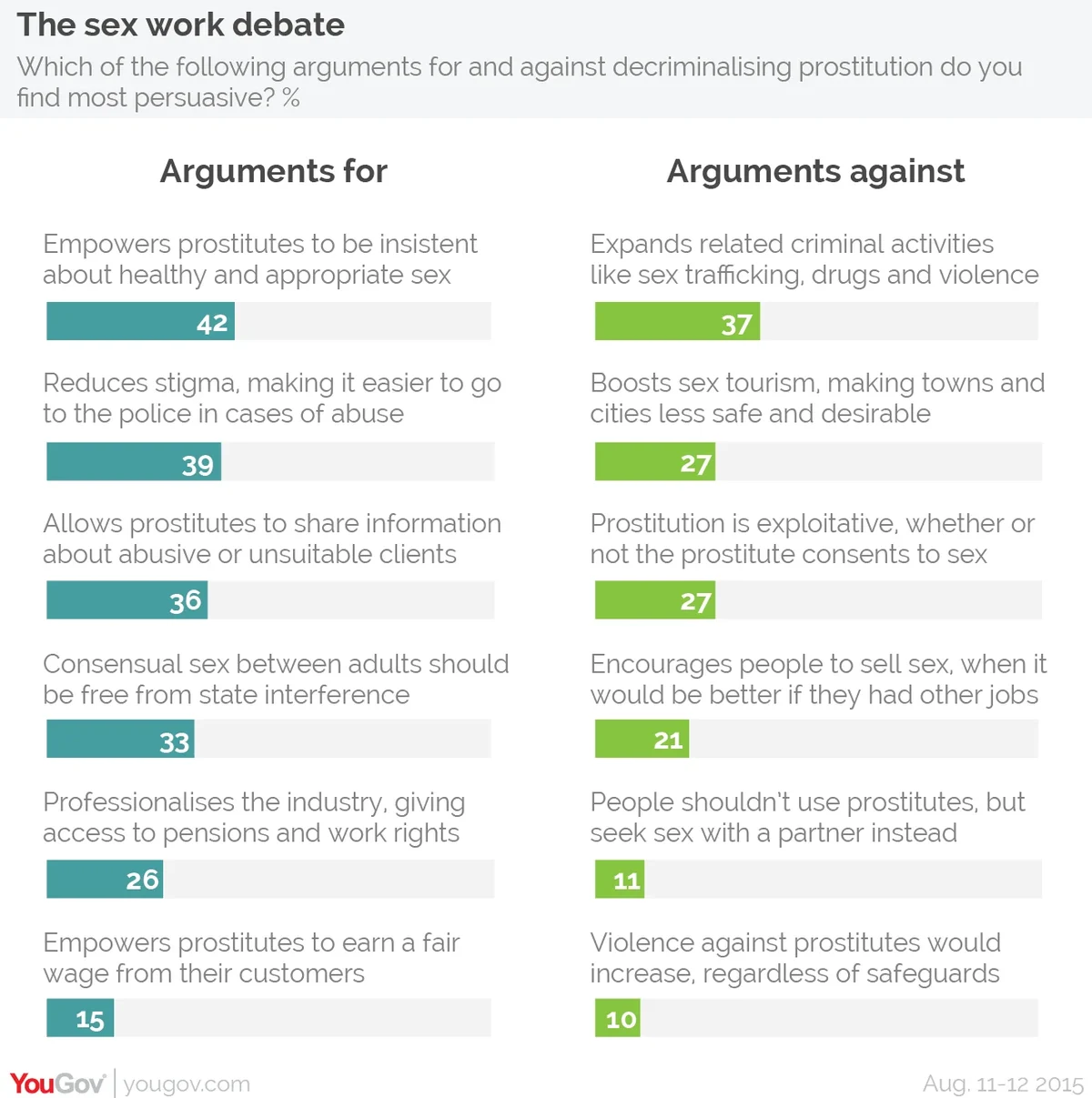 As a marginalised group, sex workers can have little protection from the law or from abusive customers. Enabling them to be more insistent about healthy sex and sex they are comfortable with is seen as the most persuasive argument in favour of decriminalisation (42%). Reducing stigma and making it easier to rely on police support, and allowing the sharing of information on abusive or unsuitable customers, are the second and third most persuasive arguments in favour (39% and 36%).
After explaining the arguments for and against decriminalisation, we asked people to again say if they support it. The effect is a net 4 point shift towards opposing it (now 52% support, 23% oppose), suggesting a wider public debate on the issue were it to be considered by Parliament, say, could shift the mood against decriminalisation.
PA image