Macmillan Cancer Support maintains its position as the top charity brand, new analysis from YouGov's CharityIndex shows.
Every six months data firm YouGov releases its CharityIndex Buzz rankings – a study of the charity brands that generate the most positive sentiment amongst the public. Since YouGov started looking the charity sector Macmillan Cancer Support has consistently maintained its position at the top of the table.
Cancer Research UK is in second place with Help for Heroes in third. The rest of the top five is rounded off by the British Heart Foundation (fourth) and the British Red Cross (fifth). Two Alzheimer's organisations – Alzheimer's Research UK and the Alzheimer's Society – make the top ten in sixth and tenth place respectively.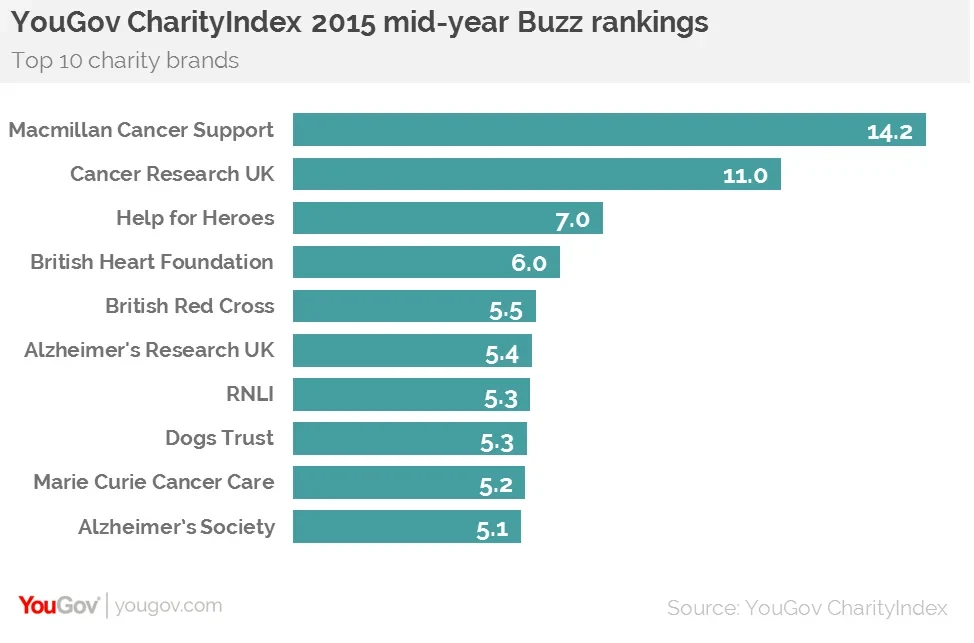 CharityIndex measures the public's perception of charities on a daily basis across a range of measures. YouGov's 2015 mid-year rankings were compiled using Buzz scores from across the year. Buzz scores measure whether people have heard good versus bad news about a charity in the previous two weeks.
As part of the analysis YouGov has also released the top improving charity brands of the first six months of 2015, comparing charities' Buzz scores to where they stood over the same period last year. Unicef is the most improved charity brand of the first six months of this year, having improved by 0.7 points when compared to January to June 2014. Oxfam is in second place (up by 0.5 points) and Children in Need third (improving by 0.4 points).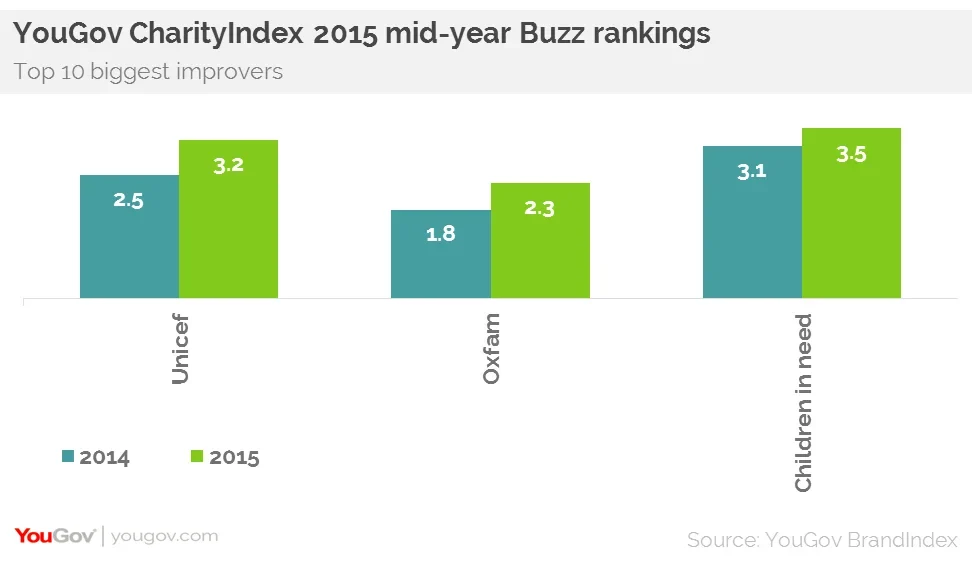 The low levels of increase in the improvers' list is indicative of the charity sector as a whole. YouGov's data points to many charity brands' Buzz scores declining compared to the first six months of last year following a series of negative press stories about the sector in recent months.
Click here for more information on the YouGov CharityIndex