The Night Tube is popular across all ages, but 25-39 year olds plan to use it more than anyone else
On September 12th Transport for London (TfL) are set to introduce a major change to the Underground service: for the first time, certain popular lines will run all night. TfL have called the change from a service that shuts down from 12:30am to 5am 'historic' – and according to a new YouGov poll it's overwhelmingly popular with the locals.
The so-called Night Tube is deemed a good thing by 10-to-1, with only 8% of Londoners opposed and 79% calling the 24-hour service a good thing for the capital.
Unsurprisingly, the change is more popular with young than old, but even 72% of Over-60s welcome the change (12% are opposed, compared to 4% of Under-40s).
The service will certainly have disparate benefits across ages. But it turns out that it's not the youngest of young adult Londoners who expect to be the most frequent late-night travellers – it's the 25-39 year olds.
Three in ten 25-39 year olds plan on using the tube after 12:30am at least once a week, compared to only 18% of 18-24 year olds, 8% of 40-59 year olds and just 4% of Over-60s.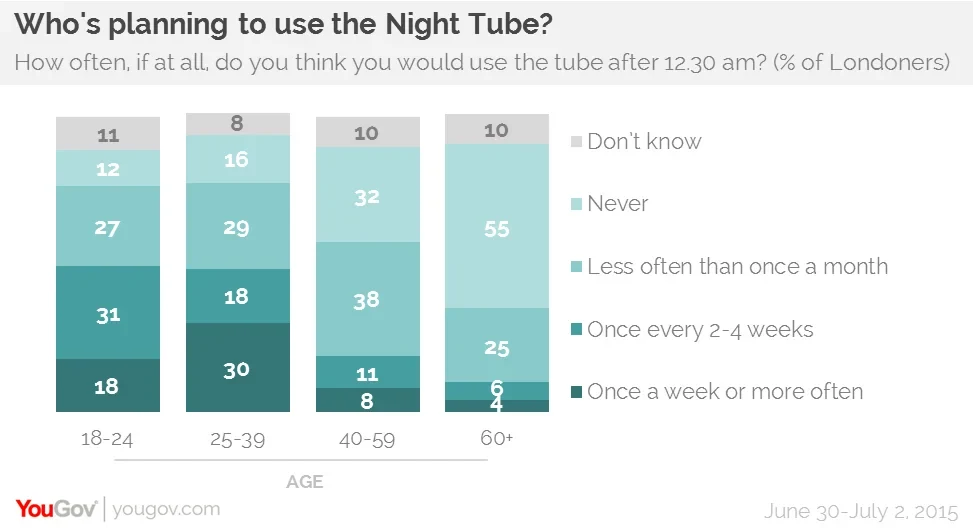 Across all London adults 17% expect to use it once a week or more often. A third (33%) expect to use it at least once a month.
Men are also twice as likely as women to say they will use the Night Tube at least once a week (21% versus 11%). This may be a reflection of safety concerns: in 2013, when the plans for an after-hours service were first made public, only 37% of women in London said they would feel safe taking the Underground at 2am, compared to 57% of men.
Though the date has been set arrangements for the September launch of the 24-hour service have not all be finalised. Transport unions are due to strike this week if no agreement is made on the benefits offered to those who work through the night.