Highest consumer confidence since May 2014 and second-highest since April 2007
Record percentage say household finances have improved in last month
Those feeling their household finances have got worse over past 30 days at lowest level since YouGov started collecting data in 2009
Following this month's general election consumer confidence has hit its highest level in a year and its second-highest since April 2007, new figures form YouGov and the Cebr show.
The YouGov/Cebr Consumer Confidence Index for May 2015 shows that economic optimism now stands at 115.1 – an increase of 1.5 points in the last month. It is at its highest level since May 2014 when it was 115.4 and the second-highest since April 2007 when it also stood at 115.4.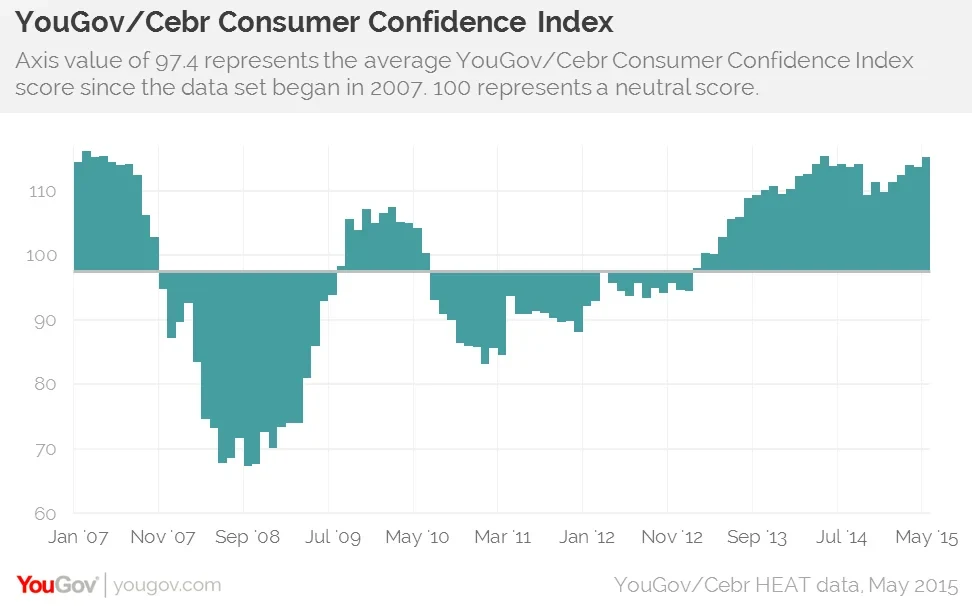 YouGov's Household Economic Activity Tracker data also show that there has been an increase in the number of people who feel their personal finances have improved over the last month. The percentage who say their household financial situations have got better over the past 30 days is at its highest level since YouGov started collecting the data in 2009, with 12% saying they have improved. At the same time, the percentage of people who say their household finances have deteriorated over the last month has hit its lowest level on record (16%).The other 71% think their situations have stayed the same.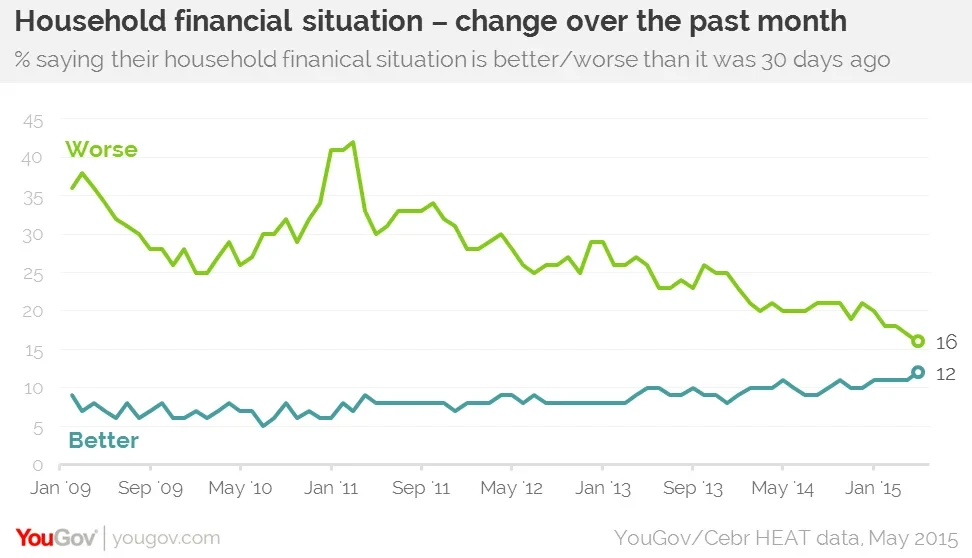 For the second month in succession, the research also shows that more people expect their household financial situations to improve over the coming 12 months than expect them to get worse. Twenty six per cent think their situations will get better over the next year – the highest level since March 2010. This is compared to 24% that think they will deteriorate – the lowest level on record. The rest believe their household financial situations will remain the same.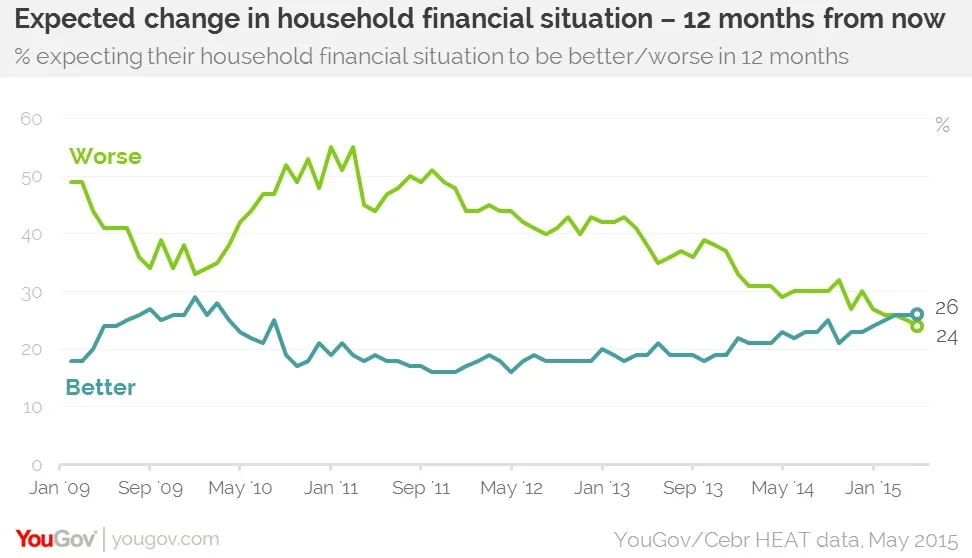 Stephen Harmston, Head of YouGov Reports: 'With the election now over, consumer confidence has strengthened and is now close to where it was before the financial crisis. Over the past month, six of the eight measures that make up the Index have improved with the most notable one being people's current household financial situation. While more people still think their finances are getting worse than think they are getting better, the gap is the narrowest it has ever been and what's more, people are now increasingly optimistic about what will happen over the next year. It looks like the Chancellor will present his additional Budget in July to an increasingly confident public.'
Scott Corfe, Associate Director at the Centre for Economics and Business Research: 'After a fall in consumer confidence last autumn there has been a steady improvement in the public's economic optimism. This rally is set against a backdrop of improving employment figures, "good" deflation and increasing wages. Although the latest GDP figures were softer than expected, it seems likely they will be revised up giving an overall economic picture that is relatively buoyant. However, it is clear that the economy still faces some notable problems – particularly the lack of business investment, a preponderance of low-paid, part-time jobs and large regional variations in growth. The July Budget will have to tread a careful line between trying to balance the books and not dampening emerging consumer confidence.'
Find out more information about the Household Economic Activity Tracker
Image from PA