YouGov's study into travel plans shows an industry on the up. An increase in consumer confidence is leading to a growth in the percentage of people that expect to spend more on holidays within the next 12 months.
Our research found that the expected spend in 2015 per household on major holidays is £2,303, which compares with the average amount spent on those trips in the previous year, £2,112.
Three quarters (75%) of UK adults expect to go on some sort of holiday this year. There is a tendency for short holidays or weekend trips, with 49% expecting to spend more on those types of excursions in 2015. Specifically, beach holidays are the most popular (27%), with city breaks (24%) just behind. Visiting family and friends is the reason for 22%.
The research broke down holiday bookers into three disparate groups; early (1-2 months ahead), organised (3-6 months) and early (7+ months) bookers. Perhaps belying stereotypes, YouGov found young people (18-24 year olds) are the most organised, while older travellers (55+) were the most prone to impulse bookings.
What does this mean for companies in the industry? YouGov BrandIndex data indicates the enthusiasm is great news for high street travel agents. Our Consideration metric measures whether a respondent would consider making a purchase with a brand. In the case of Thomas Cook, their score is currently at its highest point for 12 months (+25), higher than at the same time last year (+20). With increased numbers considering booking holidays, this should encourage company bosses keen to exploit a new found feel good factor.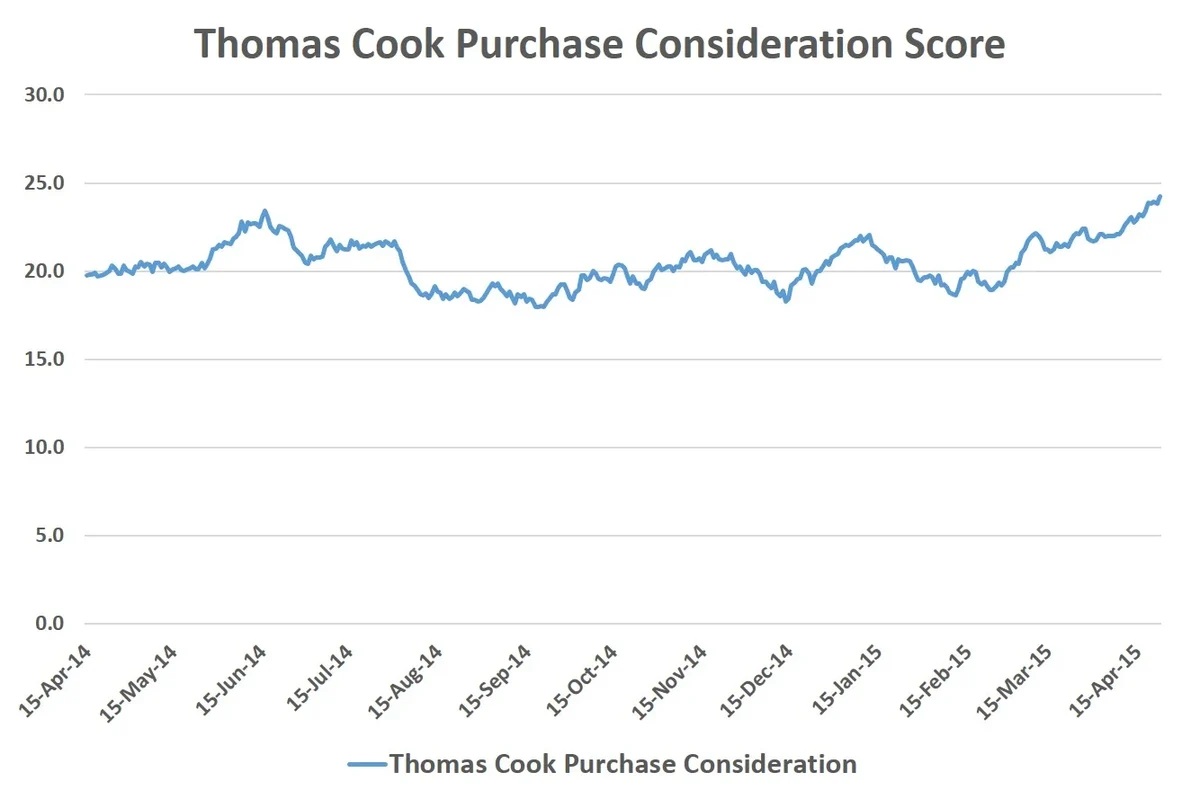 YouGov Profiles data also gives insight into who takes what kind of holiday. The quintessential package holiday seeker is most likely to enjoy relaxing on the beach, like brands such as Thomson and Thomas Cook and visit sites such as Trip Advisor and Groupon. The luxury holiday seeker seeks out good quality products and doesn't mind paying for them, likes Hilton and Emirates and is influenced by radio advertising.
The findings clearly illustrate that as the economic recovery begins to reach people's pockets, confidence is increasing which will have a positive effect on the tourism industry, domestically and abroad.
Harnessing this re-found enthusiasm will be key for tourist boards, airlines, hotels and other travel affiliated companies. Our profiles data indicates to brands how and where they should be advertising to appeal to particular groups that book certain types of holidays.
This article originally appeared in City AM