There is a significant preference among the public for a royal baby girl – while James and Charlotte are top choice names (or Diana in the USA)
The Duchess of Cambridge has refused to confirm her exact due date, but the bookies' odds are on the next few days – potentially falling on St George's day (April 23rd) or Will and Kate's wedding anniversary (April 29). Interest (37%) may be lower this time than it was two weeks before the birth of Prince George on July 22 2013 (46%), but British people do tend to say the birth increases (48%) the morale of the country rather having no effect (40%).
The public would clearly prefer some diversity rather than another baby boy, as 24% would prefer Kate had a girl and only 2% would prefer a boy.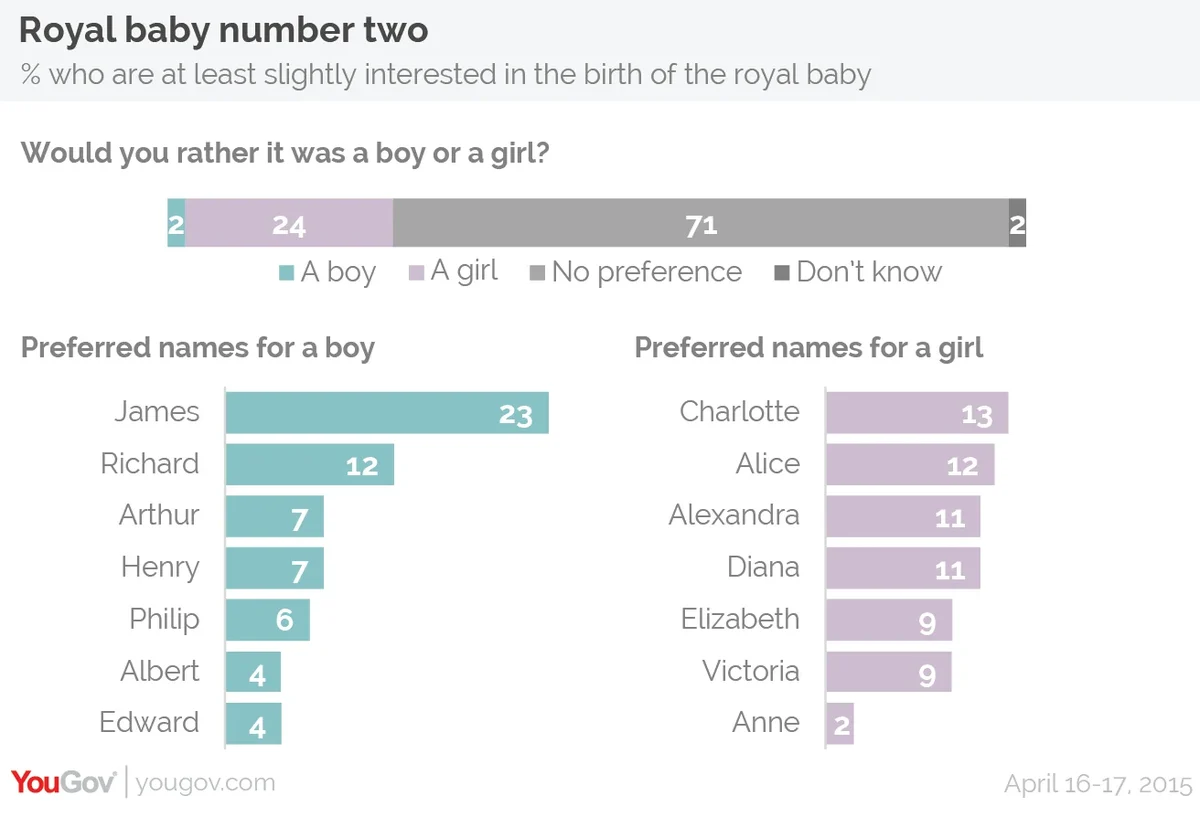 Apart from in America, where Diana is chosen by 19% and Elizabeth by 12%, there is no clear favourite name for a girl – Charlotte is on 13%, Alice on 12% and Alexandra and Diana are tied on 11% – however the preference for Alice ties in with the betting market, where Alice is the favourite. Our results also have James as the clear favourite boys name (23% to 12% for Richard), as do the bookmakers.
61% of the public say the royal family is a positive part of modern Britain, however only 33% say being born into the royal family is good luck. 10% say it is bad luck and 49% say it is neither.
Prince William is expected to have a two-hour rush to be present at his second child's birth, as he races back from his training with the East Anglian Air Ambulance. The baby will be born at St Mary's hospital in London, however there is a much smaller media presence outside the wing this time around, considering that by this time in 2013 the road was full of camera crews and photographers.
PA image