The Conservative manifesto contains the most popular policy – but overall the public are more persuaded by Labour's
The main parties used their manifesto launches to confront weak spots head on this week, as Labour tried to boost its economic credibility with a pledge that no policy would require extra borrowing, and the Conservatives vowed to take workers on the minimum wage out of income tax altogether. Many of Labour's policies had already been announced, but new ideas included freezing rail fares for a year and raising the minimum wage to more than £8 by 2019. The Tories, however, made a surprise announcement of extending Margaret Thatcher's Right to Buy policy to housing association tenants.
New YouGov polling for the Times reveals that the Conservative manifesto has the most popular policy – 80% say increasing the personal tax allowance to £12,500 and lifting minimum wage earners out of income tax is a good idea. Right to Buy is the least popular policy in either party's manifesto, with only 28% saying it's a good idea and 57% saying it's the wrong priority. Opening 500 new Free Schools also tends to be viewed as a wrong priority, by 46-28%.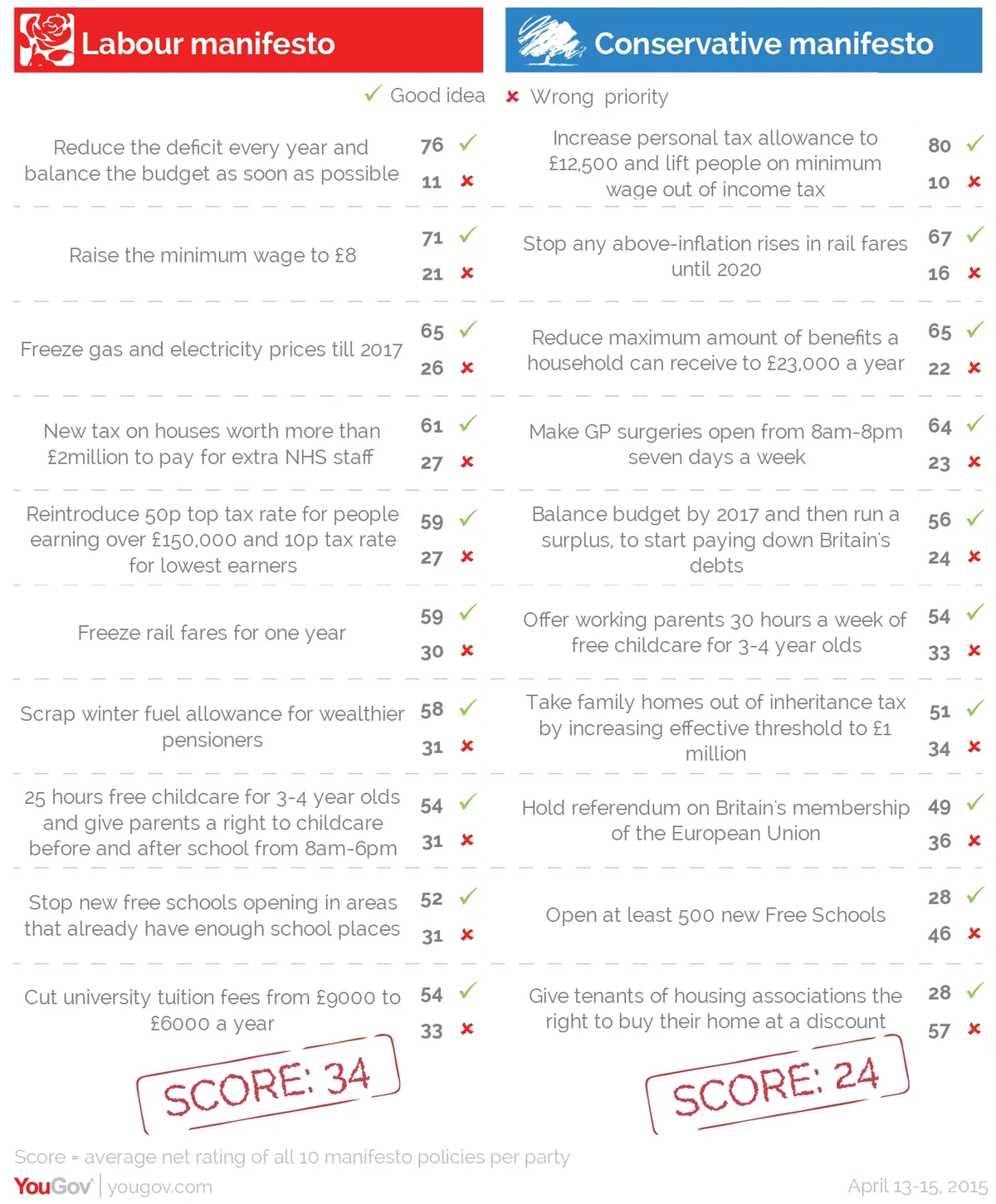 Overall, however, British people give better marks to Labour's policy offerings. All ten of the manifesto pledges tested by YouGov are supported by a majority (although their most popular idea, reducing the deficit each year, is also a Tory policy). And as an average of the net ratings for all ten, Labour's manifesto has a score of +34, while the Conservatives' has a score of +24.
Ed Miliband will face the four 'challenger' leaders – Nigel Farage, Nicola Sturgeon, Leanne Wood and Natalie Bennett – in a live TV debate on the BBC tonight, hosted by David Dimbleby. In two weeks time, David Cameron, Ed Miliband and Nick Clegg will be grilled in separate half-hour segments in a BBC Question Time programmes, also hosted by David Dimbleby.
PA images
See the full Conservative manifesto results