Boris Johnson is the clear favourite to replace David Cameron as Prime Minister and Conservative leader – beating Theresa May and George Osborne on every measure
David Cameron's surprise admission that he would not serve a third term as Prime Minister was received well by the public. 55% of British people said it was the right thing to do, suggesting they respect the decision not to cling on to power, rather than share the pundits' view that naming likely successors might unsteady the party.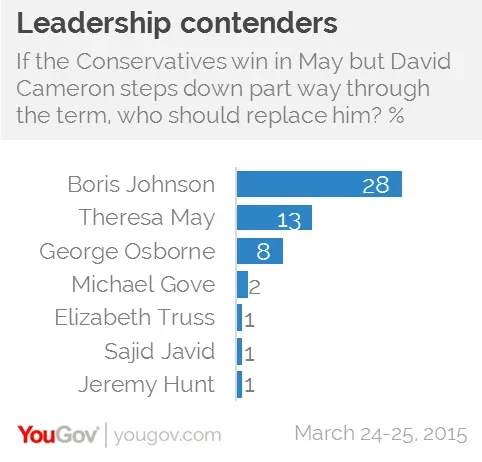 He said there "comes a time where a fresh pair of eyes and fresh leadership would be good. The Conservative party has got some great people coming up – the Theresa Mays and the George Osbornes and the Boris Johnsons."
New YouGov research finds that Boris Johnson is the clear public favourite for a replacement Conservative leader and Prime Minister, should David Cameron win in May but stand down part way through the term. He beats the runner up, Theresa May, more than twice over (28% choose the London Mayor, over the Home Secretary's 13%). Only 8% say George Osborne should take over.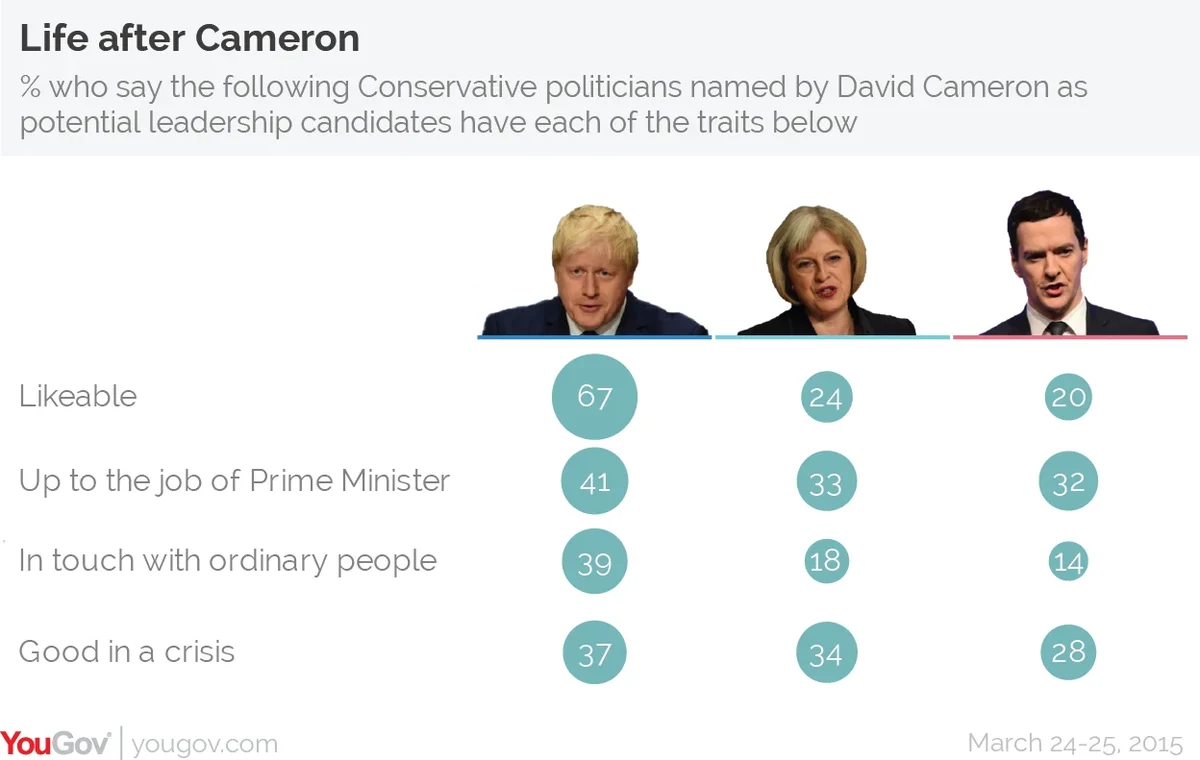 On every specific quality tested, the order is the same. Boris Johnson scores higher than Theresa May on being likeable, up to the job of Prime Minister, in touch with ordinary people and good in a crisis; in turn, George Osborne places behind Theresa May.
The current Mayor's top quality is his amiability (67% compared to only 24% and 20% for May and Osborne), also being liked by a majority of Labour voters. And more than twice as many people (39%) say he is in touch with ordinary people compared to the other two contenders.
Many in Westminster suspect that David Cameron would not survive a loss in May, or that if the Tories do become the largest party the inevitable leadership contest at some point in the Parliament allows Labour a 'vote Dave, get Osborne' style argument. The public are not clearly opposed to David Cameron remaining Conservative leader in the event of a loss, however, and compared to last August have warmed slightly to the idea.