The prime minister's remarks have been criticised by politicians and pundits, but voters think he was right to make them
David Cameron made numerous front pages on Monday with the disclosure that he would not serve as prime minister for a third term in 2020 if the Conservatives win in May. "I've said I'll stand for a full second term, but I think after that it will be time for new leadership," the prime minister told the BBC. He added: "Terms are like shredded wheat: two are wonderful but three might just be too many."
Numerous commentators and even some Tory MPs have treated the comments as a gaffe, whether for putting Cameron at risk of looking presumptuous or for undermining his own authority if he does win a second term. But does the public agree?
YouGov's latest polling for The Sun finds that 55% of voters think Cameron was actually right to rule out serving a third term, three times the number who say he was wrong to do so (18%). Both 62% of Tory voters and 52% Labour voters support the comments – arguably showing that Conservatives want to support the Tory leader in his remarks, while Labour voters are pleased by any indication of him ceasing to be prime minister.
45% would also support setting a constitutional limit on prime ministerial terms in Britain, as is done in some other countries.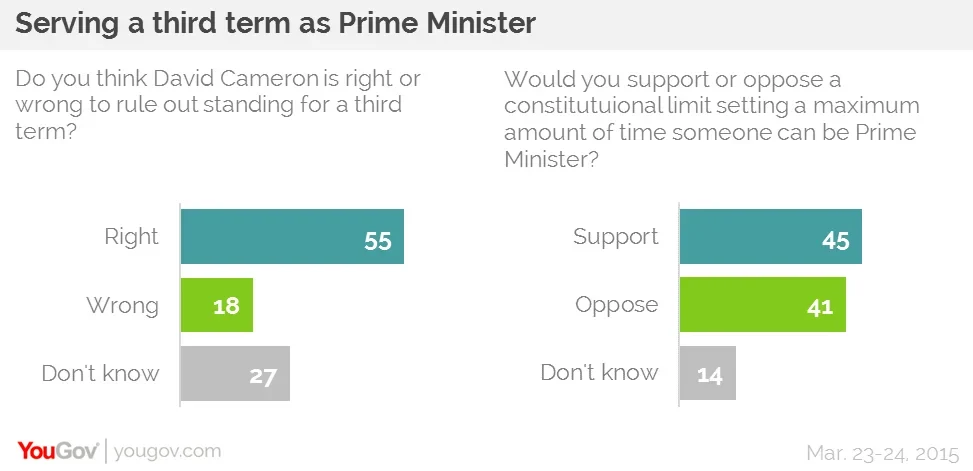 Voters are twice as likely to think more positively than negatively of the prime minister for ruling out a third term, by 21% to 9%. Most voters say the remarks made no difference to their opinion of Cameron.
PA image