Historically Millwall fans have had the worst reputation in London – but Londoners have an almost equally bad impression of Chelsea fans
London's most violent and long-standing football rivalry is between West Ham and Millwall. Historically intensified by the proximity of the teams – rival fans worked for competing businesses in London's docks – now derbies carry a category C warning by the Metropolitan Police, meaning they carry a high risk of disorder.
But recently Chelsea fans have taken the spotlight, after the police launched an inquiry into reports of two incidents of racist behaviour, one on the Paris Métro and one on a train to Manchester.
Now a YouGov poll asking Londoners for their views on fans of the capital's 11 Premiership, Championship and League One teams reveals the effect on Chelsea's reputation.
While Londoners have the worst impression of Millwall's fans (7% positive, 45% negative), Chelsea fans are now only slightly behind (13% positive and 43% negative).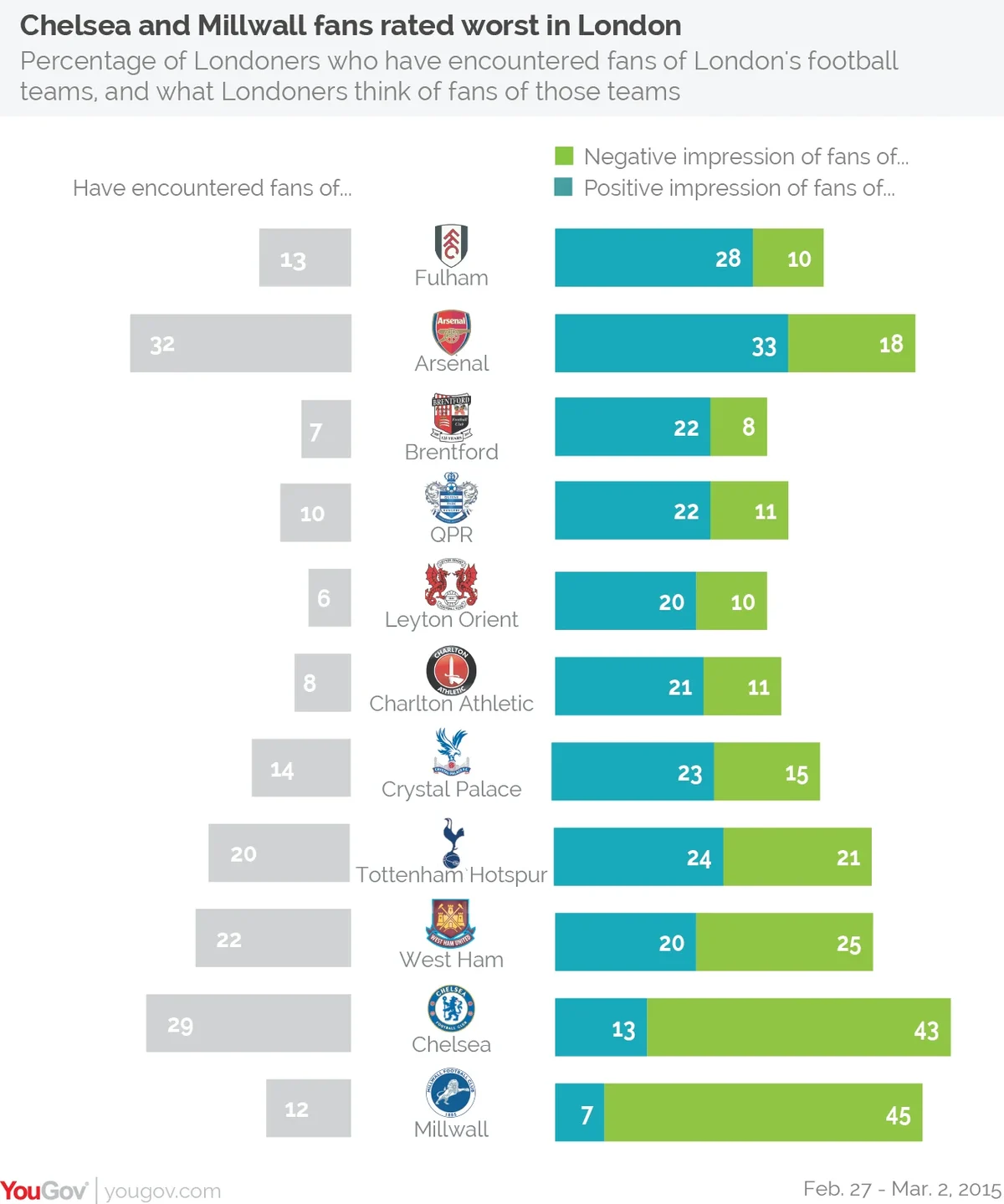 In most cases the volume of opinion on the right side of the chart is mirrored in the percentage of Londoners who have encountered them, on the left side. Millwall is the exception, however: although only 12% of Londoners have encountered their fans, 52% have an impression of them, suggesting that their reputation precedes them.
Arsenal fans are more visible than Chelsea fans (32% and 29% have encountered each group, respectively), however Arsenal fans have the second highest rating of them all (33% have a positive impression, 18% negative).
Apart from Arsenal, QPR and Crystal Palace fans have the best images in the Premiership, while Tottenham Hotspurs just cling on to positive territory (24% good impression, 21% negative) and West Ham fans join Chelsea and Millwall in having a net negative rating (20% good impression, 24% negative).
PA images
The graphic in this article was amended on 05/03/2015 to correct a transcription error. Previously it said 29% of Londoners had encountered Arsenal fans, however the correct figure is 32%