In a shift since last year, most voters now doubt that UKIP will remain a force in 10 years' time
In October last year, fresh after Douglas Carswell's victory in Clacton, YouGov measured the public mood about UKIP's future as a force in British politics – if it would fade away, or remain an important feature for at least the next ten years. The public fell on the side of longevity, by 49-35%. In the months since, that position has reversed, and by a wider margin: the majority (53%) think the party will fade, and only 30% think it will endure. More than twice as many UKIP voters (12%) express doubts about their party's future than in October (5%).
One explanation is the relatively low profile the party leader Nigel Farage has kept recently as he focuses on his forthcoming campaign in South Thanet. As the party's head of campaigns said, "the more media comes [to his target seat of South Thanet], the less people he can talk to. He had a camera turn up a few days ago and it prevented him doing any form of campaigning. It's important that Nigel wins."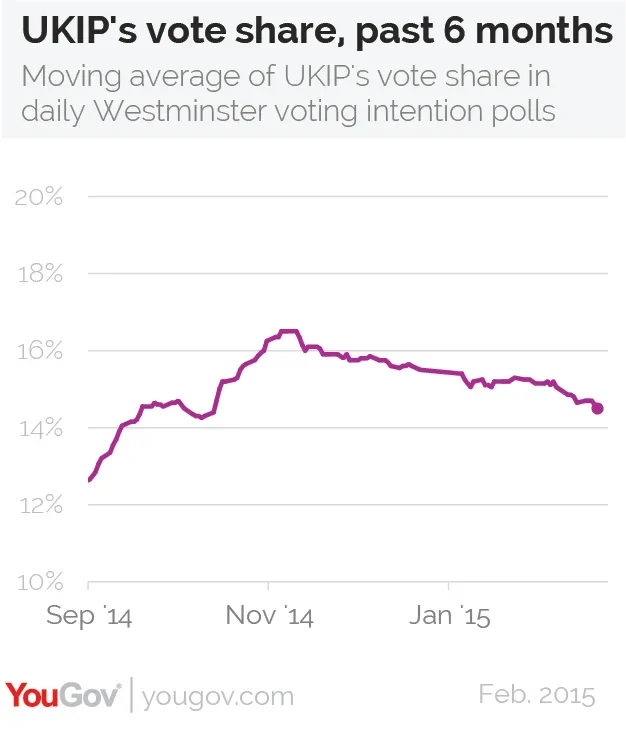 UKIP has lost ground recently in voting intention, with support in slight decline since October of last year, when UKIP reached an all-time high of 19%. Those weeks of averaging 17% or 18% have given way to leads of 14% or 15%. This is still an improvement on last summer, however.
UKIP's Spring conference in Margate this week will no doubt renew media attention.
PA images