The "Understanding Pensions and Retirement" report looks at consumers' understanding of issues related to pensions and retirement, and explores intentions and expectations in respect of retirement planning.
More than half (56%) of non-retired adults spend little or no time thinking about life after retirement, while more than a quarter (26%) spend some time thinking about it and 16% spend quite a lot or a great deal pondering over what they will do after they retire.
The research also shows that the act of thinking of retirement is more of a preoccupation for those who are approaching the age of retirement. A quarter of over-55s (25%) are immensely preoccupied by the thought of life after retirement, compared to only 4% of under-25s. Incidentally, more than 4 in 10 of under-25s (44%) never think about what they will do after they retire, compared to 14% of over-55s.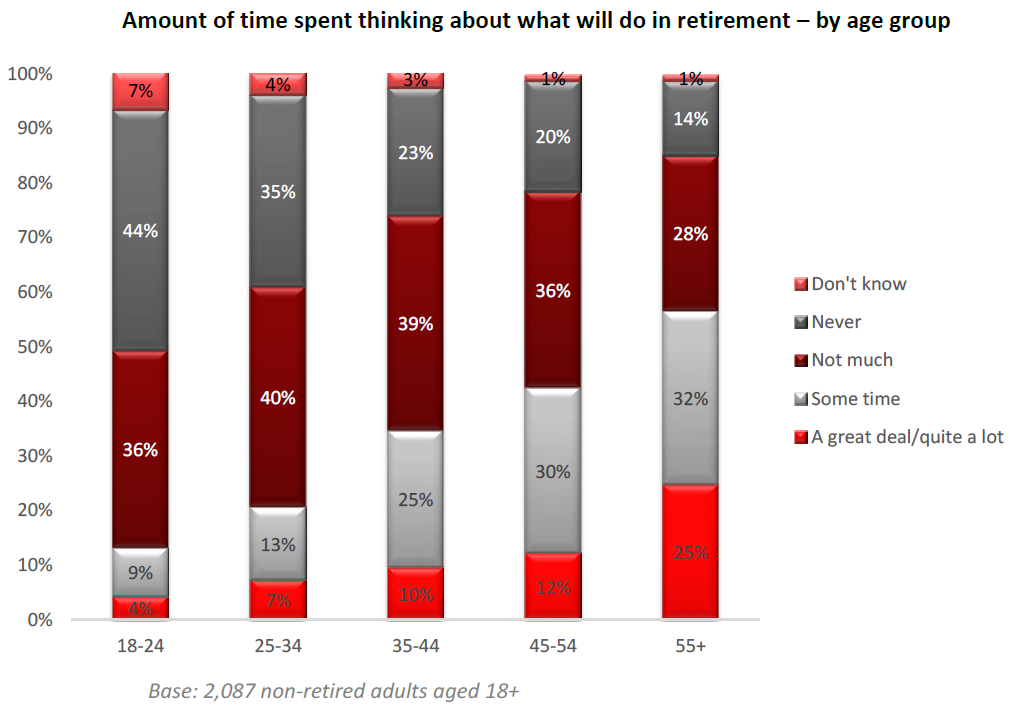 There are mixed feelings over how non-retired adults plan on spending their time once they retire. A third of respondents (33%) look forward to doing nothing but completely relax, while more than a quarter (27%) believe they will be relieved to stop working. In contrast, just under a quarter of respondents predict they'll be bored (24%) and the same proportion suspect that they would miss their sense of purpose and usefulness once they stop working (24%).
The concept of gradual retirement, rather than stopping suddenly, is attractive to many people. More than 4 in 10 (42%) intend to continue working after retirement and 9% intend to be self-employed. The idea of working part-time than full-time is attractive to people across all age groups, however, this attraction increases with age. Overall, 32% of non-retired adults say they intend to work part-time compared with just 10% of those who say they will continue working full-time.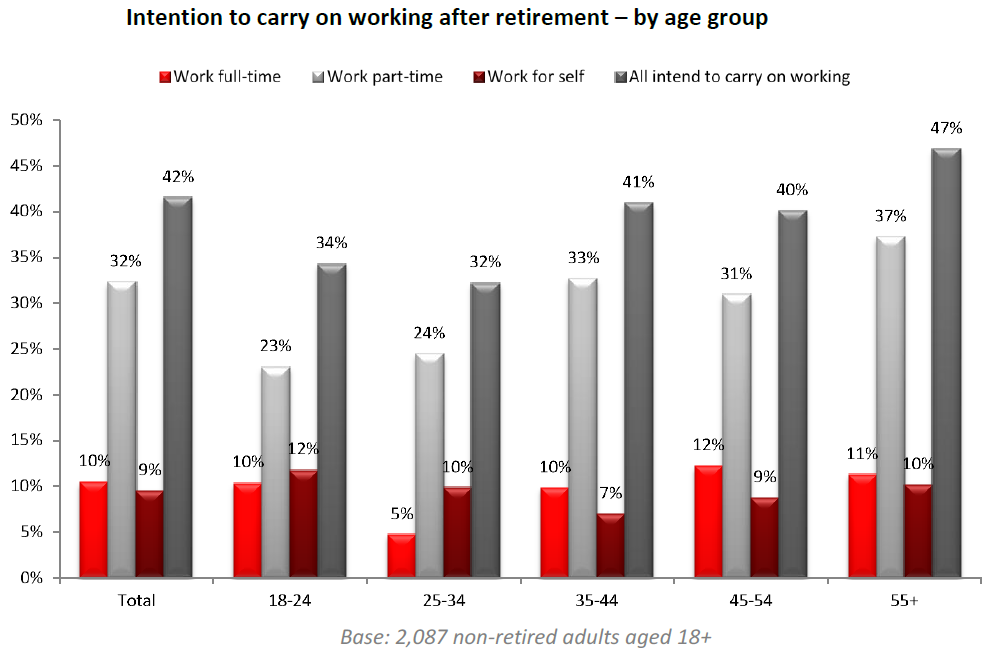 James McCoy, Research Director at YouGov Reports, commented on the findings: "There is a growing realisation that retirement doesn't necessarily have to be an all or nothing situation, a feeling that strengthen the closer one gets to retirement. The concept of gradually easing into retirement before completely exiting the workforce is attractive to many, especially older workers; this is due to fear of being on a fixed income and not feeling as an integral part of society. Not only does part-time retirement provide seniors with free time for leisure activities, it also supplements their income."