YouGov CEO Stephan Shakespeare, considers YouGov's latest consumer confidence figures.
YouGov's monthly YouGov/Cebr Consumer Confidence Index has fallen for the first time since December 2012. However, our HEAT data suggests that consumer confidence is becoming more broad-based, with positive signs in other areas.
After 19 months without a decline, the YouGov/Cebr Consumer Confidence Index fell in August. It now stands at 113.8, a fall of -0.6 points in the last month. This is the first time the Index has fallen since December 2012 and is the highest month-on-month decrease since October that year.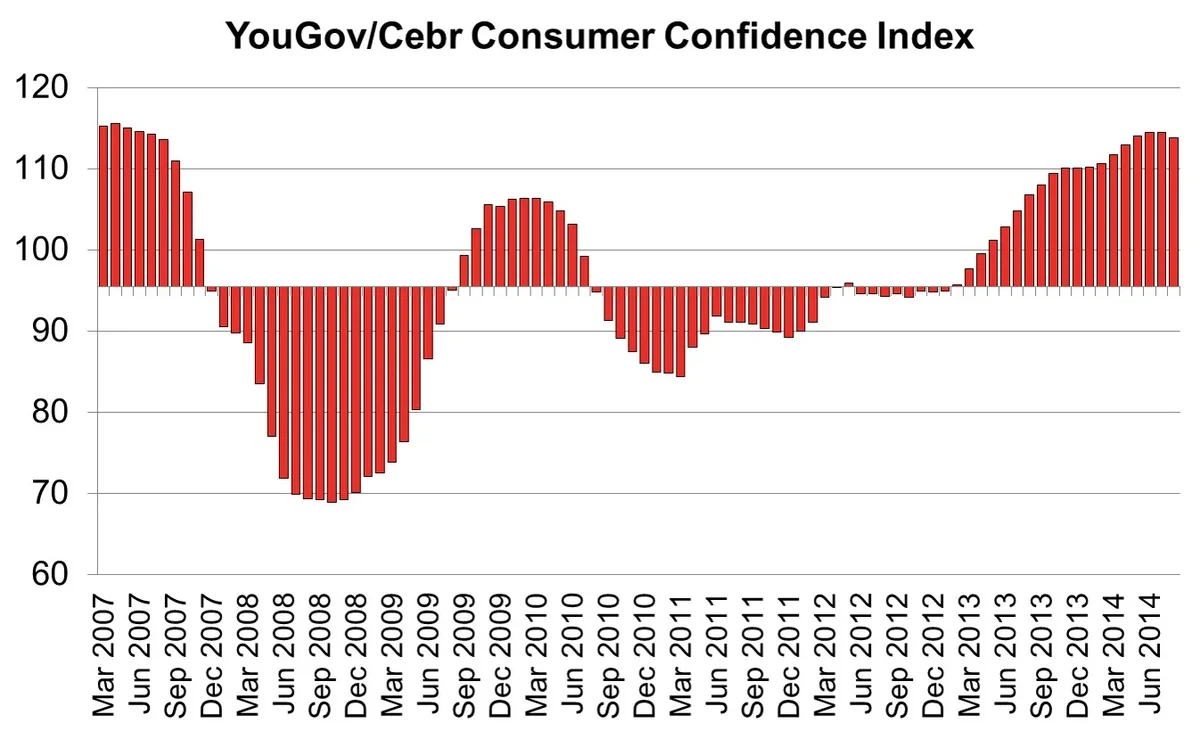 The decline can be explained by homeowners becoming slightly less optimistic about the property market. Indeed our figures show that expectations for house values fell for the third consecutive month. There has also been a second consecutive fall in whether homeowners feel their properties have increased in value over the last month. This cooling in people's confidence of the property market follows a year and a half of steady increases.
There are good signs elsewhere, particularly concerning the workplace. Job security is now at its highest point since YouGov started collecting data on it in 2009. Employees' expectations for business activity in the workplace are also now at record levels.
YouGov analysis suggests that consumers' experiences and expectations for their household finances are maintaining their steady improvement. YouGov's measure which assesses whether a household's financial situation has improved over the past month reached its peak last month. Meanwhile, expectations for household finances over the next year are nearing levels not seen since spring 2010 – before the last general election.
So while there are good signs, there remains a worry over whether workplace confidence will lead to an increase in wages. There is still a lingering concern among consumers that business development has not translated into pay growth and stronger household finances. If this were to happen, there's no doubt we would see this reflected in people's household finances and therefore, consumer confidence.
Due to the plateau and slight dip in consumer confidence, we may expect the rate of growth to slow down slightly. However, this should be tempered by remembering that we are still on course for the fastest growth since 2007.