UKIP voters are especially worried Ebola will spread, and the vast majority of the public say the outbreak in West Africa is an important story
Though it has had to compete for headlines with major crises in the Gaza Strip and Ukraine, West Africa is currently experiencing the deadliest Ebola outbreak in decades. The virus has killed more than 700 people, mostly in Guinea, Liberia and Sierra Leone. There has been at least one case of an Ebola victim arriving in Lagos, Nigeria by plane, raising fears that the outbreak could spread and leading to warnings that UK border staff are "unprepared" for the threat. However, a World Health Organisation spokesperson has said it is extremely unlikely Ebola will spread beyond West Africa.
Plenty of people in Britain have taken note of the story, according to a new YouGov poll, and many are worried the virus could hit UK shores.
Overall, 81% of people say the story of the outbreak is important, with nearly half (47%) calling it "very important". Similar numbers call the fighting between the Ukrainian government and pro-Russia separatists (52%) and the fighting in the Gaza Strip (53%) "very important" international news stories. Only 11% put the news that the US economy grew by 4% in the same category.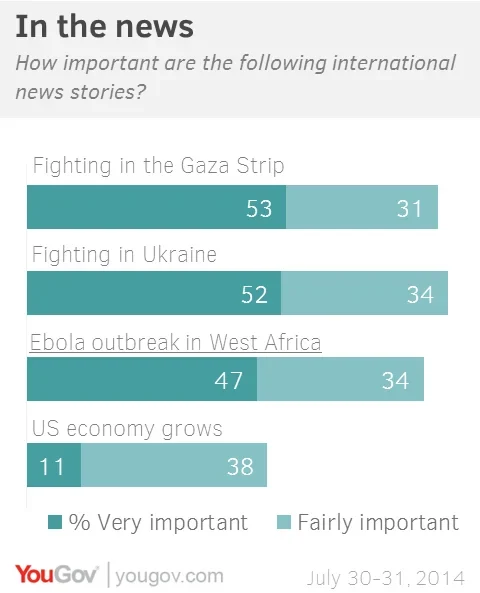 About half (49%) of the public think it is unlikely the Ebola outbreak will spread to the United Kingdom, though a third (34%) suspect it will.
This morning, the front page splash of the Daily Mirror warned of "Ebola terror" at the Commonwealth Games in Glasgow, following news that a cyclist arriving from Sierra Leone had been placed in isolation in case he had contracted the virus.
As of July 30-31st, when the survey was conducted, Scottish people were not significantly more worried than people elsewhere in Britain.
One group that is particularly worried is UKIP voters, the majority (52%) of whom think it is likely the outbreak will spread to the UK.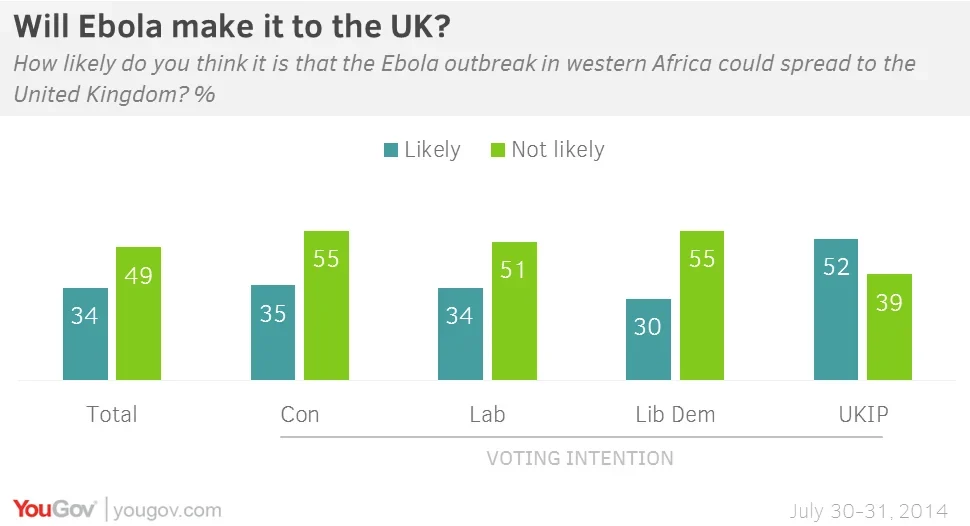 Among Labour, Conservative and Lib Dem voters only about a third expect this to happen.
Newly appointed Foreign Secretary has said the government is taking the Ebola outbreak "very seriously". The poll also asked voters how they think Mr Hammond is doing in his new role, but most (60%) don't yet have an opinion. The rest are divided about his performance so far.
Image: Getty