Was Trump right about needing a more compromising approach to Russia? Four experts debate in a new YouGov-Cambridge vodcast while polling suggests there is little Western appetite for a diplomatic re-think.
Russia-West relations are seemingly at their worst since the end of the Cold War.
In recent years, the United States and European Union have sanctioned Russia for annexing Crimea and censured it on various charges of rogue activism, including allegations of fomenting separatism in Ukraine, using indiscriminate airpower to prop up the Syrian government, and interfering in Western democracy, most notably the 2016 US Presidential Election.
Meanwhile Russian President Vladimir Putin accuses the West of trying to weaken Russia by meddling in its domestic affairs via support for anti-government forces, and containing its rightful sphere of influence by expanding NATO and the EU up to Russian borders.
Like his predecessors, US President Donald Trump entered office pledging to improve ties with Moscow, praising Putin as a strong leader and suggesting diplomatic relations could be re-forged into some kind of grand deal.
This intent was quickly derailed within the Beltway by the 'Russiagate' scandal, comprising a heap of accusations levelled at the Trump team, first about colluding with Russian help to win the US Election, then about illegal back-channel communications with the Kremlin before taking office, and subsequently about seeking to cover up these actions though denial and obstruction of justice, namely by sacking James Comey as Director of the Federal Bureau of Investigation (FBI).
But this doesn't mean Trump's original instincts were necessarily wrong. In the first of a new vodcast series by the YouGov-Cambridge Centre (see below), four experts discuss whether a more transactional, less doctrinaire approach is needed towards the Kremlin, and where the balance lies between Western foreign policy and Russian domestic politics in terms of blame or onus for change.
Vodcast: Does the West need a new approach to Russia? - including: Lord Richards of Herstmonceux GCB CBE DSO (former UK Chief of the Defence Staff); Dr Ayşe Zarakol (University Lecturer in International Relations, University of Cambridge); Martin Jacques (author, broadcaster & speaker); and Daniel Hannan (Conservative Member of the European Parliament for South East England).

Vodcast Polling Report: Russia wields power without popularity in Western politics
According to YouGov polling in eight Western countries over the summer, Russia is broadly seen as wielding power without popularity in Western politics, raising the question of whether Putin's soft power strategy is ultimately backfiring on Russian interests.
Significant portions in each survey-country see a Russian hand in the outcome to last year's US Election: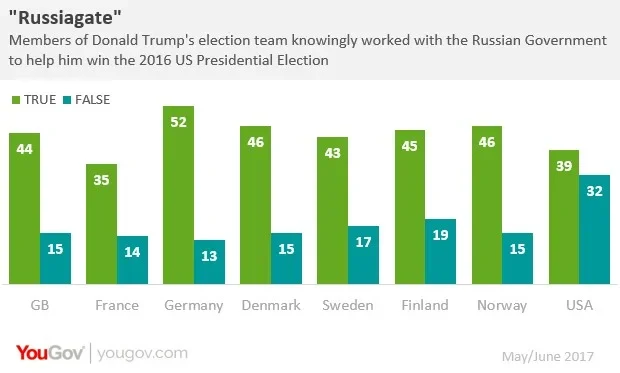 But Putin is strongly disliked (see results) while Russia has a highly negative nation-brand (see results), with clear majorities holding an unfavourable view of Russia.
Similarly, large portions in each country see Russia as a military threat (see results) and believe Russia is more to blame than the West for a decline in relations between the two sides (see results).
Respondents also show little support for compromise on major sticking points of Russia-West relations.
Recognising Russian sovereignty over Crimea by the international community %
| Support/Oppose | GB | FRA | GER | DEN | SWED | FIN | NOR | USA |
| --- | --- | --- | --- | --- | --- | --- | --- | --- |
| Total support | 10 | 16 | 21 | 7 | 9 | 10 | 11 | 10 |
| Total oppose | 38 | 31 | 38 | 59 | 48 | 50 | 44 | 40 |
Lifting or easing current Western sanctions against Russia %
| Support/Oppose | GB | FRA | GER | DEN | SWED | FIN | NOR | USA |
| --- | --- | --- | --- | --- | --- | --- | --- | --- |
| Total support | 20 | 28 | 30 | 26 | 19 | 43 | 24 | 21 |
| Total oppose | 32 | 25 | 32 | 37 | 38 | 22 | 31 | 36 |
Keeping President Assad in power as part of a peace settlement in Syria %
| Support/Oppose | GB | FRA | GER | DEN | SWED | FIN | NOR | USA |
| --- | --- | --- | --- | --- | --- | --- | --- | --- |
| Total support | 10 | 16 | 15 | 9 | 11 | 6 | 13 | 12 |
| Total oppose | 42 | 42 | 48 | 52 | 43 | 41 | 43 | 40 |
Respondents were further asked to consider support for these policies as a trade-off for new agreements between Russia and the West, such as: greater cooperation on fighting Islamist terrorist groups; reducing current stockpiles of nuclear weapons; respecting Ukrainian neutrality and refraining from meddling in each other's domestic politics.
Results show minimal effect on support for compromise on Crimean sovereignty or Assad's future but slightly more impact on attitudes to sanctions - e.g. overall British support for lifting/easing sanctions increases from 20% to 26% "if it were part of a new agreement between Russia and the West to cooperate on reducing current stockpiles of Russian and Western nuclear weapons".
The limits of Russian soft power?
In the bigger picture, these results suggest a Cold War sentiment currently holds over significant portions of Western public opinion. They also beg the question of whether aspects of Russian policy towards the West are counterproductive, if they ultimately serve to harden Western attitudes towards the kind of diplomatic re-think that Trump suggested in 2016. We further see little enthusiasm in these results for his vision of a more transactional, less liberal-idealist approach to Russia.
When US academic Joseph Nye coined the term 'soft power' in the 1980s, he meant the power of attraction and persuasion to co-opt rather than coerce other parties into wanting the same outcome as you. According to public opinion, Russian foreign policy is almost managing to split the difference between these two elements of soft power. The Kremlin is now associated with a significant power to influence politics in the West and to fire up the Western anti-establishment, but hardly to attract its adherents towards a more pro-Russian posture. In the case of Russiagate, it seems, the former may have impeded the latter.
See full results:
---
Methodology: Total sample sizes were GB-1974/ France-1035/ Germany-1032/ Denmark-1021/ Sweden-1019/ Finland-1016/ Norway-1002/ US-1151. Fieldwork was undertaken from 21 May-6 June, 2017, and the survey was carried out online. Figures have been weighted and are representative of adults aged 18+.