Data from YouGov Profiles reveals that 12% put no stock in commercials whatsoever
We publish a monthly "Ad of the Month" column on YouGov – recent winners have included KFC, EE, and M&S. These columns usually focus on increases in awareness and buzz for high-performing commercials. But how do audiences actually feel about these ads when they see them?
YouGov data shows that two-thirds of Brits (67%) feel "bombarded" by advertising – and a plurality (45%) don't trust them – and of this group, 12% "definitely agree" that they don't trust TV ads. So who makes up the 12% of hardcore sceptics?
Our data shows that as Brits get older, they become more wary of TV ads. Those in the 18-24 and 24-39 age brackets are about as likely to trust commercials as they are to distrust them. Those between 40-54 are actually more likely to believe ads than disbelieve them.
But Brits over 55 are dramatically more likely to distrust TV commercials: 42% are sceptical compared to 34% who aren't. Members of this group are more likely to be male than female: 62% of men distrust ads compared to 38% of women.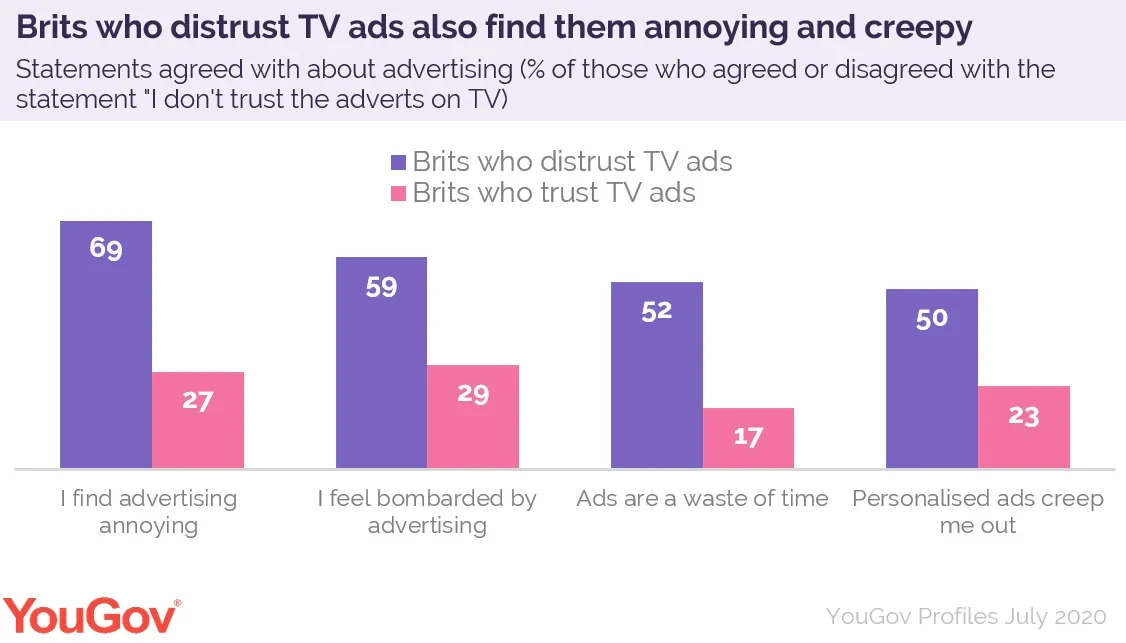 The hardcore sceptics are also more likely to hold a range of negative attitudes towards ads: seven in ten (69%) believe ads are annoying, two-thirds (64%) distrust poster/billboard ads as well as those they see on TV, and 52% believe ads are a waste of time.
They're also less likely to watch TV in general than those who trust TV ads: 44% watch television against 62% of those who aren't wary of commercials. A better way to reach them might be branded emails: a quarter (27%) of sceptics pay attention to these communications compared to just one in ten (10%) who pay attention to TV ads. It might also be worth making an effort with their favoured media channel: national newspapers. Six in ten (59%) read broadsheets and tabloids – so marketers might have better luck placing their ad next to a column instead of running a commercial.