As the biggest show on TV this summer, Love Island is a magnet for brands seeking partnerships or sponsorships that will appeal to its young audience demographic.
More than 3.7 million people tuned in to watch the first episode of series five in June, with a further 500,000 watching via the ITV Hub. So it's wise on ITV's part that they plan to launch an annual winter series.
YouGov data shows that the majority (58%) of those who watched the show this summer are aged between 18 and 34: a quarter (24%) were 18 to 24, and a third (34%) were aged between 25 and 34.
Many brands are keen to get in front of this young audience, meaning Love Island was able to partner with no fewer than eight brands this year.
Uber Eats was this year's headline sponsor, reportedly spending £5m to bookend the episodes with adverts featuring the presenters Caroline Flack and Ian Stirling. Other sponsorships include Jet 2 Holidays, who retained their deal as travel partner with a holiday giveaway, sun-care partner Superdrug and handset partner Samsung, which gives the islanders each a phone to use during the series.
Since the show first aired at the beginning of June Uber Eats has seen improvements in multiple brand health trackers in YouGov BrandIndex among 18 to 34 year olds. Buzz scores improved by 7 points to +4.2 by the end of June, while Impression scores improved by 10.6 points to +8.5. These increases are much more substantial than we've seen among the general public, showing that the show can help brands appeal to that hard-to-reach younger demographic.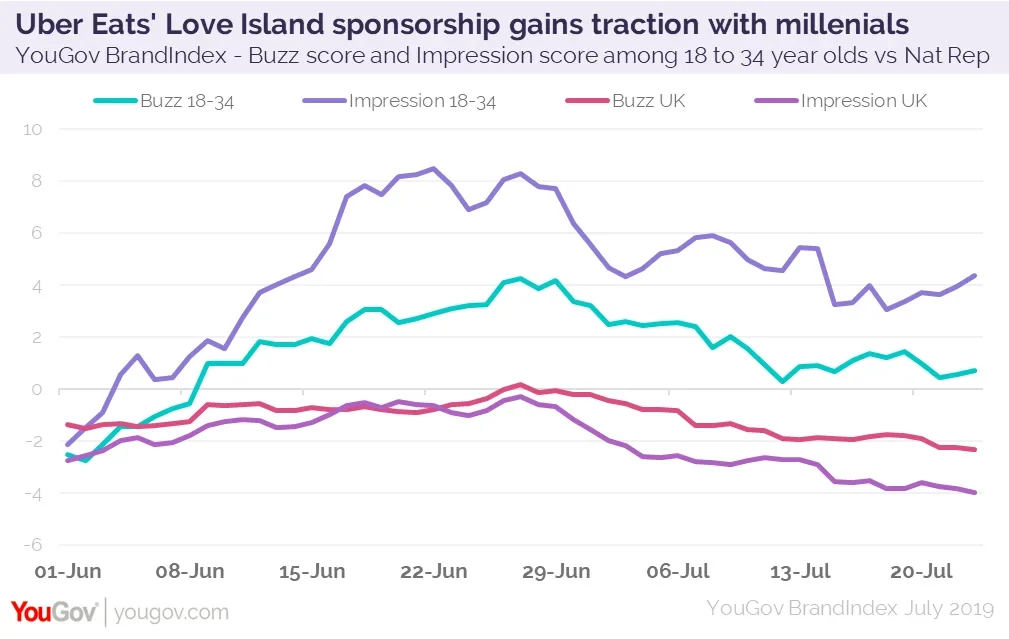 It's a similar story with last year's sponsor, Superdrug. While the series aired, Consideration scores increased 3.3 points from +37.3 to +40.6 nationally, but by a significantly higher 8 points among the younger demographic (18 to 34 year olds) – from +37.8 to +45.8.
It's clear that sponsoring Love Island is a sure fire way for brands to position themselves in front of a younger audience, not just because of the eight weeks of exposure, but also because association with the programme clearly improves perception of the brand among the audience.