The ad which achieved the highest uplift in awareness this month is the National Lottery, as it launches its first new game in 13 years; Set for Life.
Set for Life offers players the chance to win £10,000 a month for 30 years upon matching five balls and a 'life ball', with a second prize of a respectable £10,000 a month for one year alongside smaller prizes, and costs £1.50 to enter. The 30 second advert explores what winners could do with the money every month relevant to the season.
The Camelot-owned brand's new venture is an attempt to target a new market of millennials with an experience based game, positioned as the opportunity to 'do something amazing' each month. Audience research by Camelot highlighted a new generation of players who think differently about what they would do with their winnings; preferring a £10k cash boost every month rather than a staggering jackpot all at once.
YouGov data shows that the brand's Ad Awareness score (whether someone has seen or heard an advert broadcast by a company in the past two weeks) improved by 10%, from 24% to 34% at its peak.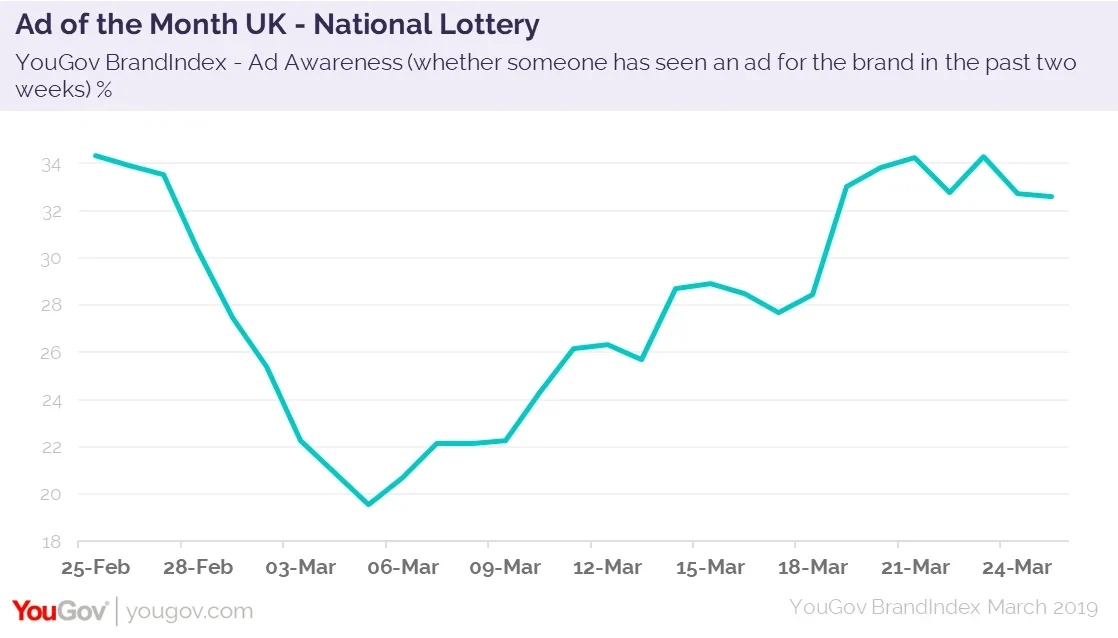 Among those that already play the lottery frequently e.g. once a week or more, awareness of the advert is unsurprisingly much higher. The National Lottery's Ad Awareness score soared from 31% to 53%.
Frequent lottery players also have a higher Impression score (whether someone has a positive or negative impression of a brand) of the National Lottery than the general public (39% versus 27%). This implies that those who are already regular players are more likely to be interested in Camelot's new venture.
According to YouGov Rating's data, the National Lottery is the most popular gambling and betting brand and the most famous, and is viewed positively by half the nation (50%). The brand is more popular with millennials (59%) than any other age group, suggesting that a new game that's created with this demographic in mind will be received well and likely bring success to Camelot.
This article also appeared in WARC