Netflix ends dominant run for discount supermarkets
This year, for the first time in five years, Aldi and Lidl are not occupying the top two spots on YouGov BrandIndex's list of the top 10 UK brands. Aldi retains the top position with a ranking of +18.7, but big gains for streaming company Netflix has pushed Lidl down the chart.
YouGov BrandIndex measures the public's perception of brands on a daily basis across a range of measures. The annual rankings are compiled using Buzz scores from across all 52 weeks of last year. Buzz scores measure whether people have heard anything good or bad about a brand during the previous two weeks.
Lidl had been in second place last year with a score of +14.5, but sinks to fourth place this year despite dropping only 0.7 points to +13.8. The news comes despite a very positive festive sales period which saw revenue jump 8% year on year - new business which Lidl believes was taken from premium supermarkets.
Impressive gains by Netflix, which only entered our top ten in 2016, saw it move from +14 in 2017 to +16.4, and from third place to second. The streaming company has had a good year for new subscriptions, ending 2018 with more than 139 million, and continues to ramp up work on its original film and television series such as the hugely popular Bird Box.
MoneySavingExpert.com also saw large gains last year, rising from +12.6 to +14, perhaps due to an increased demand for tips on saving money in these economically uncertain times. This was enough to see it rise into third position in our latest ranking.
Samsung and BBC One are both new entries this year, with scores of +9 and +8.3 respectively. The BBC's iPlayer also features, with a score of +11.8 slightly down on +13.2 from last year, and slipping from fourth to sixth.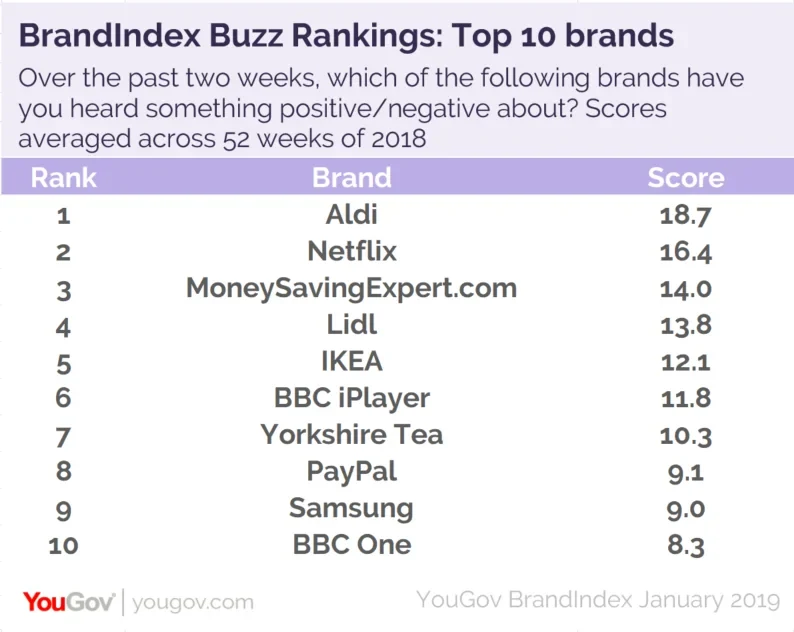 YouGov BrandIndex has also released the ten "most improved" brands of the past year. Top is British Airways, followed by Southern Trains, Uber and United - putting transport companies in all four of the first positions.
British Airways, currently in talks of a takeover of Norwegian and recovering from the admission that it had fallen victim to a cyber attack that exposed customer details in 2018, has taken off and climbed back into positive figures with a score of +0.3 up from -6.3 in the previous year when an IT failure led to cancelled flights and lost luggage for many travellers.