This month, Ferrero Rocher achieved the highest uplift in Ad Awareness of any brand in the UK.
Ferrero Rocher's adverts have long been known for their luxurious, gold-scattered dinner party scenes, including one of the most infamous and instantly recognisable adverts of 1993, the 'Ambassador's Party'. However, this year Ferrero Rocher's new advert depicts a slightly less extravagant, yet still luxurious scene.
Despite little to no changes to their adverts since last year, YouGov BrandIndex data shows that the brand's Ad Awareness score improved by 9% following the campaign's launch in November – up from 17% to 26%.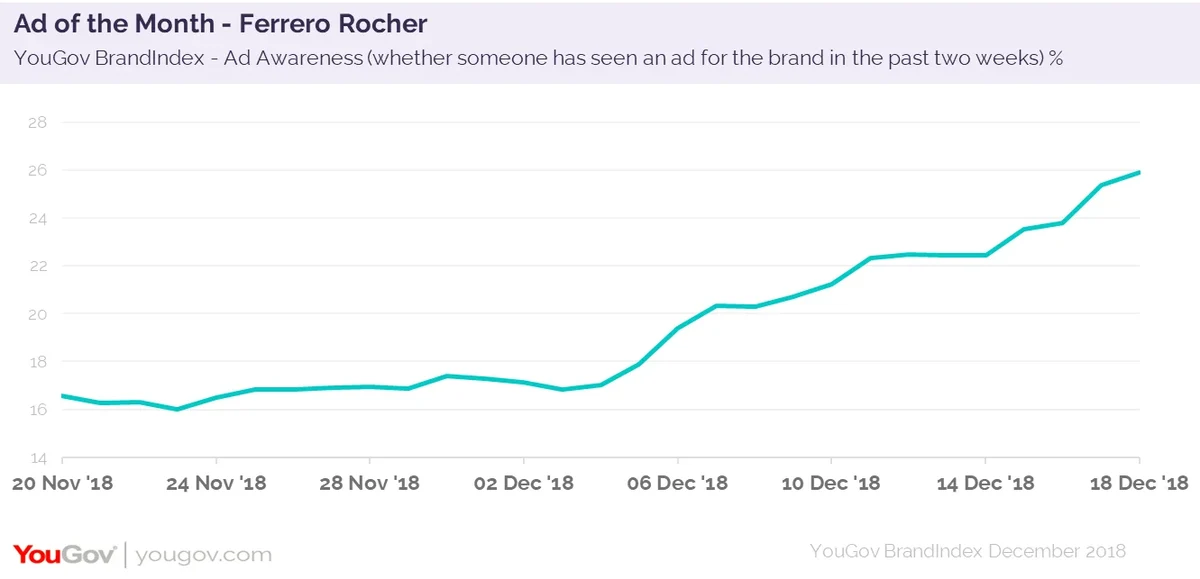 Among those who would already consider purchasing the product, Ferrero Rocher's Ad Awareness score grew from 25% to 42% - a much larger 17% increase - showing the advertisements are resonating even further with potential customers.
Additionally, during the same time frame, Ferrero Rocher's Consideration Score (whether someone would consider purchasing from a brand) rose from +22 to +25, while their Word of Mouth Score (whether someone has talked about a brand with family or friends in the past two weeks) increased by 5 points - up from +6 to +11.
Ferrero Rocher's Consideration Score follows a pattern of Christmas-focused seasonality, which reached a five year high of +22 this year.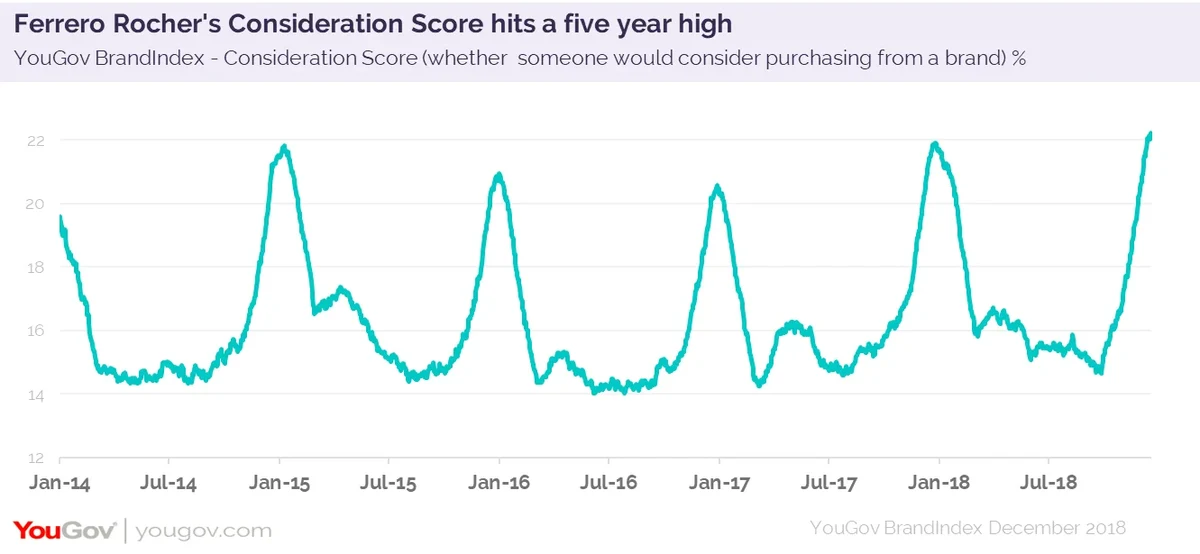 This shows that despite not having changed the format of their adverts for many years, the desired impact of increased seasonal consideration of Ferrero Rocher's product seems to be achieved annually without fail – even more so this year.
The increased Consideration Score and Word of Mouth Score can only be positive for sales in what is undoubtedly a crowded market during the Christmas period. Additionally, the increased Ad Awareness with customers who would already consider purchasing the product shows that the brand has been successful in renewing its appeal with current customers.
Data gathered using YouGov BrandIndex.