Business decision makers say they are well-prepared for Brexit but believe the government has done a "poor job" of consulting and communicating on its plans
Despite COVID-19 dominating headlines the Brexit transition period is nearing its end. A new YouGov Business Omnibus survey of 1,000 business decision makers in Great Britain explores how well businesses feel the government has consulted them, communicated progress, and also finds out how well prepared they are for what comes next.
Government consultation with businesses
While negotiations between the UK and EU about their future relationship continue, over half (54%) say the government has done either a somewhat (19%) or a very (35%) bad job on consulting business on the ongoing trade talks.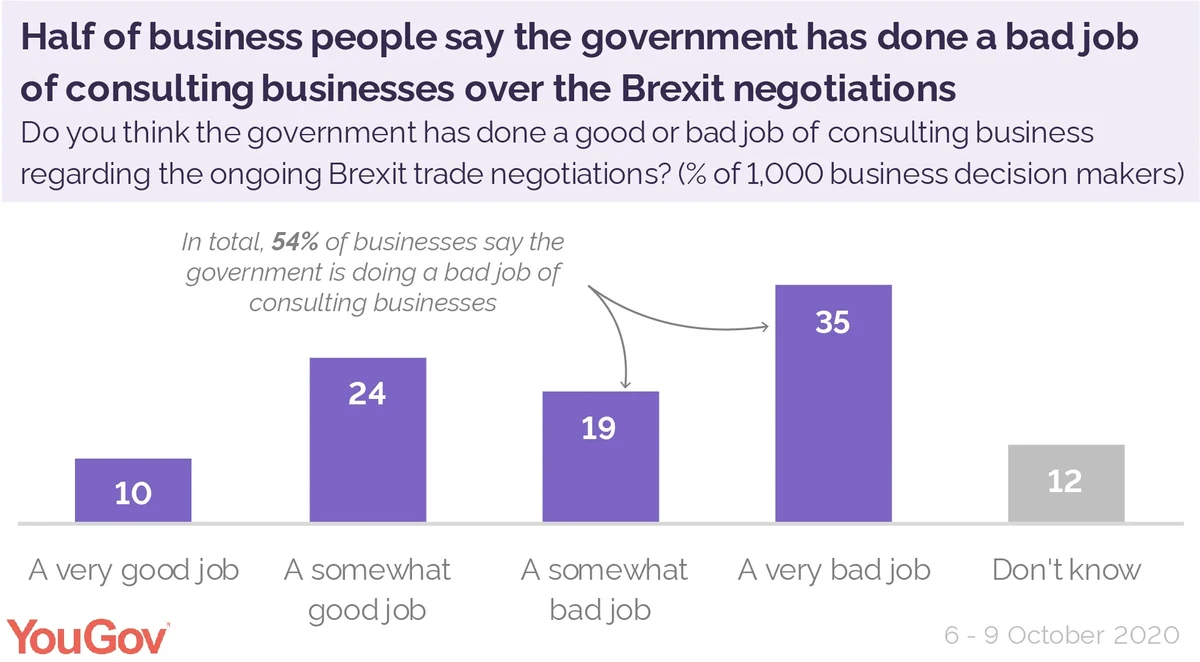 Among the various sectors, opinions vary. Retail businesses are split over the quality of the consultation with 45% saying the government consultation has been good and 43% saying it has been bad overall. This split sentiment is shared by IT and Telecoms businesses who are split 43% to 47% over whether the consultation has been good or bad as well.
Other sectors however have clearer opinions. Over half of hospitably and leisure businesses (57%) mark the governments consultation as bad, with 43% condemning it as "very bad". The legal profession is in agreement over the consultation, with an equal 57% of legal businesses saying the government has done a bad job.
Government communication with businesses
Furthermore, two thirds of businesses (66%) think that the government's communication with them about its plans for a post-Brexit trade deal have been handled poorly, with 21% believing it has been "somewhat poor" and 45% saying it has been "very poor".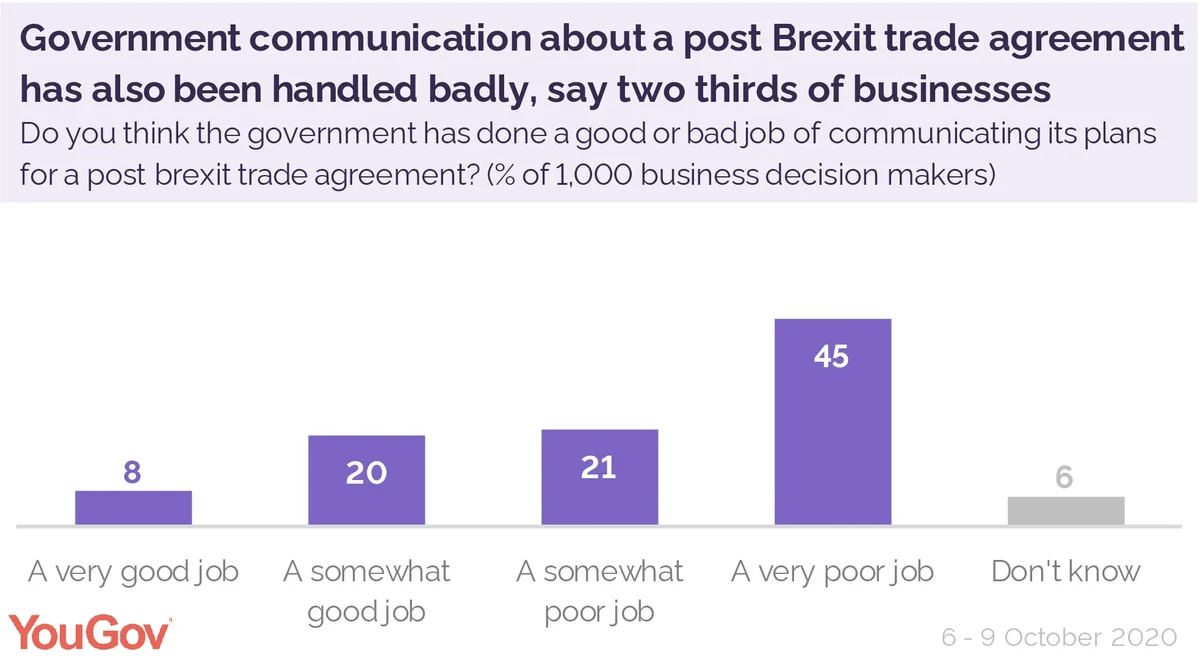 Only 28% regard the communication about the potential trade deal as being good, with construction (37%) and IT and Telecoms (36%) being the most likely to think this. At the other end of the scale, 20% of business leaders in hospitality and leisure feel the same.
Just one in twenty (5%) British businesses say they have had a high amount of communication about its plans for a post-Brexit trade agreement. One in six (17%) have had "some" and a quarter (25%) having had "not much" communication and approaching two in five (38%) say they have had "no communication at all". This is particularly the case among SMEs with half (50%) having not heard anything from the government compared to just a fifth (21%) of large businesses.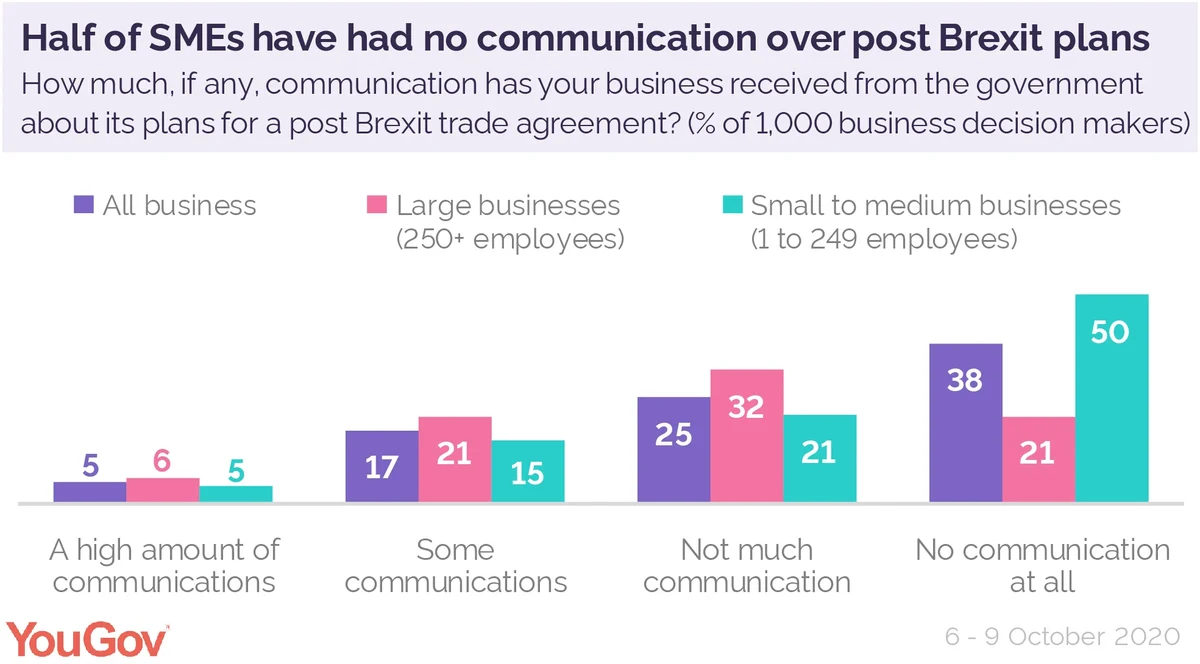 Six in ten business in the manufacturing (63%) and telecoms (60%) sectors have received at least some communication, with only 37% of those in hospitality saying the same.
There also appears to be regional differences with businesses. Those working primarily in London (54%) are more likely to have heard from government about its plans, compared to 47% working the Midlands, 45% in the East of England, and 43% in Scotland.
Most businesses are prepared for the end of the transition period
Despite many businesses feeling that the government has done a poor job consulting and communicating with them about what happens when the transition period ends, the majority of businesses (58%) do feel they are well set up for it. One in five (20%) are "very" well prepared for the change and nearing two in five (38%) are "somewhat" prepared while 30%. Meanwhile, 30% believe they are "somewhat" (19%) or "very" (11%) badly prepared.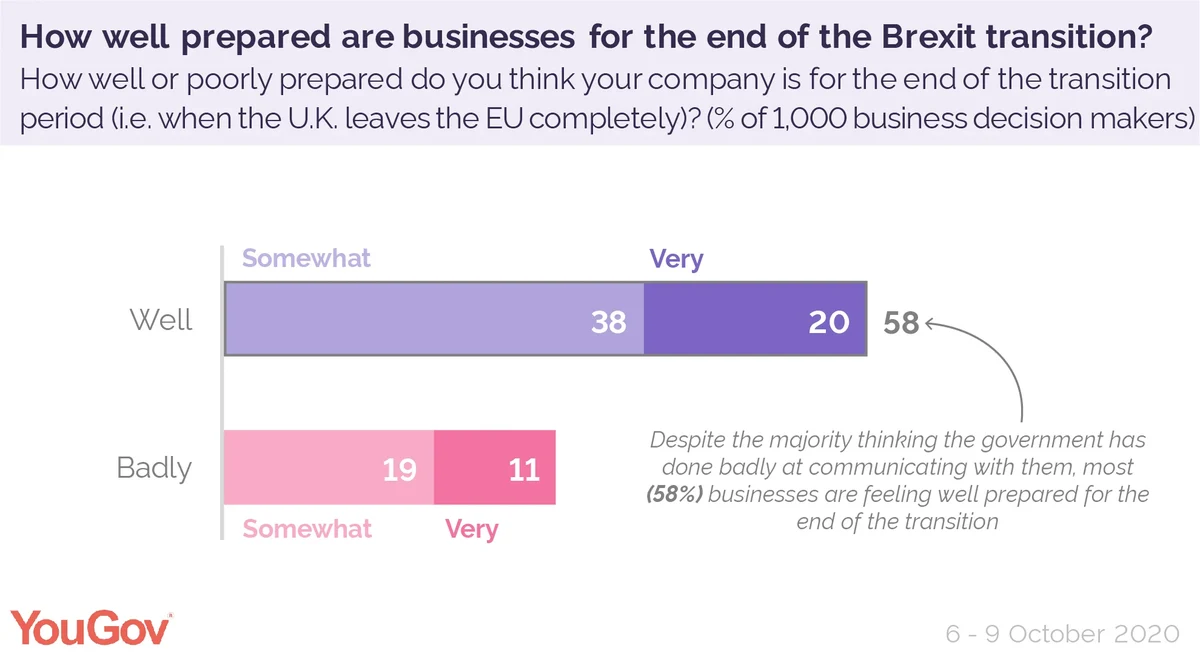 Sectors such as manufacturing (71%), finance and accounting (66%) and those working in education (66%) are the most likely to report feeling prepared, while hospitality is the least likely to sector to feel prepared (41%).
COVID-19 or no-deal Brexit: what would be the bigger business barrier in 2021?
2021 will see the continuing effect of the coronavirus pandemic on the economy and businesses may also have to handle a no-deal Brexit. But which do they see as the bigger barrier to growth next year? Half (52%) of businesses view COVID-19 as the greater barrier while 18% choose leaving the Brexit transition period without a trade deal.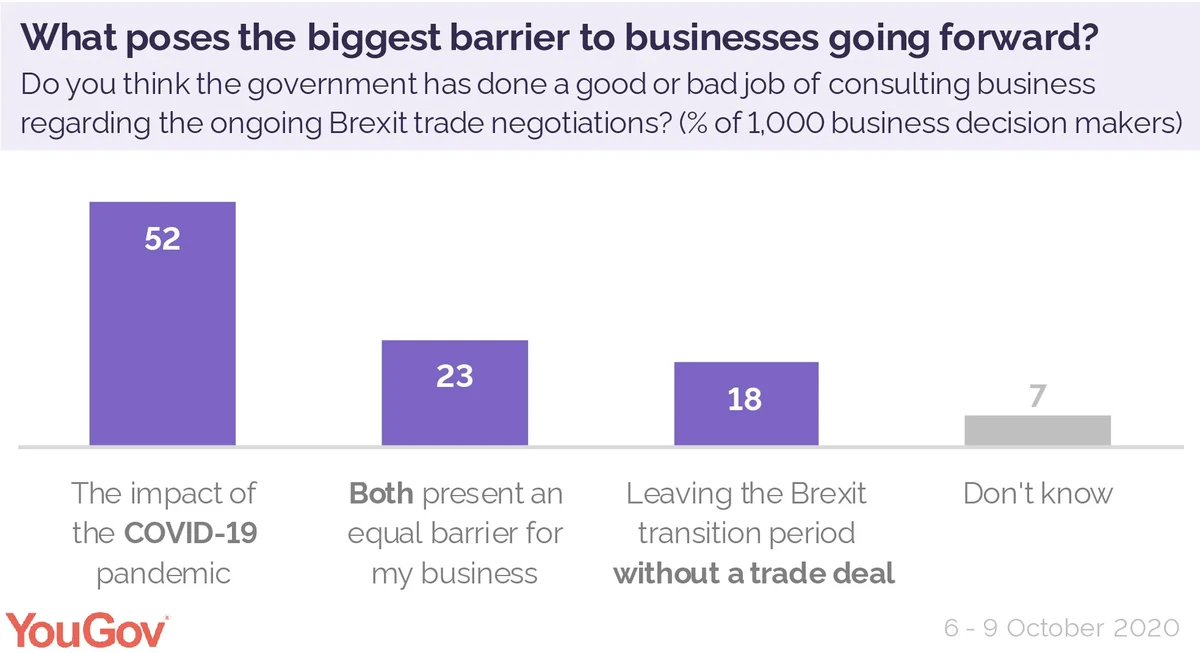 The threat of COVID as a barrier to business is acknowledged across the board by the most sectors, however some are more aware of a potential no-deal situation than others.
Businesses in the Retail (25%) and IT and Telecoms (24%) sectors are most likely to report that a no-deal scenario would be their biggest barrier, compared to just 10% of the hospitality and leisure sector who are the least likely to think that leaving the EU without a trade deal would pose a bigger barrier than COVID-19.