On September 4, media reports revealed that Starling Bank would be introducing a "new charging structure" for certain services. Customers will now pay £5 for replacing lost cards, a £2 monthly fee for users who wish to open additional current accounts, and £20 for any payment made through the CHAPS payment system.
It was also announced that Starling Bank would be introducing negative interest rates for Euro account holders who have deposited over €50,000 – making it the first British bank to introduce negative interest rates for personal account customers.
Data from YouGov BrandIndex indicates that the changes have gone down badly among Britons. Over a six-day period (04/09 – 10/09), Starling's public esteem took a significant hit. Reputation scores – which measure whether consumers would be proud to work for a brand or not – fell from 9.5 to 1.7, while Quality scores (which measure whether consumers have a positive or negative view of a brand) declined from 7.0 to 0.8.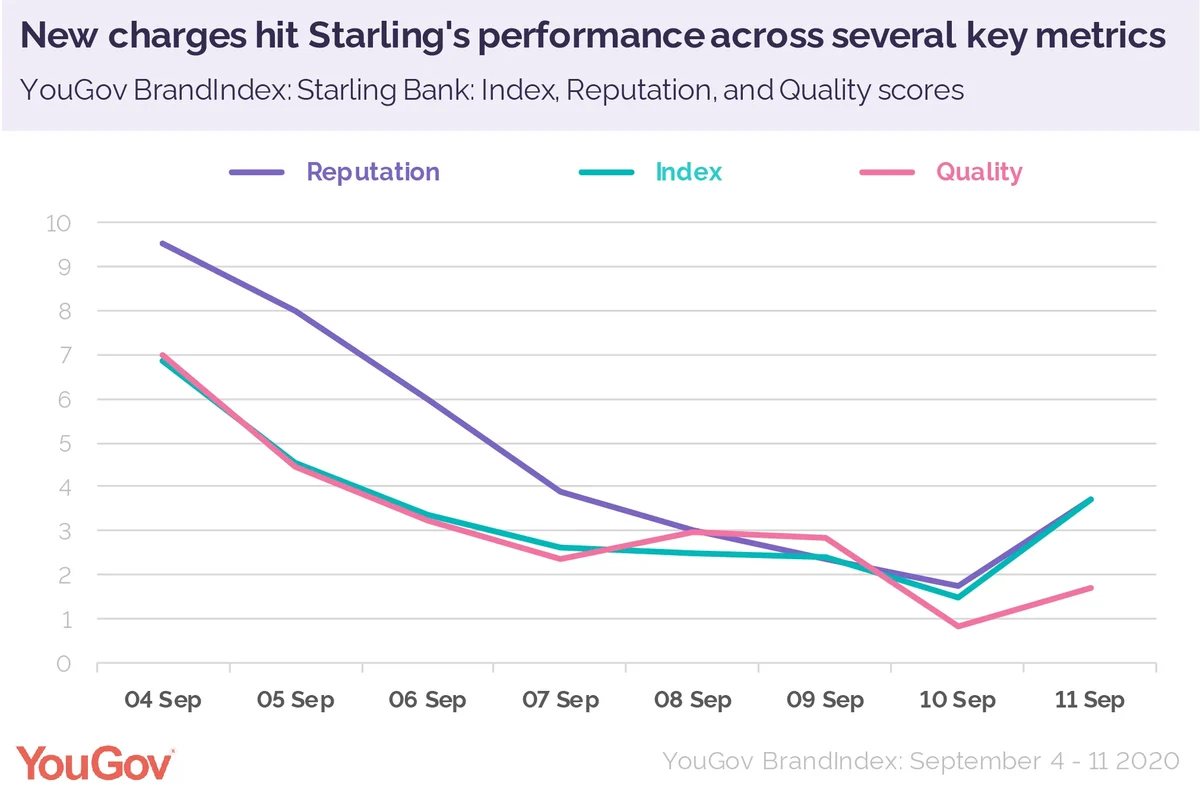 Perhaps more worryingly for Starling Bank, consideration scores saw a six-percentage-point drop – from 9.1 to 3.0 – over the same period. Between September 4 and September 10, overall index scores went from 6.9 to 1.5.
It's worth pointing out that Starling Bank are not the only challenger brand that has recently attempted to introduce new fees. Monzo also announced a £5 fee for new cards and a 3% charge for customers who withdraw more than £250 a month from ATMs. The bank's reputation scores fell from 8.4 to 1.5 over three days (04/09 – 07/09).
Beyond the new fees, YouGov data from earlier this year indicated that consumers substantially prefer to use established banking brands. Challengers have a considerable task ahead of them, and introducing new charges may not have made it any easier.
This article previously appeared in CityAM