The National Trust has seen improvements in many of its CharityIndex metrics following the COVID-19 lockdown
The time before lockdown seems like another era, but its actions early on in the pandemic could be why the National Trust has seen a sustained boost in its public perception metrics, as Brits realise how important their local environment is.
At the start of lockdown the Trust announced that while it had to close its shops and cafes to keep the public and its workers safe, it would open its parks and gardens for free, generating a lot of positive buzz at the time and possibly the reason the charity has seen the biggest increases in its metrics among all environment-linked charities.
Firstly, looking at Quality score (which is a net measure of whether charities have a positive or negative impact on their cause) shows that since lockdown the National Trust has seen a 3.3 point rise compared to the equivalent period before lockdown (22 March 2020 to 25 November 2019).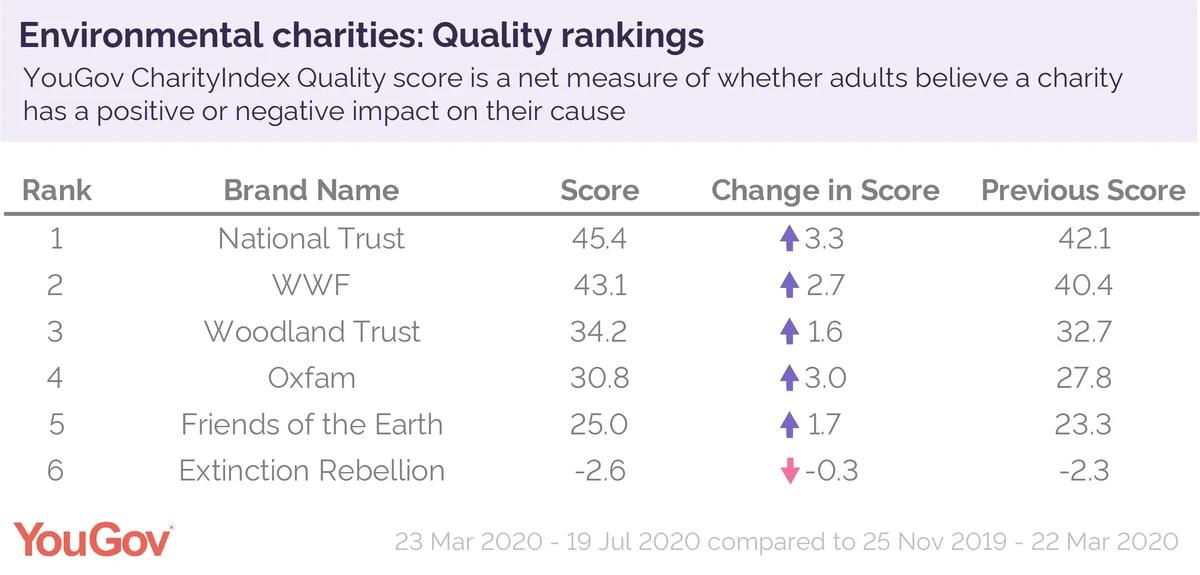 Such a boost means the National Trust tops the YouGov CharityIndex rankings for environmental charities, however other environment-focused charities have also seen boosts to their scores, including the WWF (+2.7 points), the Royal Society for the Protection of Birds (+1.4 points) and the Woodland Trust (+1.6 points).
Another possible explanation is that lockdown, by keeping Britons inside, helped adults to realise the benefits of the outdoors and their environment, leading to the increased scores.
The National Trust saw similar increases in its Reputation score (which asks peoples whether they would be proud or embarrassed to work for a charity) across the same comparison period, rising 3.7 points compared to the same period before lockdown.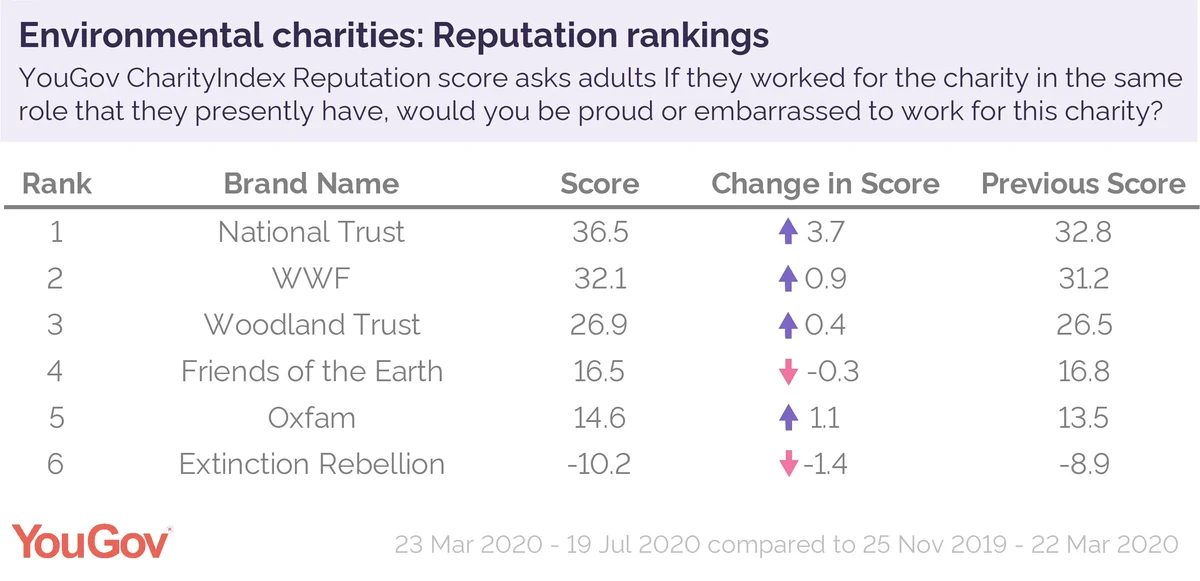 Again the National Trust tops the Reputation rankings of environmental charities, but other charities also saw smaller improvements in their scores.
On the other hand, Extinction Rebellion's CharityIndex scores have remained firmly negative compared to pre-lockdown, with both Quality and Reputation scores decreasing compared to the previous period indicating that Brits think the movement does more harm than good for its cause, and would be embarrassed to work for it.
While the decline in scores for Extinction Rebellion could be as a result of COVID stopping the groups more elaborate protests - this is in line with the previous polling we've done around the Charity which showed little sympathy towards the charities actions.
While lockdown initially seems to have boosted scores for the National Trust recent news of job cuts as the charity seeks to cut costs could damage their scores in future.