YouGov BrandIndex data shows that where some brands have been punished by the COVID crisis, others have prospered
The COVID-19 crisis has not spared challenger banks: Monzo, to name possibly the most high-profile firm in this particular niche, has gone from strength to strength according to YouGov BrandIndex data – and is still facing mounting losses and "serious doubts" about whether or not it can continue as a going concern.
But the market is bigger than Monzo, and it's worth looking at how other app-based financial services are performing in these complex circumstances. Our data indicates that Revolut and Starling Bank have had a fairly tumultuous 2020 so far, likely due to the pandemic. But current customer scores for both brands have either remained stable or recovered between January and August. Revolut's scores have risen from 2.3 to a peak of 3.6 (18/06) over the course of the year so far, though they have recently dropped back down to around 2.4; Starling, on the other hand, have gone from 1.9 to a peak of 3.5 – also declining to 2.4 as of August 10.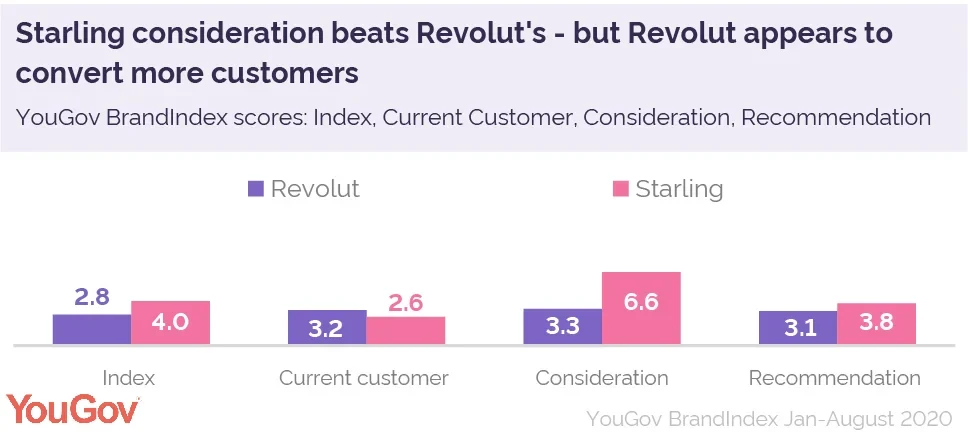 Revolut are performing particularly well given their substantially lower consideration scores. While Starling Bank began the year with consideration at 5.6 before seeing it hit a peak of 8.1 by June 14, Revolut's scores have hovered between 3 and 4 for most of the year (peaking at 4.1 by June 21). If they can raise consideration further, they may well gain more market share.
And as Monzo have demonstrated, even small gains in market share can lead to significant leaps in market position: an increase of 2.8 in its current customer scores took it from the 22nd highest performing bank in this metric to the 13th.