Senior business leaders anticipate employing fewer staff, scaling back on office space and having more people working from home a year from now
New polling from YouGov provides bad news for job prospects in the UK. Two fifths (42%) of senior UK business leaders say they expect to employ fewer staff in a year's time than they did just before lockdown began, while only 16% say they will employ more.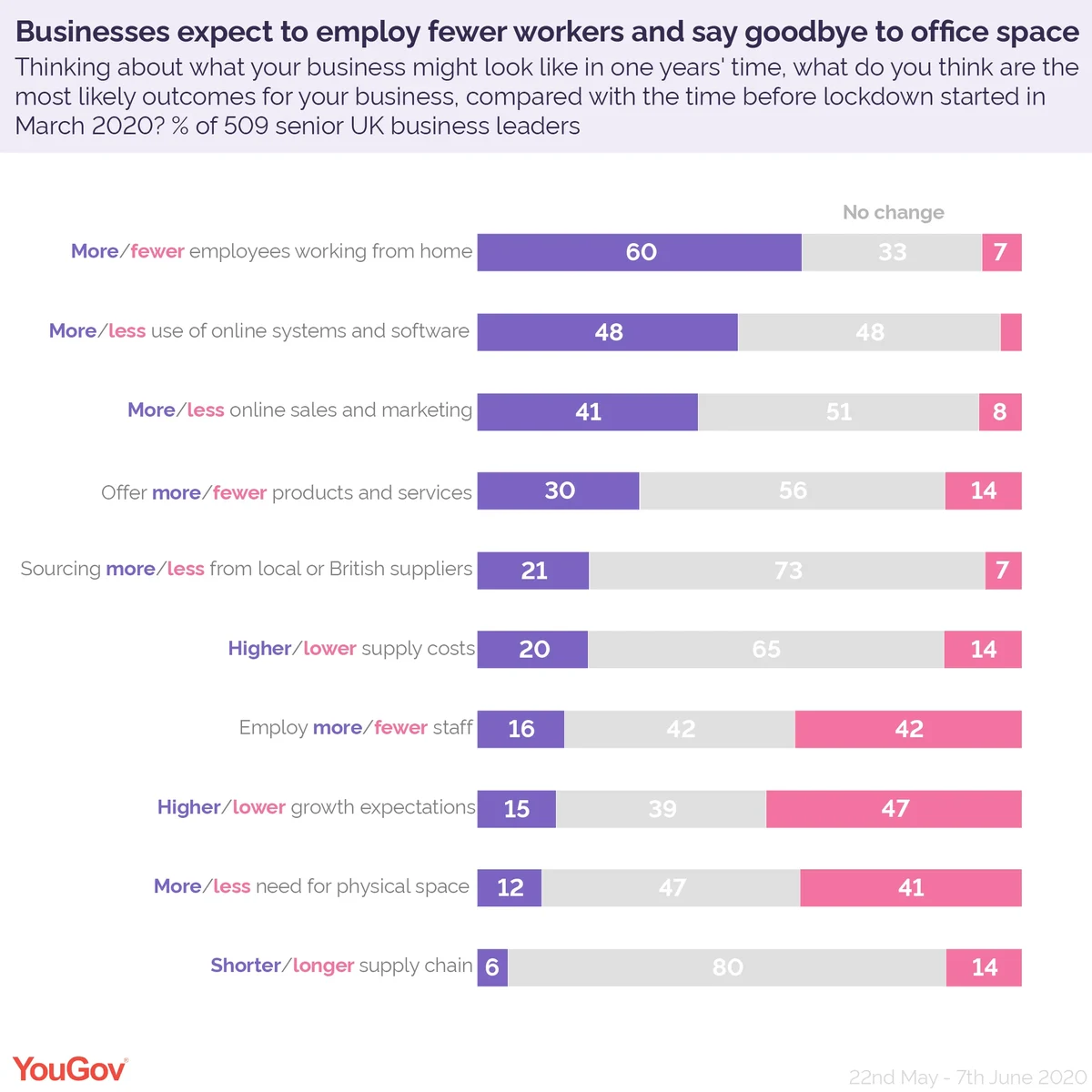 This is matched by 47% saying they will have lower growth expectations and just 15% saying their growth expectation will be higher. Sectors most likely to say they will employ less staff are manufacturing (50%), media/marketing/advertising/sales/PR (48%) and financial services (46%).
This is just one of the changes that UK bosses expect to see in a year's time. Some 41% say they will also have less need for physical space, especially those businesses based in offices, namely financial services (67%) and media/marketing/advertising/sales/PR (64%). Other sectors are also expecting to see a drop in space needs, including IT/Telecoms (46%), construction (39%) and retail (33%).
This need for less space is matched by a large expectation that more staff will be working from home; 60% say there will be an increase in working from home compared to before lockdown, while only 7% say there will be less. It is these same industries expecting less need for physical space who also lead the way on expecting more working from home, with media/marketing/advertising/sales/PR (93%), financial services (73%), and IT/Telecoms (71%) leading the way.
Two fifths (41%) of the firms surveyed also expect their online sales and marketing effort will have to grow, with retail firms (58%) most likely to agree with this, while just half of those in IT/Telecoms (48%), manufacturing (48%) and financial services (46%) also agree. Also almost a third (30%) say they expect to offer more products/services in a year's time, while 14% believe they will offer less.
The move to increased online sales and marketing is also matched by an expectation among almost half (48%) that in a year's time they will make more use of online systems and software (eg finance, HR) as opposed to just 4% who say they expect less use compared with prior to lockdown, and 48% who expect no change.
Other findings from the research include 21% saying they expect to source more from local/British suppliers, versus 7% saying less and 73% expecting no change. One in five (20%) expect their supply costs to go up, but 14% expect theirs to drop, and 14% also believe their supply chain will be shorter, but 6% think theirs will be longer.
Photo: Engin Akyurt, Unsplash