With fears of a recession on the horizon and many Brits worried about job security and income, how are the banks coping with COVID-19?
Financial decisions can be tough to make at the best of times, but the ongoing coronavirus pandemic has left thousands of Britons worried about job security, surviving on furlough income, and the threat of a recession. We've seen in past weeks the drastic impact of coronavirus on other sectors, but has it affected how Brits are thinking about financial products?
State of the nation
In terms of general insurance, our data shows a significant drop in the number of Britons looking to switch to a new provider for their policies, down from 25.3 in early March to 15.1 at its lowest in early April. Compared to 2019 the number of adults likely to switch insurance providers was down 6.8 percentage points this year at its lowest.
Click to enlarge
Since then the level has risen, despite the ongoing pandemic, but remains lower than the previous year.
Looking elsewhere to mortgages, there is not quite the same level of drastic change in those looking to get onto to the property ladder as there is for those thinking about switching insurance providers - in fact the percentage of adults looking to secure a mortgage has been higher than in 2020 than in 2019.
Further to this, following the Government's announcement on May 13th that the English housing market was reopening, the number of adults seeking to get a mortgage has been consistently higher than 2019.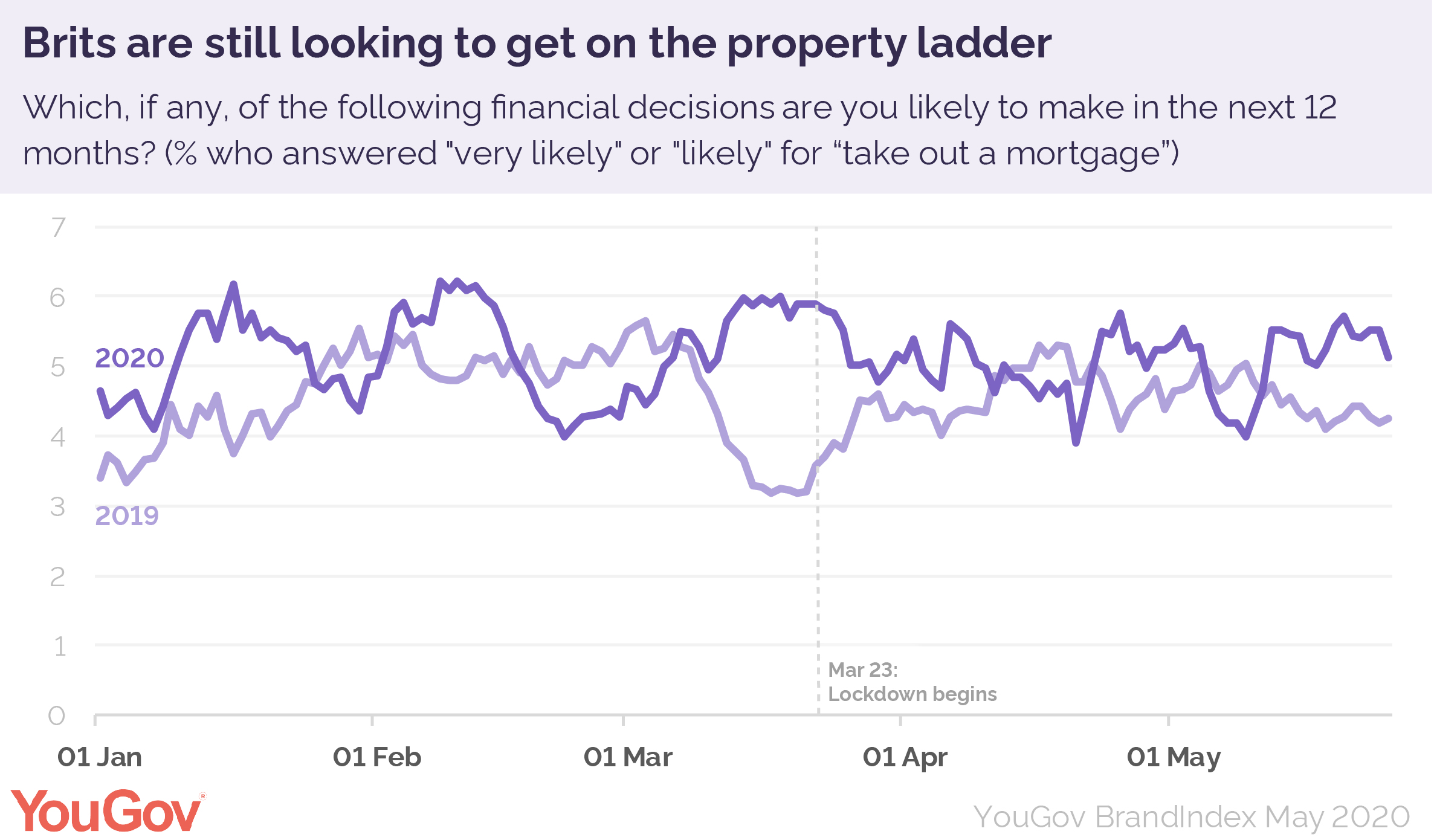 Click to enlarge
Despite many Britons being on reduced pay with the furlough scheme there is also little change in the number of adults seeking loans. At the beginning of 2020 the number of adults seeking unsecured loans was higher than the previous year, however from February onwards fell to levels similar to those seen in 2019.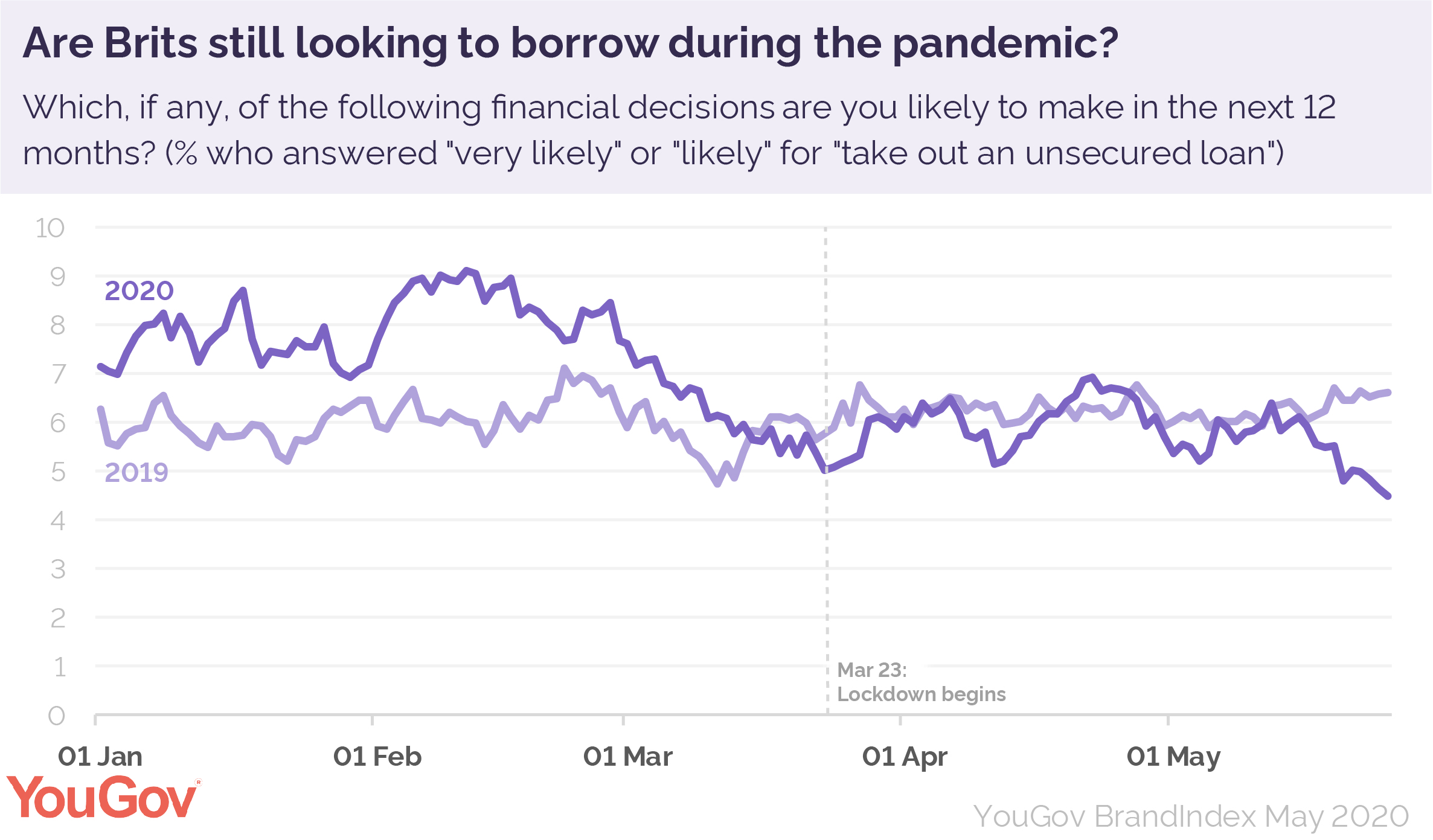 Click to enlarge
One possible explanation is that, with shops and entertainment facilities closed and social distancing still in place for now, Britons on lockdown are spending less overall and making fewer major purchases such as cars or home improvement projects - recent YouGov research has revealed that over half (54%) of Brits are spending less money because of the coronavirus outbreak.
However, that same research showed that 44% of Brits are feeling less financially secure as a result of the ongoing pandemic. Keeping that in mind we can also see the number of Britons who aren't planning to purchase any financial products, or aren't sure if they will or not, rose at the beginning of lockdown.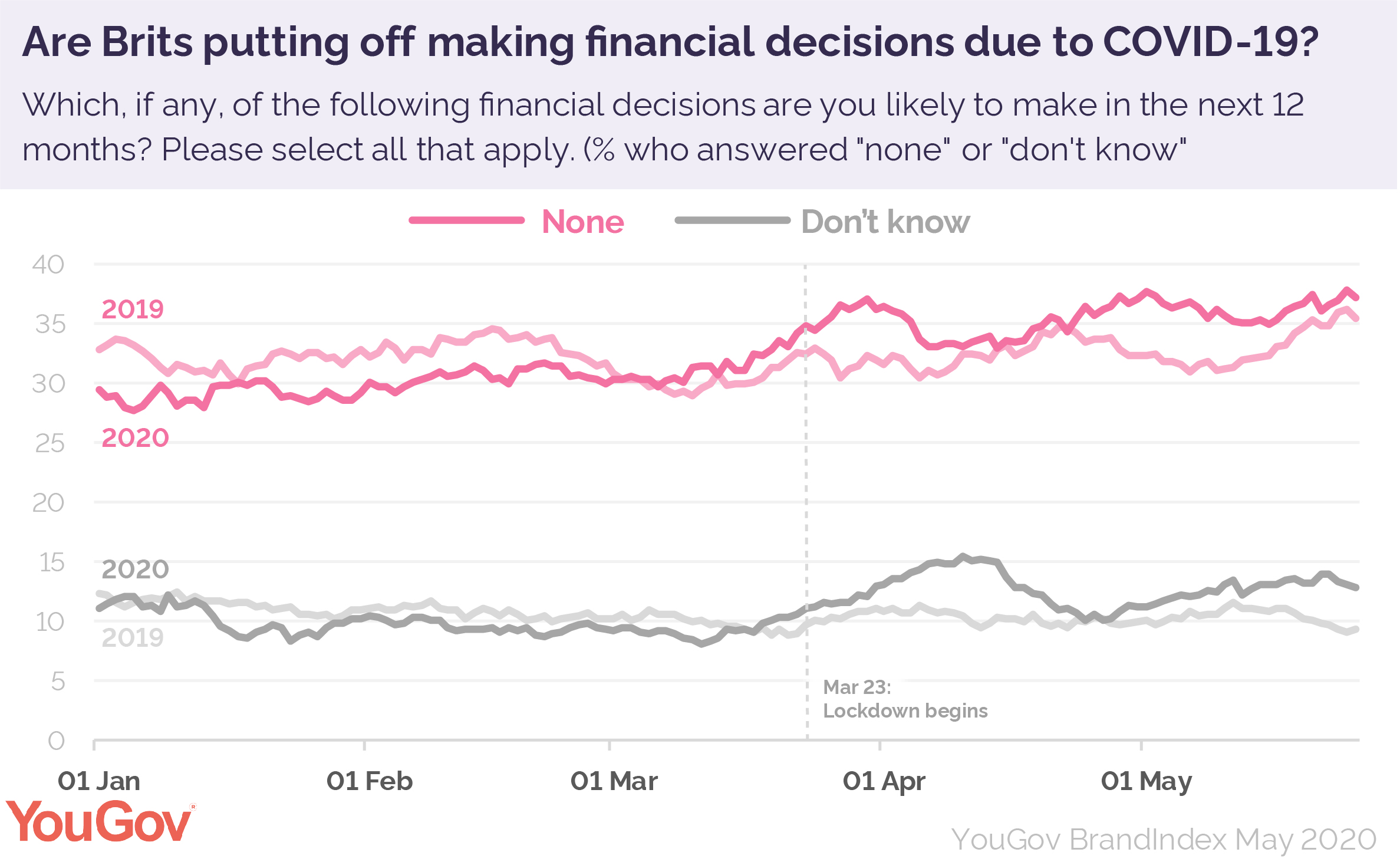 Click to enlarge
Following the introduction of lockdown on March 23rd, the number of people unsure about the purchase of financial products rose from 11.1 to 15.6 in early April. The number of Brits saying they don't intend to purchase a financial product also rose, but more sharply, from 31% in the days before the lockdown to 37% at the end of March.
Both figures have fluctuated since that time but do suggest that people were delaying major financial decisions in the early days of lockdown and a greater number than last year deciding against them completely.
Are people taking holidays from payments?
One step taken by many banks and building societies at the beginning of the crisis was to offer their customers the opportunity to take repayment holidays from mortgages and loans, however our research shows only one in ten (10%) Brits with financial products have chosen to take a break from repayments.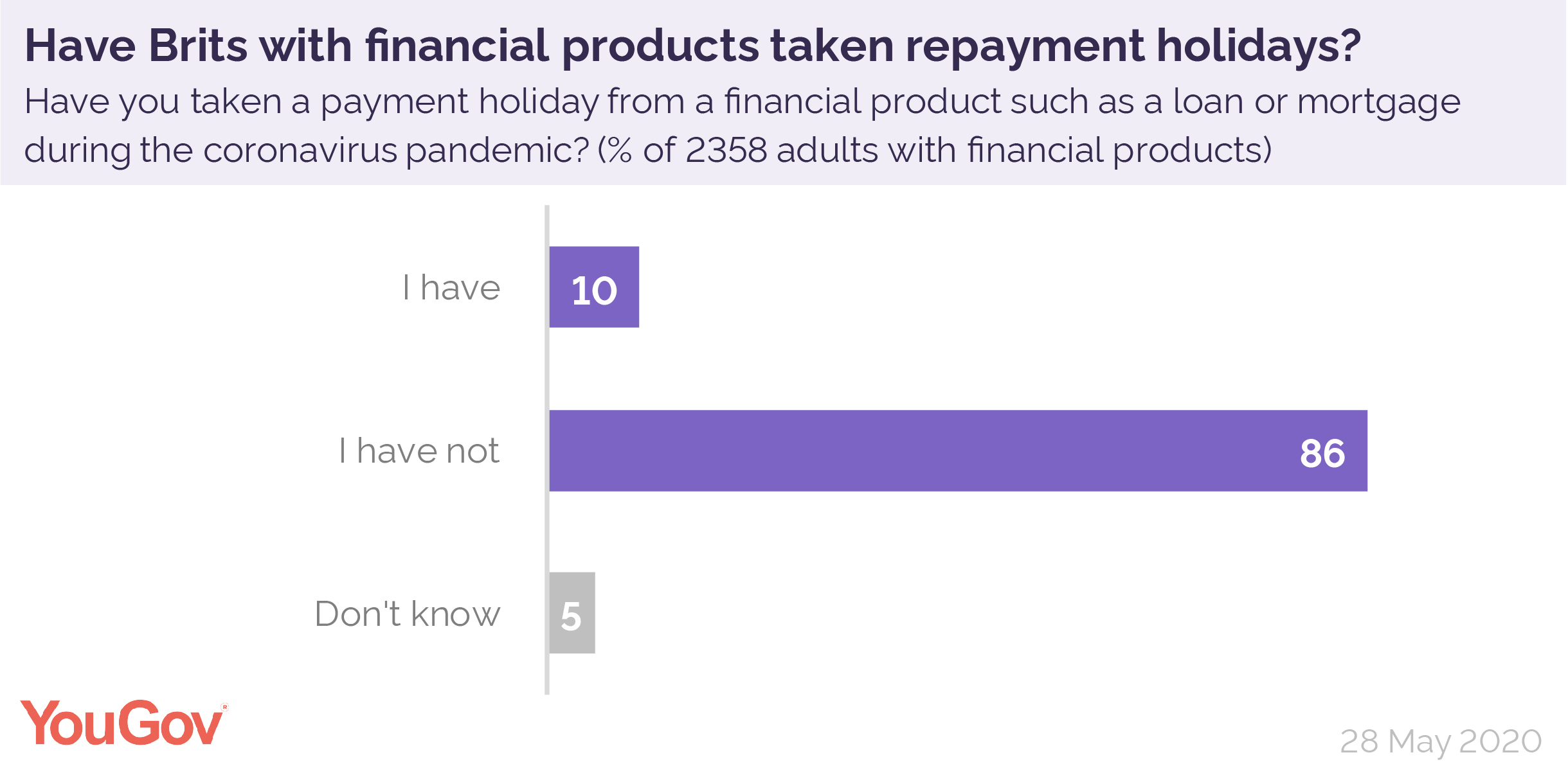 Click to enlarge
The majority, 86%, have continued with repayments as normal, possibly due to a reduction in their overall spending, meaning Brits are still able to pay off their debts as normal. However, while most have not taken advantage of the opportunity, banks that were quick to offer the service may have benefitted all the same.
How have brands tackled the crisis?
One brand that has performed exceptionally well in their BrandIndex metrics is Admiral, who I've mentioned in my columns before. The insurer, at a cost of £110m, refunded £25 to its 4.4 million vehicle insurance customers, to reflect fewer claims being made during the coronavirus lockdown.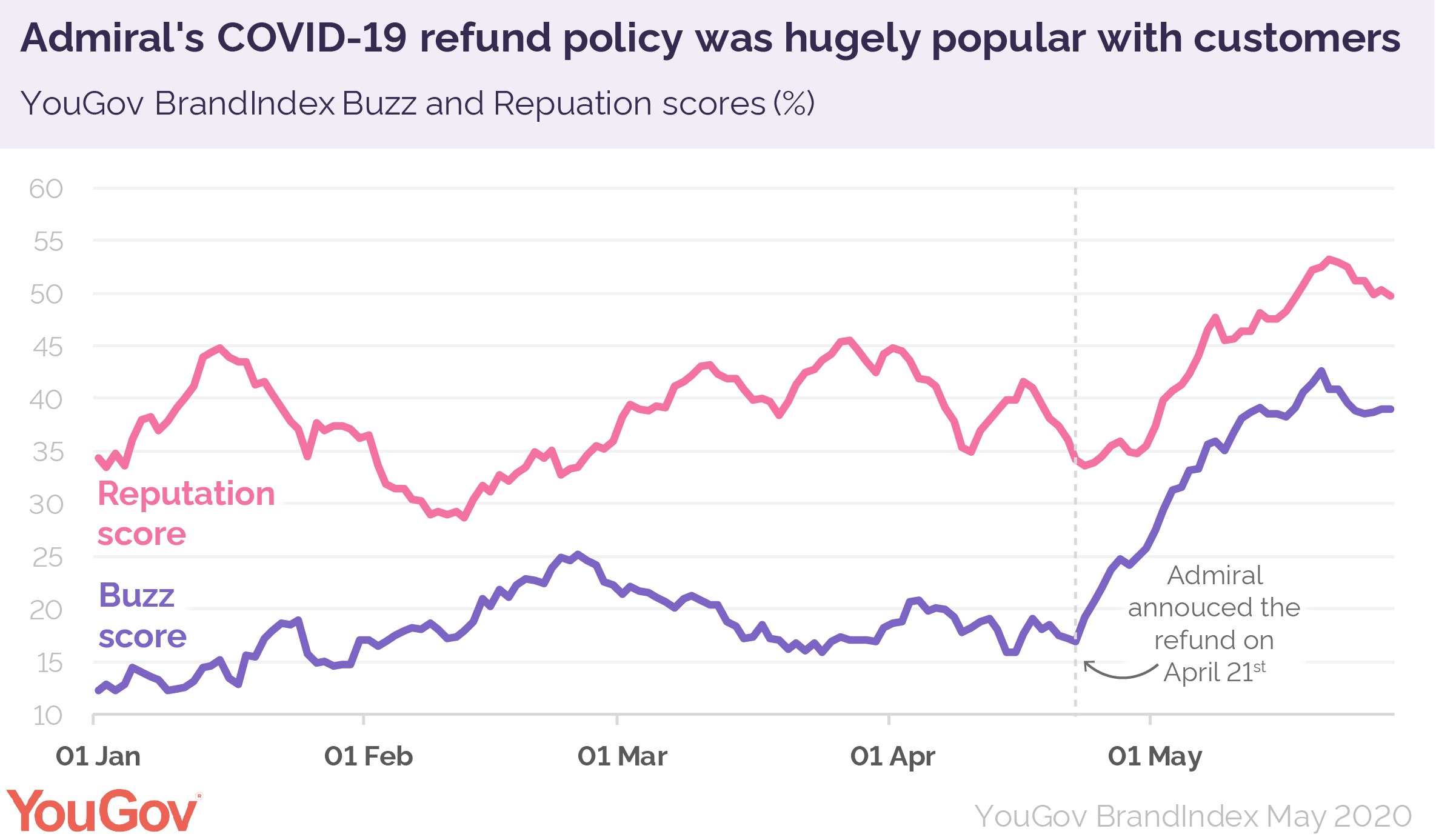 Click to enlarge
The refund, issued at the end of April, has had a marked effect on Buzz and Reputation scores among the brand's customers which we reported on at the time, however a month on the numbers remain high, showing £110m was clearly well spent.
However, with financial uncertainty in the air, how are the banks holding up? Looking at four of the major high street lenders, one brand certainly stands out.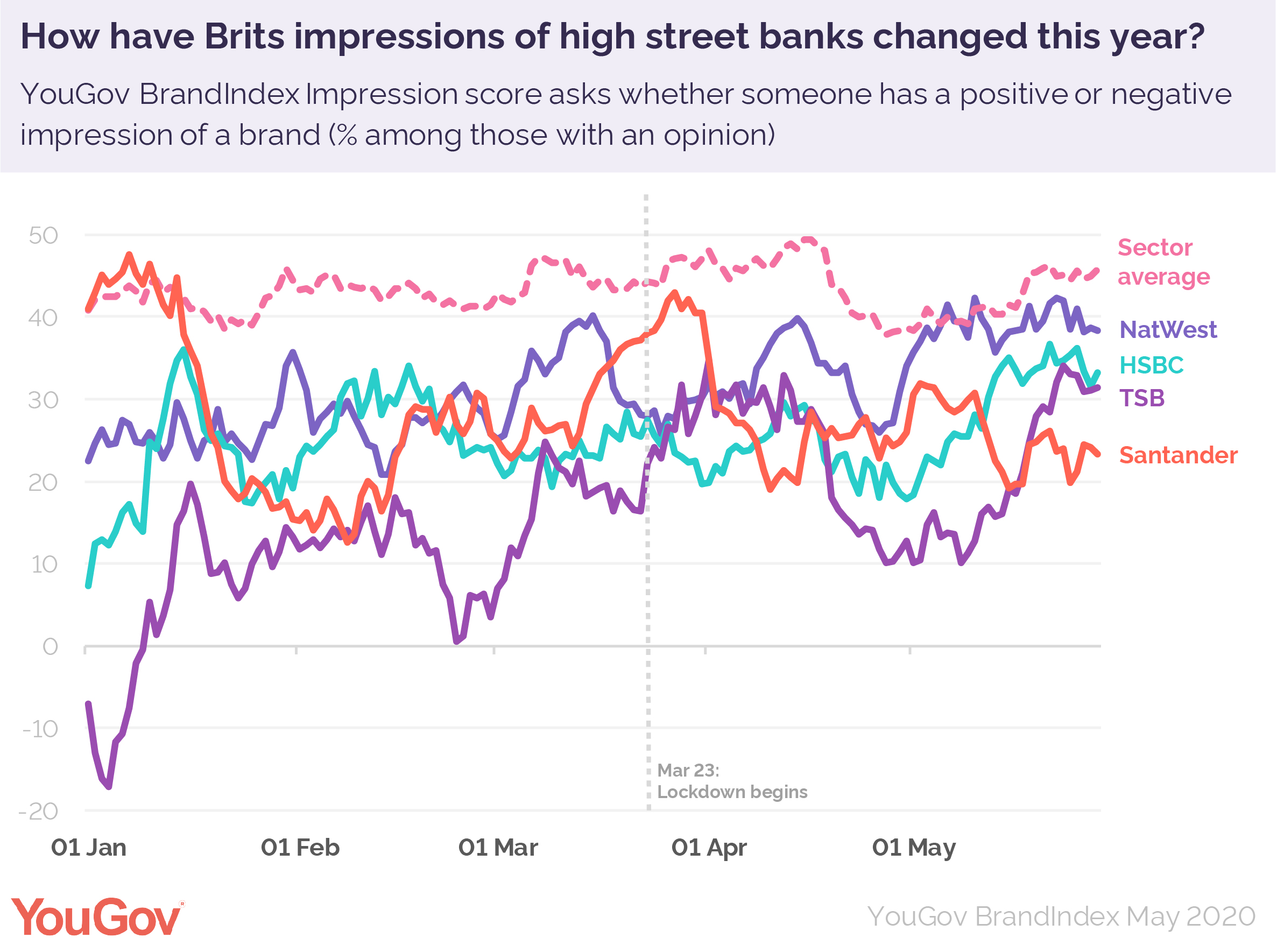 Click to enlarge
TSB had a tough start to the year, with their impression score as a low as -17.1. However, a quick and generous response to the COVID-19 crisis seems to have helped the brand rebuild a strongly positive Impression score. The brand was quick to launch a dedicated help service for the customers affected by the pandemic, as well as offering repayment holidays in early March, before lockdown officially began on the 23rd, which while not widely used as we saw earlier, may still be appreciated by Brits when thinking about banks.
TSB has also had a drastic boost in its Buzz score compared to other high street banks. At the start of the year TSB's Buzz score was at a low – 36.5, however in late March the brands score hit a high of 38.6 in late March, followed by another peak of 53.3 in late May.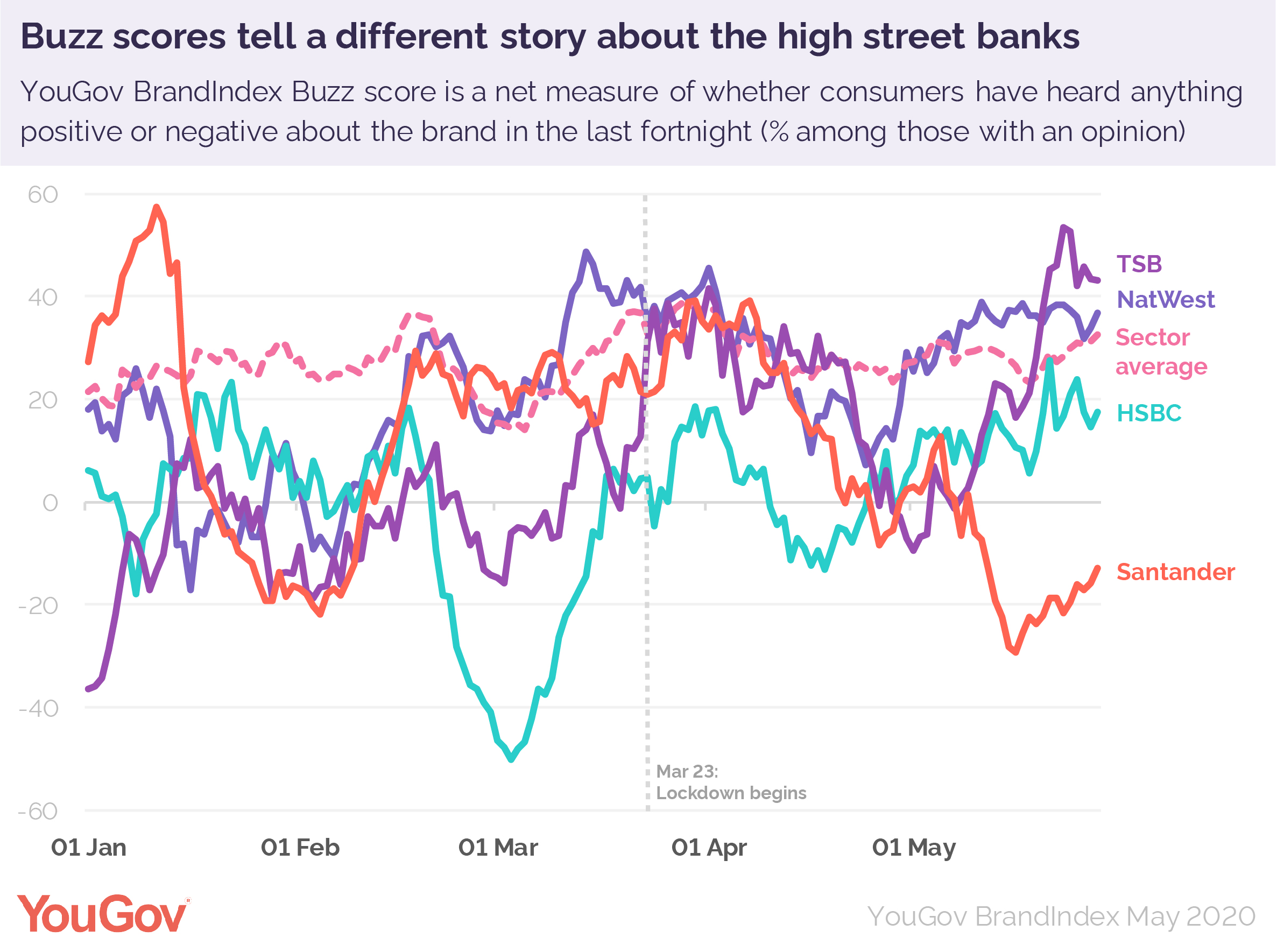 Click to enlarge
Other banks have not fared as well however, with Santander's score falling during lockdown, from a high of 39.2 in the week lockdown began, to a low of -29.3 in mid-May – possibly driven by negative press coverage of a lawsuit in the US. HSBC also saw a period of intense negative buzz in early March, however its score has since recovered, rising from -50.2 to 17.6 at the end of May.
However, with the threat of the recession looming ever closer, the true impact of COVID-19 on the financial sector could remain to be seen.