YouGov's new white paper also reveals that a similar proportion are worried about companies that lie about product performance, treat their employees poorly, and minimise their tax contributions
The value-action gap refers to the gulf between a person's convictions and how they behave. An individual might firmly believe that the gig economy exploits contract workers, while still using ride-share or food delivery apps. It's a phenomenon that's well-discussed – but how widespread is it among the British population?
In YouGov's new white paper, Business ethics in Britain, we asked Brits to identify the most concerning activities engaged in by large companies. We also asked if they ever checked for evidence of any of these activities before making a purchase.
Our research reveals that two-thirds of consumers (68%) are worried about profiteering, and that a similar proportion (67%) are concerned about companies that misrepresent product performance, companies that treat their employees poorly (65%), and companies that minimise their corporation tax payments (64%).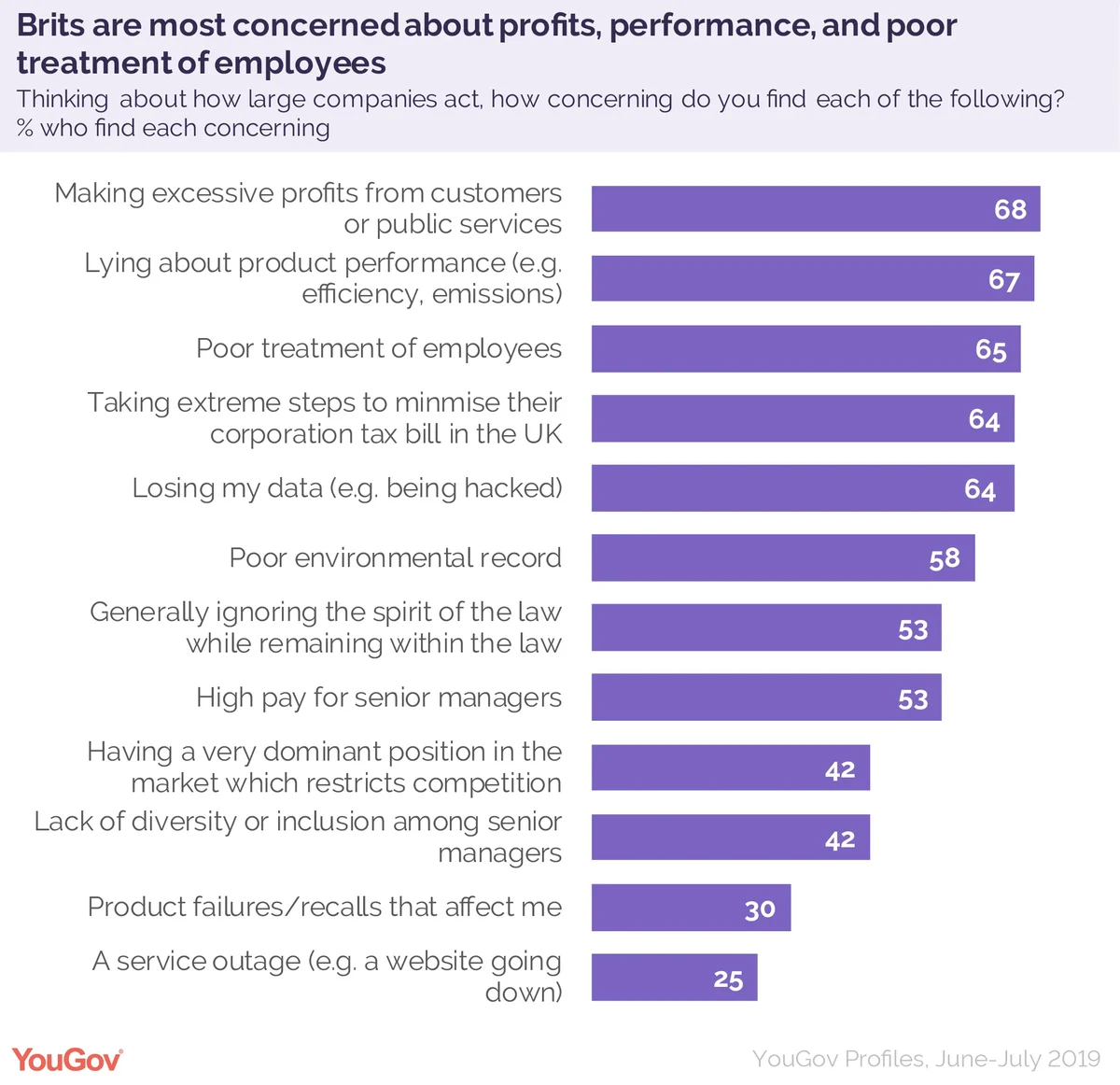 But it also reveals that only a minority of consumers have changed provider because of these reasons. Only 14% have switched due to profiteering or tax, 12% have switched due to product performance – while 16% have switched due to mistreatment of staff.
We can't necessarily attribute this to consumer apathy when it may instead reflect a simple lack of knowledge. Over half (55%) of Brits say they don't purposefully find anything out before making a purchase. A fifth (20%) check for general malpractice and poor behaviour; abuse of power (19%), or if a company treats it employees fairly (19%). Just 17% check to see if a company pays its taxes.
It certainly can't be said that consumers don't care: for most of the activities we listed, over half report that at least some level of concern. But it may be the case that, if consumers don't see corporate misbehaviour, they don't factor it into purchase decisions.