One in eight have ditched companies for treating employees badly – while 14% have left thanks to a poor environmental record, corporation tax evasion or profiteering
For modern companies, ethical and commercial priorities are often somewhat intertwined. Automotive manufacturers are selling lower-emission cars, corporate "values" take pride of place on websites, and if organisations are not always motivated by altruism, they are at least keen to avoid the bad PR associated with certain activities.
And for good reason: YouGov's new white paper, Business ethics in Britain reveals that half (51%) of Brits say they've switched their product or provider because a company has engaged in concerning activities.
Brits switch providers for a number of reasons
The number one reason Brits cite for having switched product or provider is "poor treatment of employees" – with 16% saying they've ditched a company because of it.
Second place is a three-way tie: 14% of Brits say they've made the change thanks to a poor environmental record, taking extreme steps to minimise a corporation tax bill, or making excessive profits from customers or public services. Lying about product performance is the fifth most commonly cited reason, with more than one in ten (12%) claiming it was the impetus for a switch.
The reasons consumers have for making a change vary. Most (55%) however, don't check to see if companies have engaged in bad behaviour before a purchase – so it's likely that when many consumers have made a change, they've done so because of high-profile stories or word of mouth rather than any individual ethical research.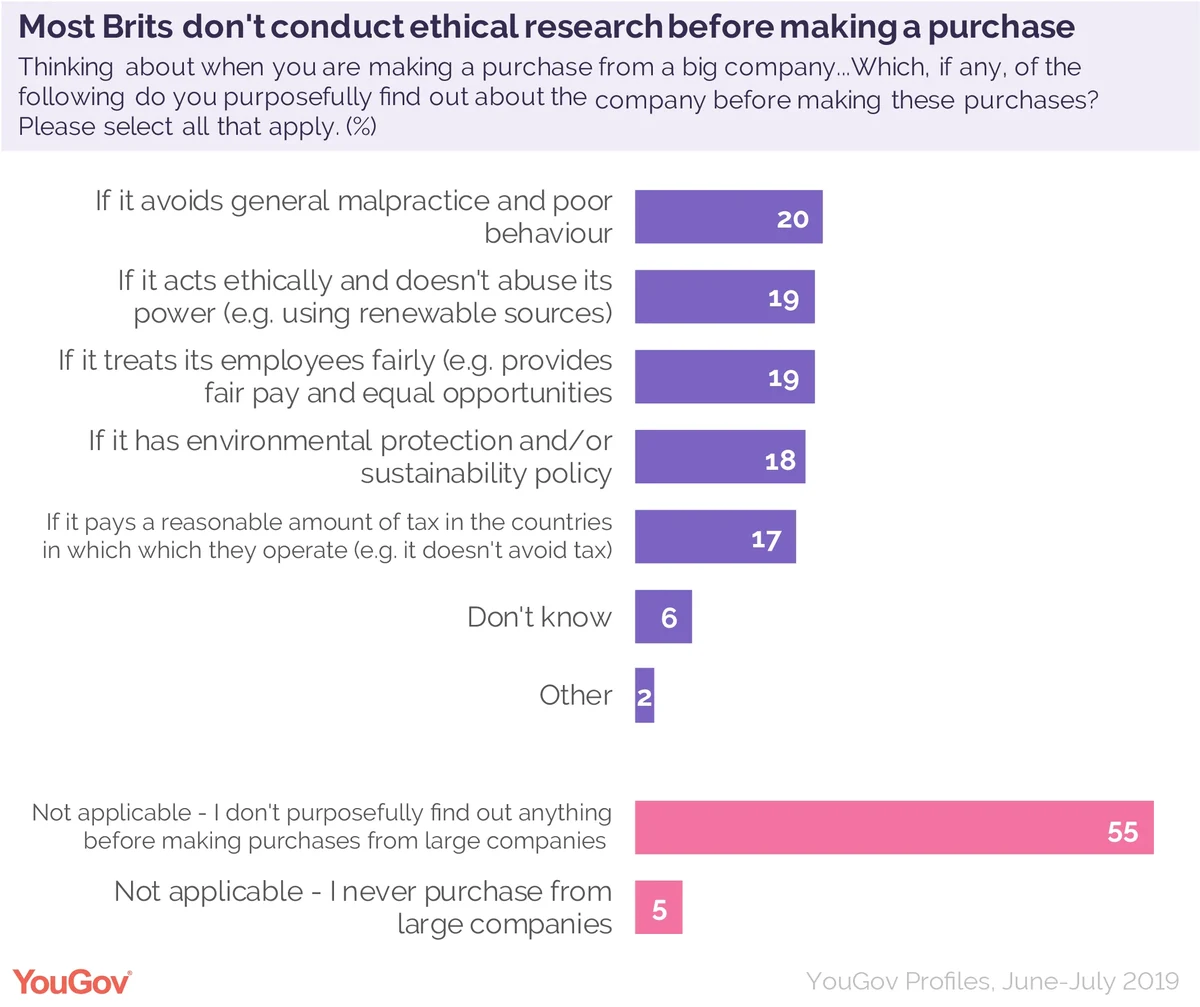 YouGov's data also shows that most consumers either don't know or can't say if big companies are becoming more ethical and sustainable or not (39% can't say; 11% don't know). So it's possible that they're not paying attention. But evidence also suggests that four in ten consumers (40%) are willing to pay more for brands that appear sustainable – and that nearly the same proportion (37%) say they always try to buy ethically made products.
So if the moral benefits of behaving ethically aren't enough to motivate companies, the commercial rewards could be.
Download the full white paper here