Consumer confidence jumps 2.9 points to 107.7 - highest since October 2018
Large rise in expectations on house prices and household finances
But business activity is sole point of negative movement
After years of uncertainty Brexit has finally crystallised, and the deadline is tomorrow. Although trade negotiations and legislative work will take years more, there is now a degree of stability which has been sorely lacking - and it seems to be leading to buoyant public sentiment.
The measure of overall confidence in the state of the economy rose from 104.8 in December to 107.7 in the first month of the new decade, according to the latest analysis from YouGov and the Centre for Economics and Business Research.
The long-term downwards trend we have seen since the EU referendum is yet to be reversed, but this 2.9 point jump does at least leave us at a high not seen since 2018.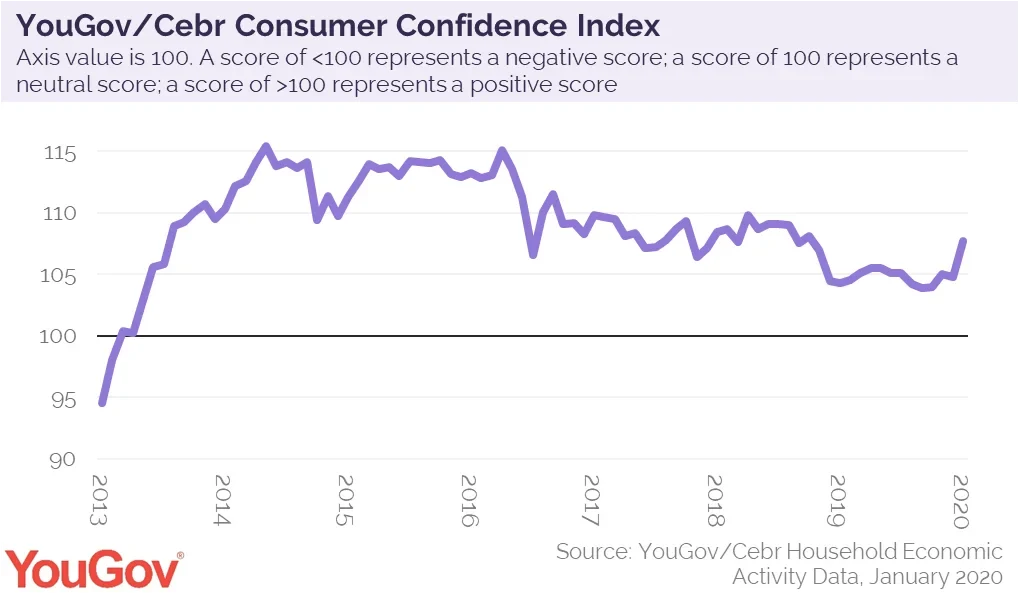 YouGov collects consumer confidence data every day, conducting over 6,000 interviews a month. Respondents are asked about household finances, property prices, job security and business activity, both over the past 30 days and looking ahead to the next 12 months.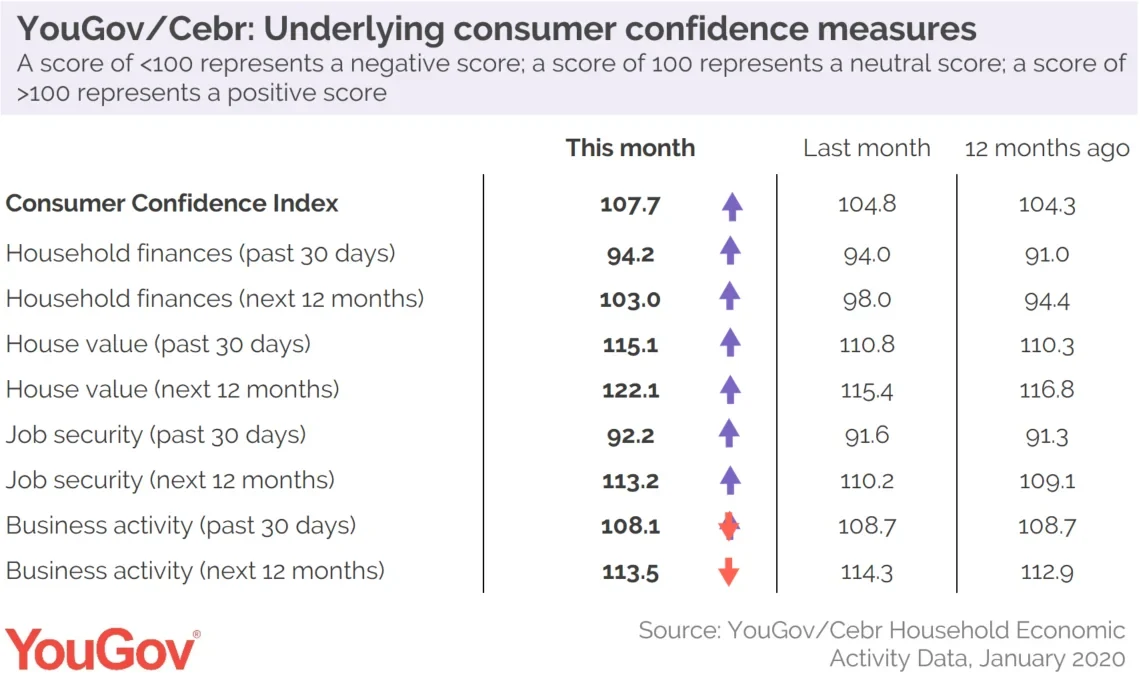 The public's assessment of their own household finances over the last month ticked upwards from 94.0 to 94.2, but expectations for the coming year jumped massively by 5 points to 103.0 - putting it into positive territory for the first time since April 2015.
Also up was sentiment around house prices. Assessments for prices over the last month were up 5.1 points to 115.1. Expectations for the coming year were up 6.7 points to 122.1. Neither levels were beaten in the previous year.
Job security was also up. People viewed their own job security to have increased slightly during the last month, up 0.6 points to 92.2, but still in negative. While the expectation for the coming year was up 3 points to 113.2.
The sole area seeing a decline from December was business activity. People believe that activity over the last month slipped, with the score dropping 0.6 points to 108.1, and expectations for the coming year were down 0.8 points to 113.5. Regardless, both measures remain firmly in positive territory.
Oliver Rowe, Director of Reputation Research at YouGov, said:
"The so-called Brexit Bounce that many forecast does indeed seem to be here in public confidence at least. How long it lasts and where it peaks is still unknown, as the long-term economic effects of Brexit may take years to manifest, but some level of certainty seems to be having a reassuring effect on the public. There's optimism about job security, house prices and personal finances, which many sectors such as retail will desperately hope makes it into the wider economy in a sustained way."
Nina Skero, Chief Executive at the Centre for Economics and Business Research, said:
"With Brexit just days away and a Budget scheduled for March, it is easy to see that things are moving along on the political front, following a prolonged gridlock. This has contributed to a surge in optimism, pushing consumer confidence to a 16 month high. Whether this optimism is justified remains to be seen, but certainly in the short term the higher confidence should prove beneficial, especially to the consumer side of the economy."