This month Marmite achieved the highest uplift in Ad Awareness of any brand in the UK with a +7.0 change
Love it or hate it, Marmite's brainwashing advert campaign has won it the top spot on this month's ad rankings.
YouGov BrandIndex data shows Marmite Ad Awareness scores (whether someone has seen or heard an advert broadcast by a company in the past two weeks) have improved by 7 percentage points, giving a score of 11.4 by the end of the month.
The advert that won the brand the title features Marmite haters being converted to Marmite lovers through the power of a hypnotic video that's not fully shown, and challenges other haters to try to watch the full video without falling in love with the controversial spread.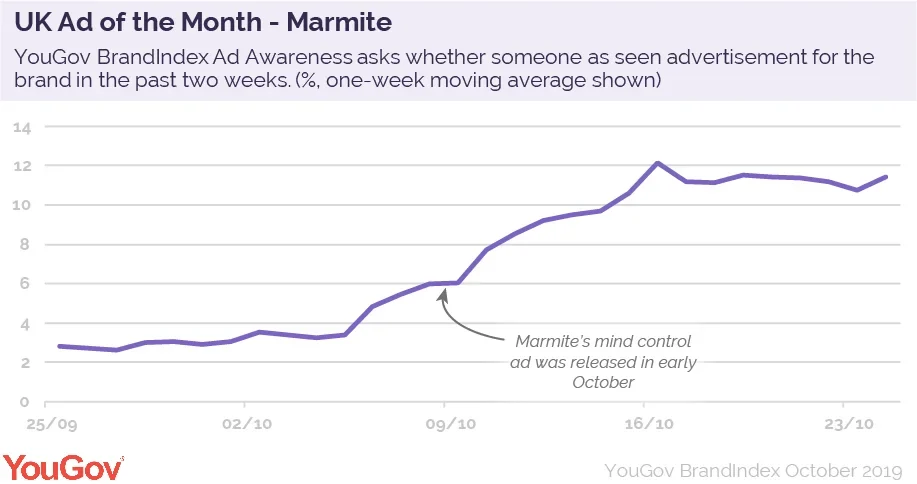 Marmite's Buzz score (a net measure of whether consumers have heard anything positive or negative about the brand in the last fortnight) also saw a jump over the last month, rising from 4.1 to 8.7.
The ad also won Marmite a small boost in its Consideration Score (whether someone would consider purchasing from the brand in future) which ended the month on 29, a rise from 25.7 last month.
However most importantly, the Consideration Score among Marmite haters (people who say they either don't like, or really don't like Marmite) rose around 6 percentage points following the ads release.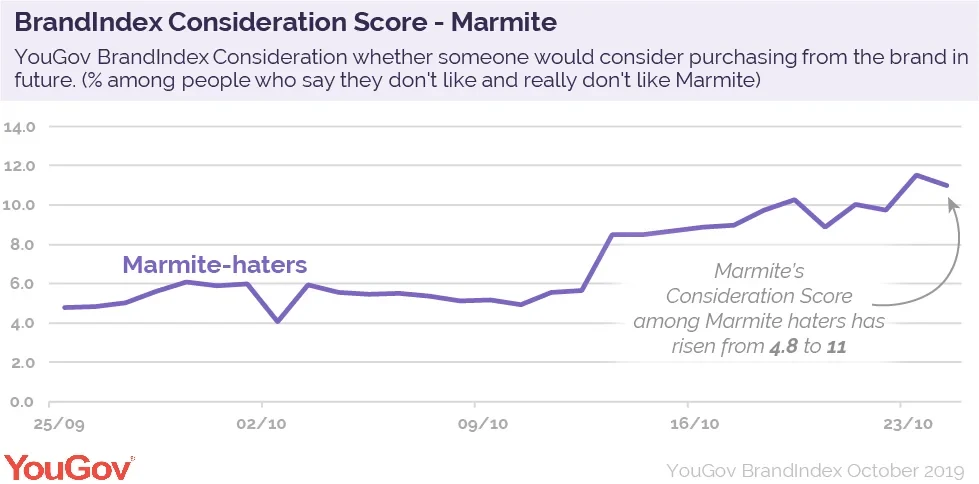 Runners up among the best improved ad awareness scores are the National Lottery and Euromillions (which returns a second month in a row) who increased their scores by 6.6 and 5.8 respectively. Closely followed by Oral B who added 5.5 to their score.
In at number five are Subway, whose advert, apologetic to Italians, featured their new pizza-style sandwiches which earned them a score boost in Ad Awareness of 4.6.
Image: Getty