Digital bank Monzo has seen spectacular growth since it was founded in 2015 and is already valued at £2 billion. Some 2% of the nation now have a Monzo account, according to previous YouGov research.
However, Monzo recently experienced technical problems which have left some questioning the security of their business model.
In July Monzo card transactions failed due to technical issues, leaving many unable to pay for goods or withdraw cash. Similarly in May customers were unable to receive inbound transfers after failed connections to the payment system. Now in August, Monzo has urged nearly 480,000 customers to change their PIN after discovering some were stored in files accidentally made accessible to staff.
YouGov data shows that Monzo's most recent technical issue may have affected brand perception among their most important demographic. The majority (72%) of Monzo's customer base is aged between 18 and 34 – Buzz scores (a net measure of whether consumers have heard anything positive or negative about the brand in the last fortnight) among this demographic fell by 9.1 points from +17.5 to +8.4 after they announced the PIN security issue. Buzz scores among the general public remained relatively steady, only falling 0.8 points.
Comparatively, Buzz scores after Monzo cards failed in July moved much less so, decreasing only 4.8 points among 18 to 34 years old and by 2 points among the general public, demonstrating the difference in public opinion when the issue is just an annoyance rather than a security risk.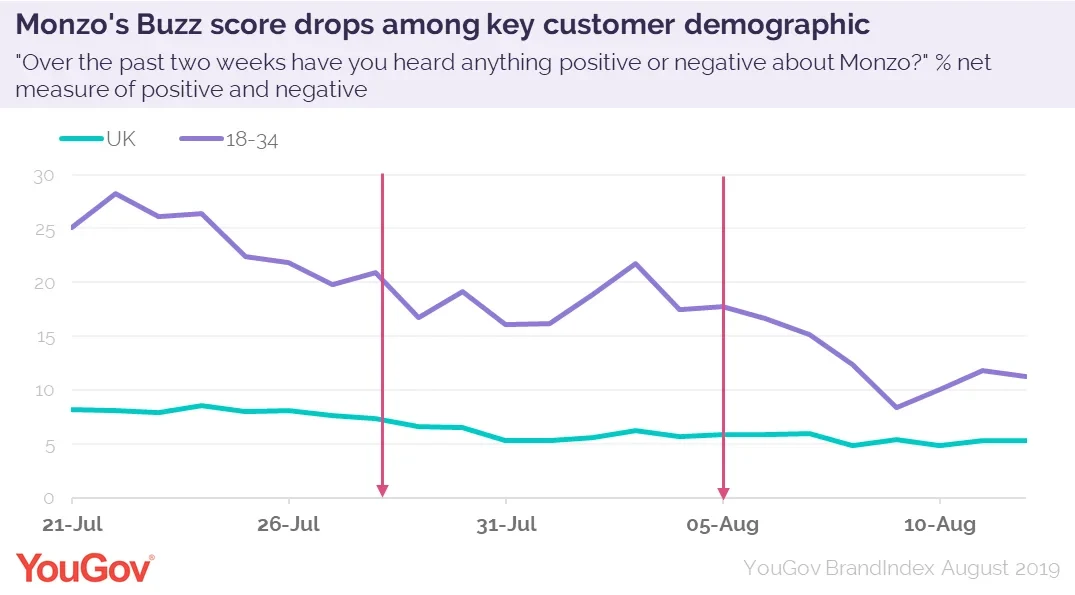 People with a Monzo account are generally more trusting, with over half (54%) agreeing with the statement that they trust banks and building societies – slightly more than the 49% of the general public. They're also less likely to regularly check credit card and bank statements for suspicious transactions that the average person (78% vs 82%).
Despite this, previous research shows that over two thirds (67%) who stopped using a brand because of a scandal or negative press have never gone back to using that company. Continued transparency to their customers and communication about personal data will be influential in keeping customers trust.
This article previously appeared in City A.M.