Charitable magazine The Big Issue has paired up with digital bank Monzo to create the "world's first resellable magazine". Branded 'Pay it Forward', each magazine has a QR code allowing customers to resell their magazine to a friend after purchase. This in turn will allow the vendor to earn more from each edition sold.
The Big Issue was established in 1991 with a mission to give 'a hand up not a hand out' to those who have no fixed address. For the trial launch, Monzo set up accounts for 20 sellers around the UK where the money earned from 'Pay it Forward' would be banked.
Last year, The Big Issue trialled contactless payments for vendors in response to the publics increasing preference for a cashless society. YouGov research showed that only a quarter of Brits use cash every day (26%) while contactless payments doubled in 2018 to 5.6bn transactions.
Why Monzo?
Partnering with a contactless operator is undoubtedly a savvy move for The Big Issue, which has expressed concern about declining cash payments, and Monzo is a particularly good fit for the charity.
In general, Monzo's customers and target audience are younger and live in cities – 81% are 39 or under and 29% live in London. However, YouGov research shows that Monzo customers are also more inclined to give to charity than the general population.
Monzo customers are slightly less likely than the national average to donate to charity by cash (2%), instead preferring to use credit or debit cards (8%) indicating that a contactless method of purchasing The Big Issue through Monzo on the spot would be effective with this audience.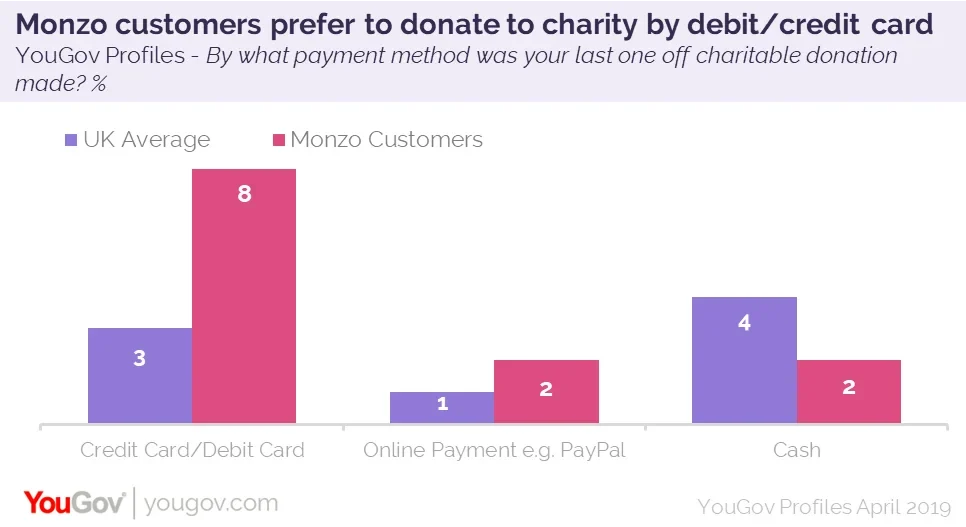 Over a quarter of Monzo customers (26%) believe that people should give to charity and more than a fifth (23%) feel that the state doesn't give enough to those in need. These motivations for donating are all higher than the national averages.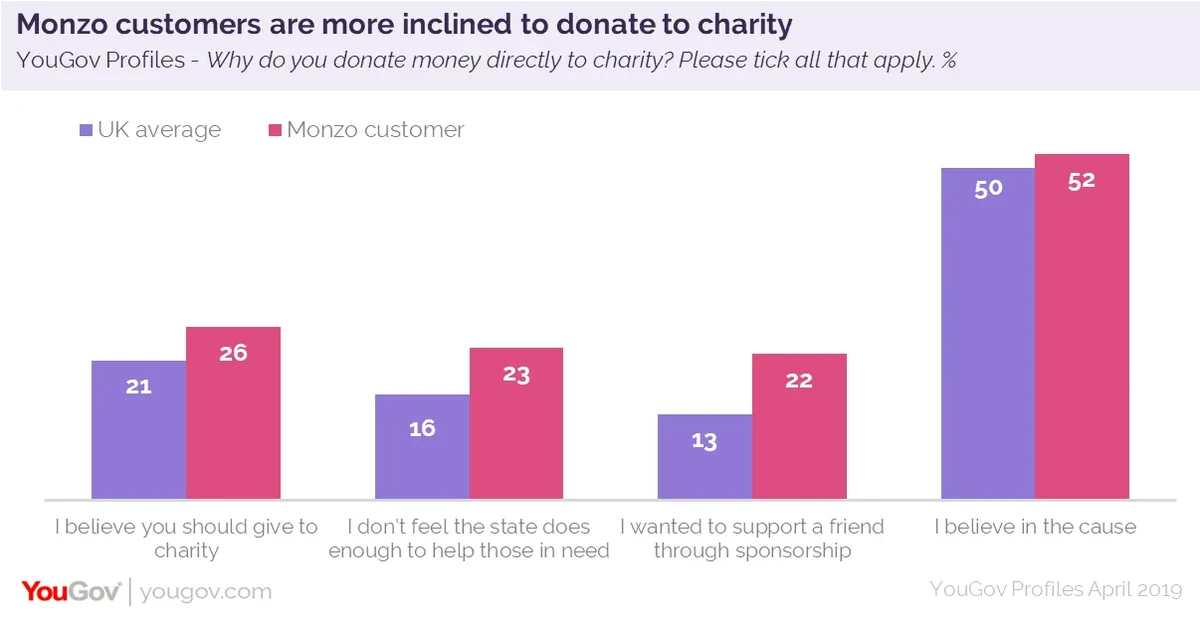 In regards to methods of charitable donations, Monzo customers are also more likely than the national average to donate to charity by sponsoring a person or event (14%). These donations are equally likely to be a regular debit card payment (14%) or a one off debit card payment (14%) suggesting their willingness to donate isn't affected by the required frequency of donation.
The Big Issue's cause will also resonate well with Monzo customers, who are most likely to donate to causes affecting housing and the homelessness (9%), poverty relief/international development (8%), and the community (6%).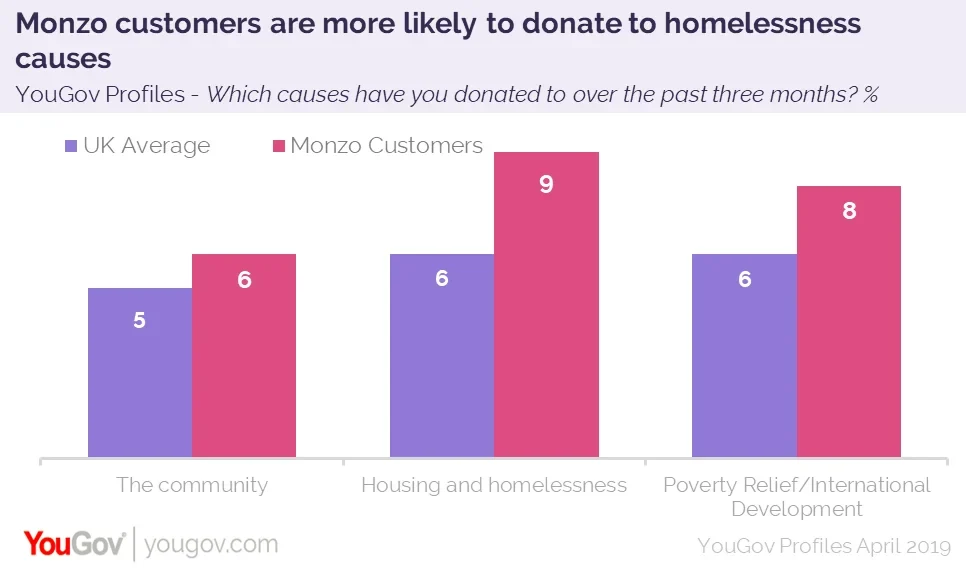 Monzo customers and The Big Issue readers have similar views on charity
Aside from the fact that Monzo customers have complimentary motivations and habits in regards to charitable donations, there are also similarities that can be drawn between customers of the digital bank and readers of The Big Issue.
Both Monzo customers (69%) and The Big Issue readers (70%) agree that giving money to homeless charities is more helpful than giving money directly to people begging, suggesting these audiences both see The Big Issues' mission as a successful way to aide those with no fixed addresses.
These audiences also have similar motives behind donating to charity – over half of Monzo customers (52%) and three quarters of The Big Issue readers (76%) are most likely to donate to a charity because they believe in the cause.