Earlier this month CEO of budget airline Ryanair, Michael O'Leary, announced he would be stepping back from the day-to-day running of the airline. O'Leary identified his reputation as a negative distraction to the airline's business and that the move would be a chance to 'reboot' the company's public perception after 'disappointing' profit announcements.
O'Leary was cited as a main cause of the employee dissatisfaction that led to the infamous pilot strikes last year. This, alongside O'Leary's headline-making quotes such as, "We don't want to hear your sob stories. What part of 'no refund' don't you understand?" have made him a divisive character in the industry.
But will moving away from O'Leary be beneficial to 'the UK's least-liked short-haul airline'? YouGov data suggests that when it comes to brand perception customers do respond to the actions of management; whether that is positively or negatively.
During 2018, 250 flights were cancelled due to strikes over pay and employment issues. Ryanair then refused to pay compensation to customers. During this time Ryanair's Buzz Score (a net measure of whether consumers have heard anything positive or negative about the brand in the last fortnight) sank almost 10 points from -28.3 to -37.9. This fall was also reflected in Impression scores (whether someone has a positive or negative impression of a brand) which fell 5 points (-42.2 to -48.4) and Consideration scores (whether someone would consider purchasing from the brand in future) which fell 4 points (+21.6 to +17.5) showing customers reacted to management decisions.
Since O'Leary's announcement on the 8th March, all of Ryanair's metrics have risen; Buzz scores lifted 8 points (-25.8 to -17.3) suggesting a positive public perception. Ryanair's Impression scores also lifted 17 points (-46.3 to -29), and Consideration 11 points (+15.5 to +26.6).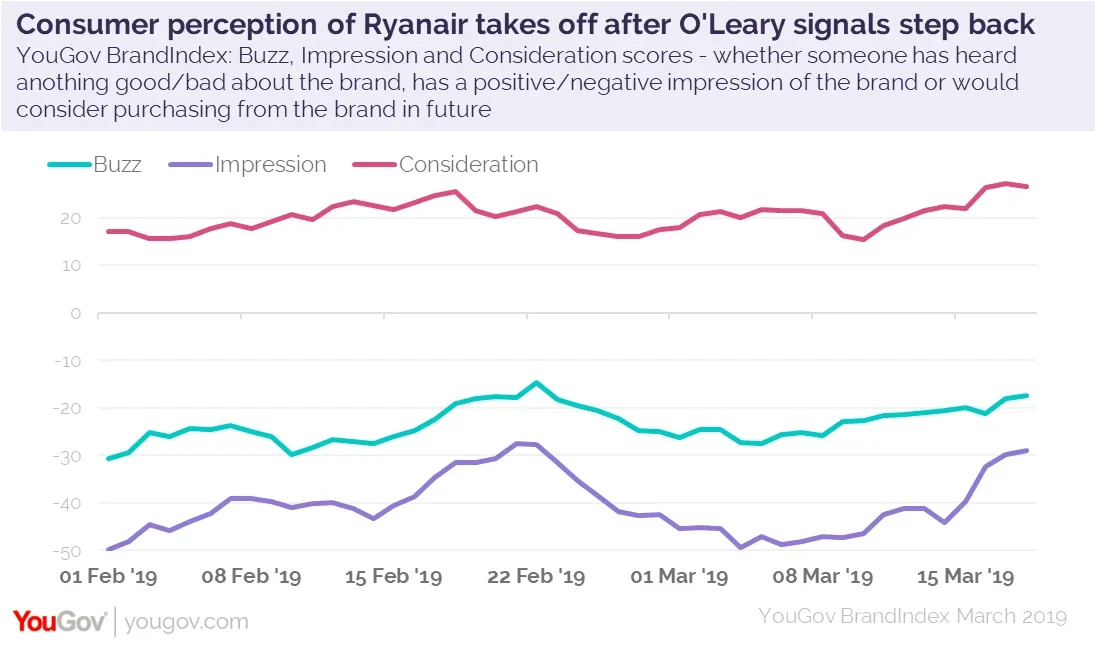 It may seem surprising that brand equity scores respond to news about a company's management, but we have often observed that in our numbers. The effect may be small but it is marked in cases such as Ryanair where the management have deliberately made themselves part of the story. The new leadership should make its lead brand assets - low prices and a good safety record - the big story, and stay anonymous themselves.